Is This the Rarest Cover to Mighty Morphin Power Rangers #25?
Mighty Morphin Power Rangers #25, the comic that made fans at WonderCon cry, sold out fast, as certain retailers got on the phone with BOOM! Studios every day last week trying to scrounge up any remaining copies of the first printing. The entire Shattered Grid event seems to be driving interest in both Power Rangers series, with Go Go Power Rangers #8 selling out quickly on the heels of introducing a new dark Pink Ranger, aka the Ranger Slayer.
But now BOOM! Studios is rather fortuitously arriving at the C2E2 Diamond Retailer Summit with a one-per-retailer variant cover by Marc Laming to Mighty Morphin Power Rangers #25.
And as hot as the covers to that issue are now on eBay, with standard covers selling from $10 to $50, the one-per-store variant up to $100. and the polybag chase variant up to $120, and the WonderCon panel variant up to $250, imagine how much retailers will be able to get for a cover with a print run only in the hundreds? The ComicsPRO variant to issue #24, a prequel is doing quite well right now too, getting up to $250… and no one died in that one.
Sounds like Power Rangers could be the talk of another convention too.
This is also the time we'll remind you to pick up those exclusive covers from Jason David Frank and Kyle Higgins now too — won't be long till collectors who've gathered every other cover realize there's a couple more out there.
You can see the other Diamond Summit exclusives below.
DC Comics: Action Comics #1 promo t-shirt and Dark Nights: Metal #6 variant cover
Marvel Comics: Avengers #686
And this print run of Captain America #700 and Domino #1, which can be ordered only by attendees.
IDW Publishing: Sonic the Hedgehog #1 and G.I. Joe: Real American Hero #250
Oni Press: Rick and Morty Presents: The Vindicators #1
BOOM! Studios: Lucy Dreaming #1 and Mighty Morphin Power Rangers #25 (TBA)
Dark Horse Comics: 2 exclusive Retailer Summit variants (TBA)
Image Comics: Isola #1 variant
Valiant Entertainment: Harbinger Wars 2 variant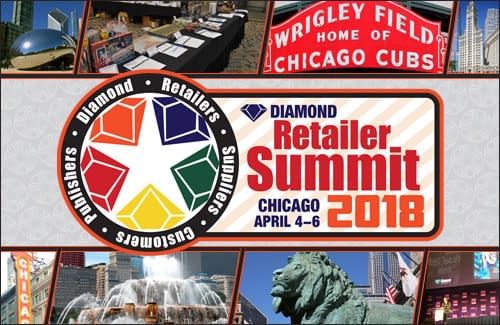 Diamond Comic Distributors will also send $300 worth of retail merchandise per store, and Diamond Select Toys: $200 worth. The Summit does kinda pay for itself…
This year's Diamond Retailer Summit will be held in Chicago, IL, at the McCormick Place Convention Center. It is a three-day event, April 4th through April 6th, right before the opening of C2E2, with plans calling for Retailing Workshops, Forum Sessions with Marvel & DC, special panels and publisher presentations during mealtimes, and a retailers-only Exhibit Hall.