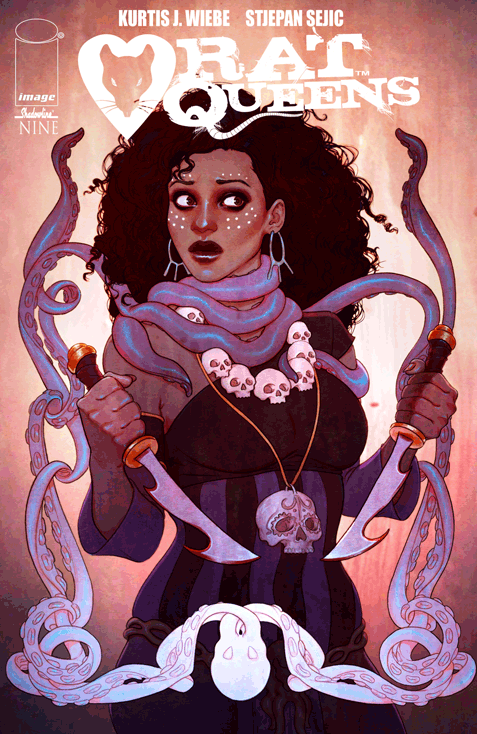 Yes! Rat Queens is finally back! From Image Comics, Rat Queens #9, written by Kurtis J. Wiebe, with art by Stjepan Sejic has been long overdue for fans of the series. We got a little taste of the Rat Queens world with the special issue, which was awesome, but I had to go back and recall how I felt about Rat Queens #8 all of those months ago. For those of you who don't remember, I felt a tad deflated with that issue, but I'm happy to say that I am incredibly satisfied with issue #9.
Right off the bat I want to comment on Stjepan Sejic's art. This is the first issue of Rat Queens that he has illustrated. While I enjoyed Tess Fowler's work on the special issue, I much prefer Sejic's style. I assumed that I would feel more hesitant because I tend to get attached to a books art if it has been the same since the beginning. However, Sejic illustrates in a way that makes these characters seem more real. Don't' get me wrong, I enjoyed Roc Upchurch's character design, and Sejic definitely works from that. The Rat Queens all look the same for the most part, but Sejic provides us with a less cartoon-like feel. Overall, I'm very happy with the art.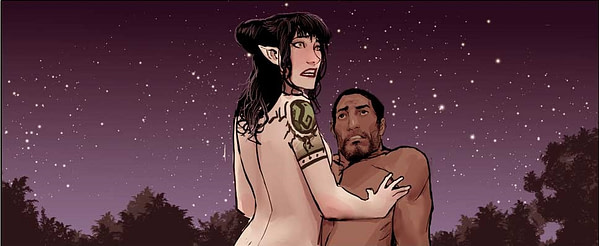 Now, onto the story! Wiebe writes an incredibly balanced script for this issue. We get a taste of all of our favorite characters, a bit of character history, and some questions are answered. Things are always crazy in Palisade, but this kraken-looking monster makes things even more complicated as we learn that it is a dimensional demon that feeds on the energy of displaced reality. This explains the weird moments we see the characters experience.
As I mentioned earlier, I had some negative feelings when I read issue #8, and now that I've read #9, I realize that it was a balance between character appearances that bothered me. One of the main reasons I love Rat Queens so much is because I love the feeling of empowerment that comes over me when I see these women all together kicking ass. Issue #9 brings them all back together, catches readers up, and raises anticipation for what's to come next. I feel very enthusiastic about Wiebe and Sejics combination of epic talent, and am thrilled that Rat Queens is back on a normal monthly release schedule!
Christine Marie is a Staff Writer at Bleeding Cool, and bibliomaniac with a love for all things creative. She hopes to one day be a Superhero/Disney Princess/Novelist. You can find her on Twitter and Instagram @AWritersWay or on her blog writerchristinemarie.wordpress.com.