Rat Queens v2 #13: The Queens Face Peril on Multiple Planes! 'The Infernal Path' Continues!
[rwp_box_recap id="0"]
Things have not been going well for the Rat Queens lately; they've faced possessed members of their own band, been attacked by were-owls, and Dee became a god. Not a huge god, mind you, and she might not have any worshipers, but that's another story. The Queens also added a bard to the group, Maddie, who plays the mighty fiddle while in battle!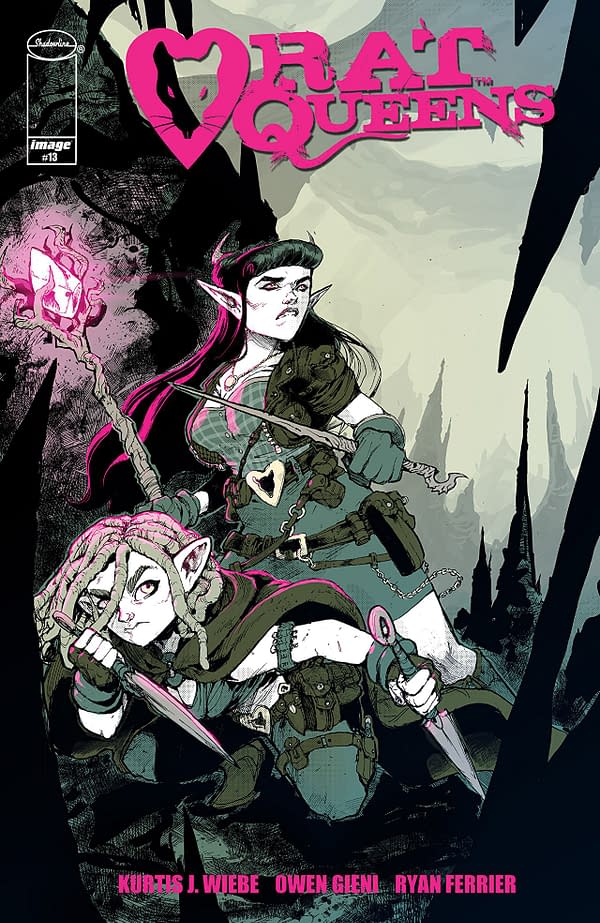 Chapter Three of The Infernal Path story-line picks up with Dee visiting another realm with Lady Love, who needs her help in combating a sickness that is endangering the gods. The rest of the Queens are trying to rescue Hannah from the clutches of a nefarious wizard, who summons some truly nasty gribblies to slow the Queens down.
Story wise, Rat Queens has always been excellent, and issue 13 is no exception. Dialogue is clever, curt, fowl, and amusing. An exchange between Dee and an other-realmly person she meets is personable and flows like a real conversation should. The characters in Rat Queens all have unique personalities, agency, and quirks; they come across as genuinely likable antagonists. There are a few panels where the action is a little muddled or hard to follow, but it's hard to say if that's Kurtis Wiebe's (Peter Panzerfaust) script or Owen Gieni's (Manifest Destiny) art.
The art is superb. Character expression is heartfelt; not a single vague emotion is put to the page. Every thought, feeling, or worry is worn by each character like part of their wardrobe. So much of this issue's story is carried by the artwork, and each page is packed with it. Gieni employs such an interesting mix of line weight is his art; some scenes are tightly controlled while others are loosely drawn, but none lack impact. Gieni also does his own color work, and it accents each page perfectly.
Despite a few confusing panels, Rat Queens v2 #13 is a great read, with a well-paced story and exceptional visuals. Issue 14 can't come soon enough!
[rwp_box_reviews id="0"]
[rwp_box_form id="0"]