Read Jim Butcher's Dresden Files: Fool Moon #1, Part of Dynamite's Latest Digital Bundle
Dynamite Entertainment's parent company, Dynamic Forces, is turning 25, and they've hooked up with Humble Bundle to create the Dynamic Forces 25th Anniversary bundle featuring a wide variety of comics from their long history. This new digital bundle features over 150 issues and three art books. Fans can pay what they want via the different thresholds starting today, March 21st at 2 p.m. EST, and is available for a limited time here.
To help promote that bundle, they've sent us some free comics to run over the next few days. The first one is Jim Butcher's Dresden Files: Fool Moon #1. Butcher adapts the second novel in the Dresden Files series with co-writer Mark Powers and artist Chase Conley.
Harry Dresden`s life is a mess. His top client (and close friend), Lt. Karrin Murphy no longer trusts him. Chicago`s underworld and the cops alike think he`s mobster Johnny Marcone`s supernatural enforcer. And the enigmatic White Council continues to view him with suspicion. If all that weren`t enough, a pack of werewolves have unleashed a wave of terror on the Windy City. But as is always the case when it comes to the creatures of the Nevernever, there`s far more going on than meets the eye. Before it's all over, Harry will find himself caught between friends, enemies, and arcane forces bent on his destruction. Is it any wonder he can`t find a date?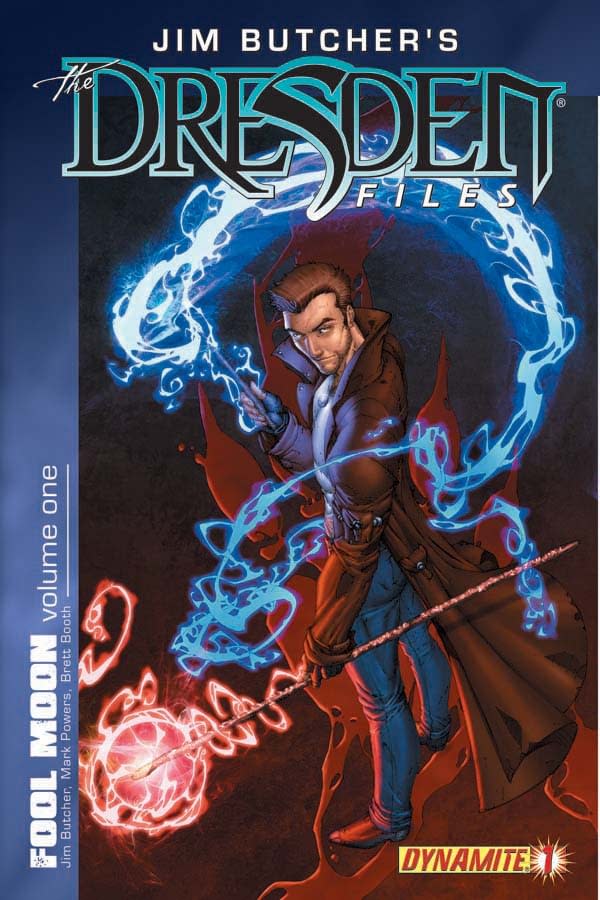 The cover above is by Brett Booth. All eight issues of Dresden Files: Fool Moon are available as part of the bundle for a limited time here.