18 Black Friday Sales In Comic Book Stores
Before Local Comic Shop Day on Saturday, the world goes Black Friday mad. Here are a few sales happening in comic book stores on that blessed of commercial opportunities.
If your comic store is having a sale, send a paragraph, a visual and a link to richjohnston@gmail.com for a follow up article!
Midtown Comics, New York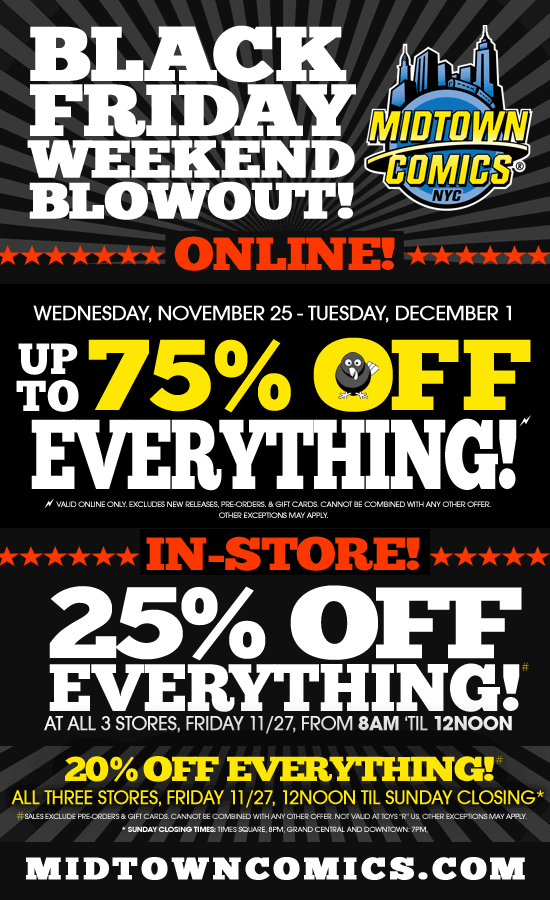 Golden Apple, Los Angeles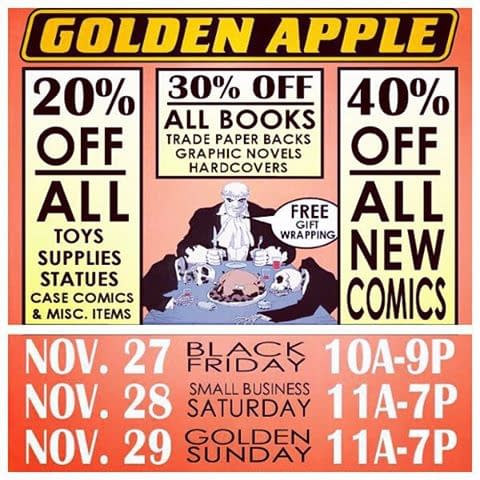 JHU, 32 E 32nd St,New York
Jesse James Comics 10620 N 43rd Ave #6,7,8,9,10, Glendale, Arizona 85304
98% of the store will be on sale with huge discounts!
Door prizes for everyone on Friday only from 12:00AM – 3:00AM!
Bonus door prize for the first 100 in line!
The store sale will continue through Sunday the 29th till midnight!
Rodman Comics, 318 S Ankeny Blvd, Ankeny, Iowa
Come Friday November 27th from 11 to 7 we will have a sale! 20 percent off everything unless already discounted!
Cosmic Comics, 3830 E Flamingo Rd, Ste F-2 Las Vegas, Nevada
Quizzys Comics, Collectibles 418 N Main St, Broken Arrow, Oklahoma 74012
Samurai Comics 1051 E Camelback Rd, Phoenix, Arizona 85014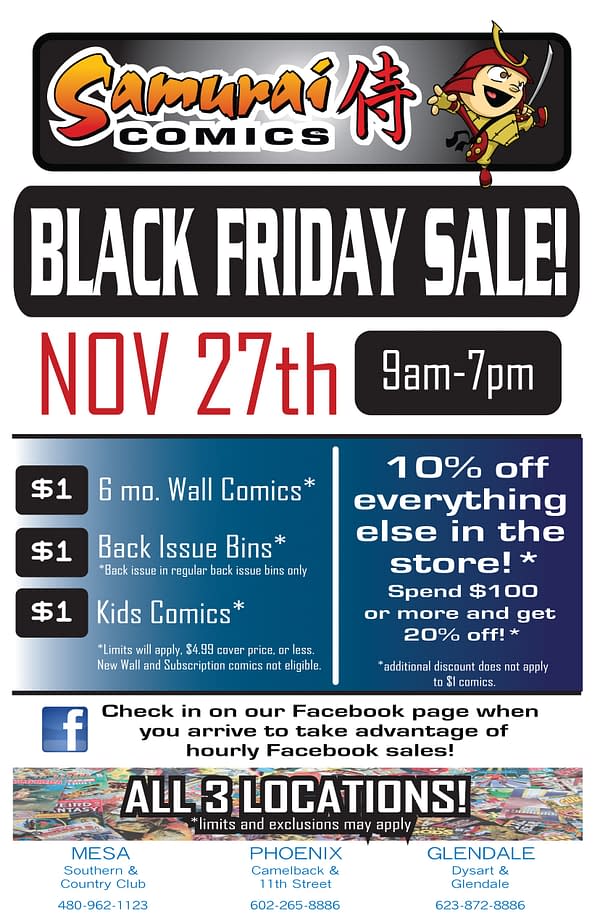 Collector's Paradise stores 7131 Winnetka Ave Canoga Park, CA 91306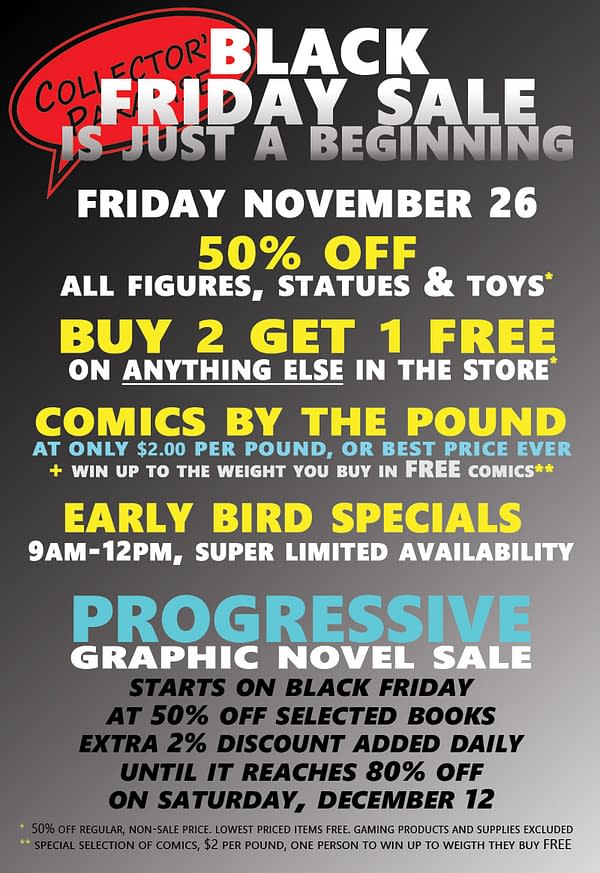 TFAW, online, Portland and Oregon

1/20-11/23: Save save 50% on thousands of in-stock products

11/24-11/26: Save 60% on remaining

Black

Friday

Sale products

11/27-11/30: Save 70% on remaining

Black

Friday

Sale products

Doorbuster Deals will be posted as our sale changes over for

Black

Friday

and again at 12:01pm (PST). Stay tuned to our Facebook and Twitter on Cyber Monday (11/30) because we'll be posting three new sets of doorbusters that day! Quantities are limited on Doorbuster Deals–don't miss out on these great savings.

Our Oregon stores will open early at 9 am on

Black

Friday

, November 27th.

20-80% savings on most products throughout the store (Savings don't apply to statues, collectibles or other non-discountable items. Deals and stock differ from store to store and online at

TFAW.com

)!

Doorbuster deals starting at just $4.99

These deals begin on

Friday

, November 27th, and continue while supplies last through Sunday, November 29th.
Conquest Comics 659 Route 9, Bayville, New Jersey 08721
We will also be doing a Special on our Batman / TMNT # 1 Variant Set. Variant set regular price is $50, Pre-order the set on Black Friday Weekend for only $40 !
Rebel Base Comics 701 S Sharon Amity Rd, Charlotte, North Carolina 28211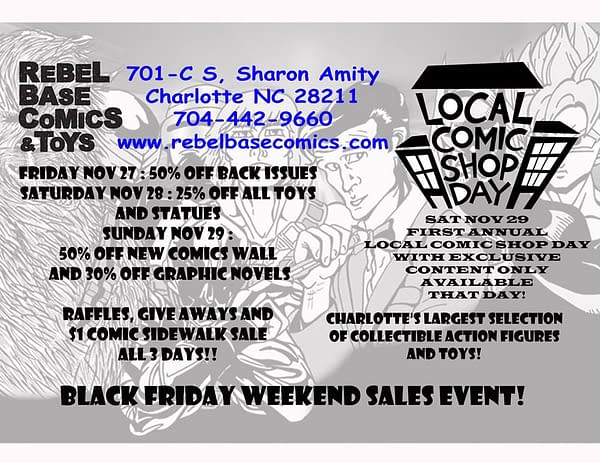 This will be the first weekend that we will have our Sean Gordon Murphy Variant of DK3 #1 in store for only cover price!
A Comic Shop, Orlando, Florida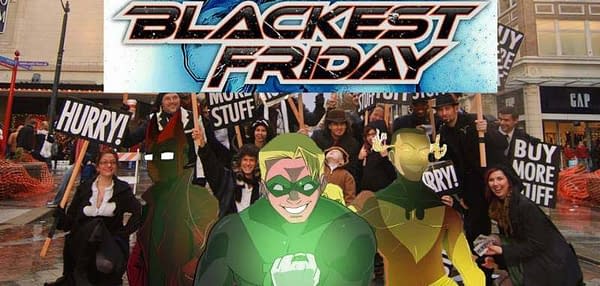 After Thanksgiving comes the Getting! Blackest Friday at A Comic Shop and The Geek Easy is a sale and a party. From 9 AM breakfast mimosas to Gingerbread Beer at Nerdy Karaoke. You can turn your day drinking into night, buy nerdy stuff for everyone on your list, throw it in your trunk, and sober up by 2:00 AM!

-We'll have FREE comics for the first 52 people! Two FREE $3.99 comics [selection posted 11/24], plus you'll get your pick of FREE $1 First Issues! (Like Y the Last Man, Fables, Saga, Batman, Wonder Woman, etc).
Be here by 9 AM and you'll get $9 of FREE COMICS (or be one of the !st 52 people when doors open at 9am).
Heroes' Haven Comics 4339 Gunn Hwy, Tampa, Florida 33618

Viera Comics 7640 N Wickham Rd, Ste 108, Melbourne, Florida 32940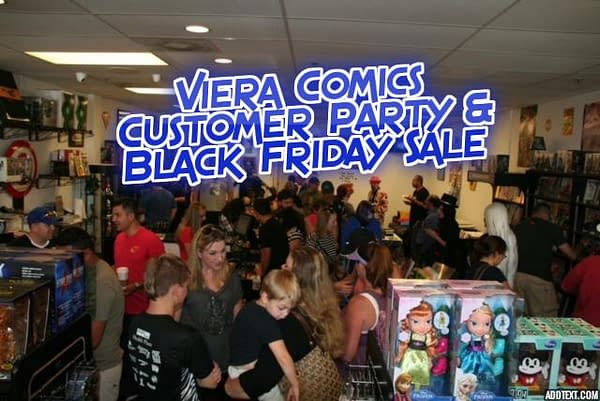 From 11AM-5PM everything in the store is 15% off
From 5PM-9PM everything in the store is 20% off
and from 9PM-11PM everything in the store is 25% off
IF YOU COSPLAY DURING THE HOURS OF 7PM-11PM ADD ANOTHER 5% TO YOUR DISCOUNT!!!!!
Pike's Comics 2114 Drew St, Clearwater, Florida 33765
GOING FISHING BONUS GAME!!!
Anyone who spends over $50 gets a chance to go fishing! We will have a fish tank set up filled with magnetic fish! Each fish will have a number on it linked to a prize envelope! Prizes range from Variant Comics, Shopping Sprees and even SLABBED COMICS!!!
Comic Plus, 4007 Northside Dr, Macon, Georgia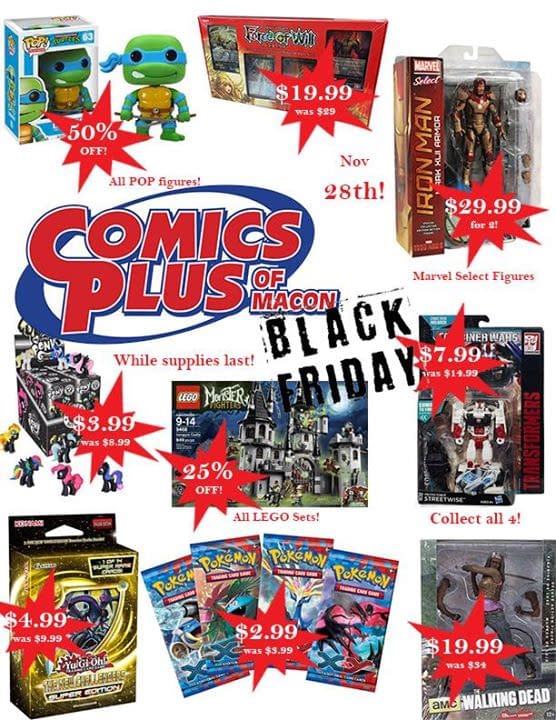 Third Eye Comics, Annapolis and Lexington Park, Maryland