Advance Review: Captain America #1 – Redefining the Man and the Legend
It seems so long since we first said that this was happening — and was happening today.
Lots of people had preconceptions of just what a Ta-Nehisi Coates-penned Captain America #1 launching on the fourth of July would be. A chance for Coates to express the same kind of views and opinions and he has expressed in The Atlantic? About race, reparations and rebellion. But this is not that comic.
For a start, it is mired in Marvel Comics continuity. It ignores the post-Secret Empire stories by Mark Waid and appears as if it were a directly planned sequel to Nick Spencer's Secret Empire Captain America, who was only recently Hydra. And then, in the aftermath of that invasion of the USA, a look at Russia, its history, its people, and its own threat. If a threat is indeed what it is. This is a comic of geopolitics, of big picture tectonic plates of nations shifting while remaining what they once were and how those countries are seen now. With Captain America as a recovered symbol of the state having his own crisis of confidence and trying to make… for want of a better word, reparations.
He explores the major Captain America players and how they relate to the Captain, both what he was and is now, all while paralleling an America that is equally divided. But that's what Coates does here — he parallels, he finds analogues, it's not some direct exploration of specific political events, but talking about them through analogy. Whether Captain America's conscience about killing compared to his less-troubled partner…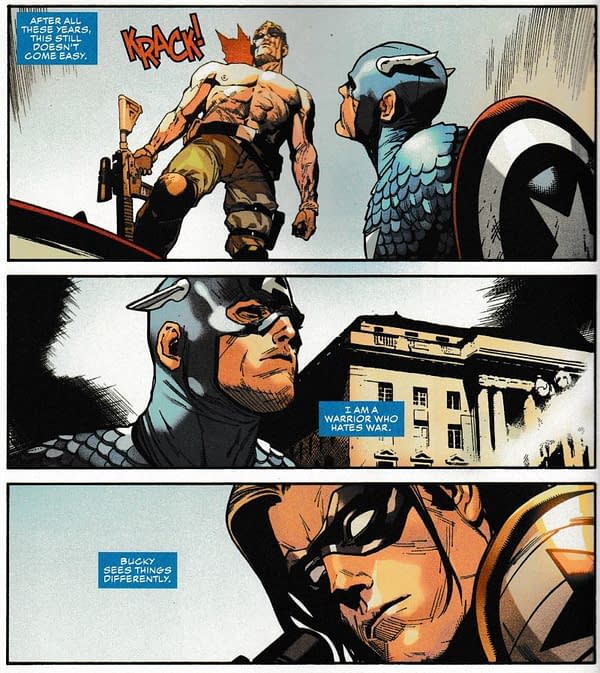 …of Sharon Carter, coming to terms with what happened to Steve Rogers — both the good and the bad. She almost seems jealous…


…oh, and the return of other fellows. Coates used the post-Hydra landscape to reset a number of people's status in the Marvel Universe — it's a handy quick fix.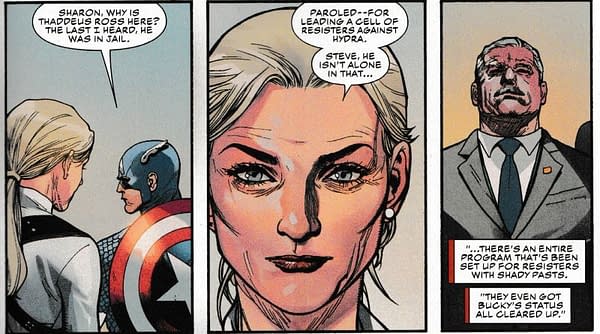 And Leinil Yu keeps things moving lickety-spit. This is what he does best, taking words and making them move. Despite many action scenes, Coates's work tends to be wordier than some of his contemporaries, but Yu is skilled at keeping everything in motion. Oh, yes, and the ageless psychic mutant vampire Selene is in it. Considering Sharon's complaints, that seems a neck waiting to be bitten.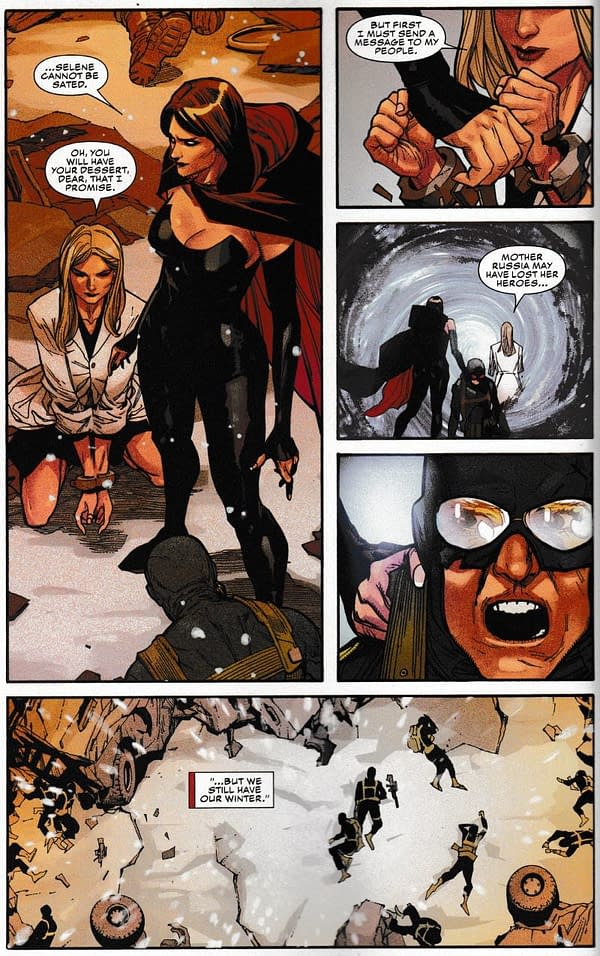 Oh, and Selene is in it. Coates has made his intentions to write the X-Men known — this could well be a backdoor into that. Another good example of analogy comics that he may well be up for.
If you want, there may also be some examination as how this is a very pale-skinned comic book, with hardly any people of colour through the issue. And how that is seen — or at least used to be — as a neutral setting, something that would be denied the likes of his Black Panther comic. But you may have to dig deep for that — it's certainly not an expressed concern in the comic. And it may well not have been something I'd have considered otherwise.
CAPTAIN AMERICA #1
(W) Ta-Nehisi Coates (A) Leinil Francis Yu (CA) Alex Ross
IT IS WINTER IN AMERICA.
For over 70 years, he has stood in stalwart defense of our country and its people. But in the aftermath of Hydra's takeover of the nation, Captain America is a figure of controversy, carrying a tarnished shield…and a new enemy is rising!
Who are the Power Elite? And how do they intend to co-opt and corrupt the symbol that is Captain America?
Rated T+In Shops: Jul 04, 2018
SRP: $4.99