Alan Moore and Kevin O'Neill have one last League Of Extraordinary Gentlemen tale to tell. But that is a way off yet.
Currently they are both working together on the lead strip of Cinema Purgatorio, the black-and-white anthology Alan curates and that is published by Bleeding Cool's owner Avatar Press, that is basically the Warrior Magazine of today.
The titular lead sees an unknown figure, told from his first person perspective, visiting a strange, old, very dodgy cinema, creepy, sticky and obsessive, to see a string of improbably and unlikely films that often comment on the cinematic medium.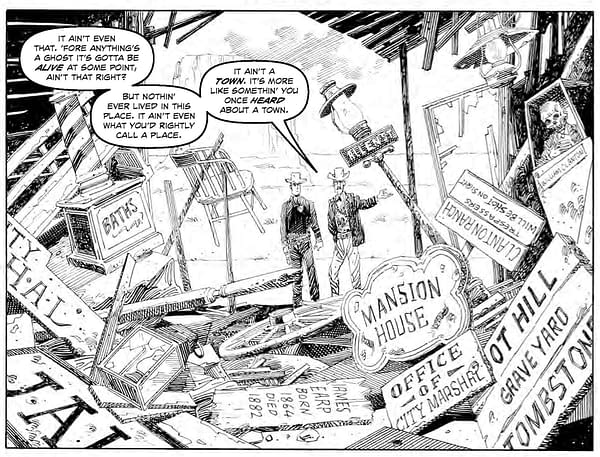 The most recent issue 7 took on The Gunfight At The OK Corral. All of them – or at least all the fictionalised versions, warring with each other. As Alan Moore merged all the different takes on that thirty second shoot-out in Tombstone, Arizona into one.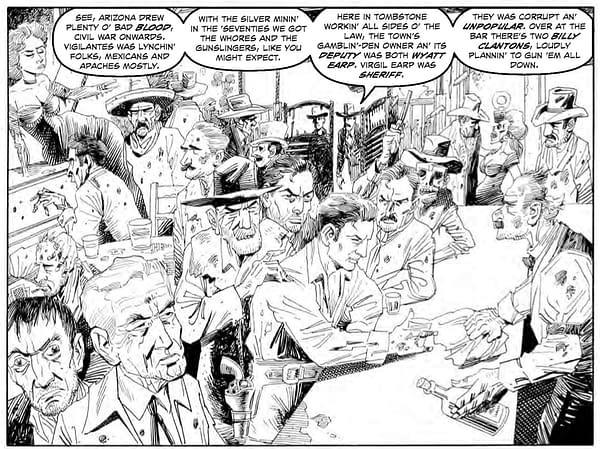 As well as all the gunslingers, sheriffs, outlaws and unlikely plot twists into one short story.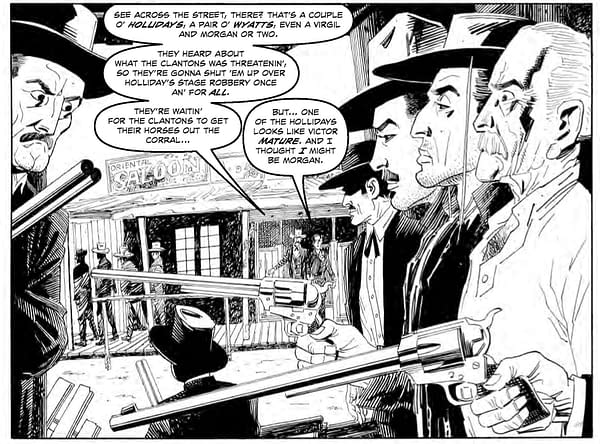 The actual gunfight only took thirty seconds. But has created books upon books, hours and hours worth of film and TV shows in the telling and the retelling. Moore and O'Neill manage to reduce that all back into seconds again…
Cinema Purgatorio, featuring stories written by Alan Moore, Kieron Gillen, Max Brooks, Christos Sage and Garth Ennis, is published by Avatar Press.
Enjoyed this article? Share it!