It's Always Sunny in Philadelphia Season 13, Episode 08: 'Charlie's Home Alone' and Day Nails It (REVIEW)
Welcome back to Bleeding Cool's weekly review of FXX's It's Always Sunny in Philadelphia, as we offer up our thoughts on the eighth episode of season 13, 'Charlie's Home Alone.'
Ample supply of chloroform and Philadelphia Eagles-themed handkerchiefs for Dennis (Glenn Howerton)? Check! Three extra Eagles sleeveless shirt for Mac (Rob McElhenney) for when he tears them off during the game? Check! A lead-lined holder and an extra fifty to slip the security so Frank (Danny DeVito) can get his gun in? Check! Plans for the access route beneath the stadium so Dee (Kaitlin Olson) can get to the players' locker rooms? Check!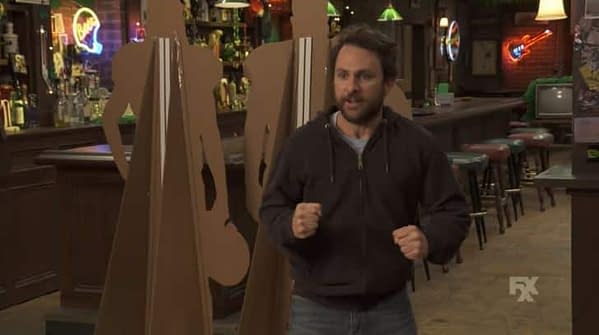 It's Super Bowl weekend, and The Gang from Paddy's Pub is heading out to the game with all of their bases covered – to make sure they didn't forget anything. Except they ended up forgetting someone: Charlie (Charlie Day) – who doesn't seem to bothered by it…until things get weird and Charlie starts to channel his inner Kevin McCallister. What could go wrong?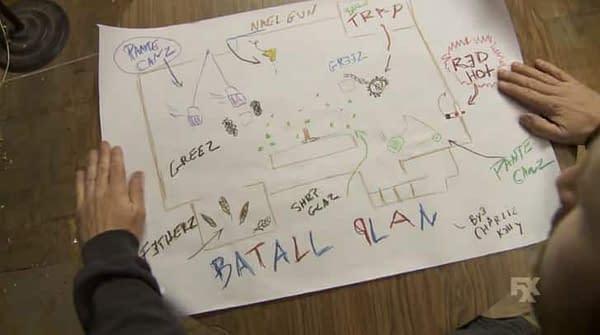 So check out our review of FXX's It's Always Sunny in Philadelphia s13e08 'Charlie's Home Alone' and see why this was a fun return-to-form for the series that went a little light on social issues this week and heavy on the comedic skills of Day – and how that was definitely a winning combination.
Spoiler Warnings: I'll be covering some themes and takeaways involving major and minor plot points from the episode, so just keep that in mind. Definitely not looking for pitchforks and torches outside my apartment.
It's Always Sunny in Philadelphia s13e08 'Charlie's Home Alone': It's the weekend of Super Bowl LII from Charlie's perspective. While Charlie searches the back office, Cricket steals the suit leaving Charlie home alone to defend himself. Written by Adam Weinstock & Andy Jones; Directed by Kat Coiro
https://www.youtube.com/watch?v=8r2pv1FwHT4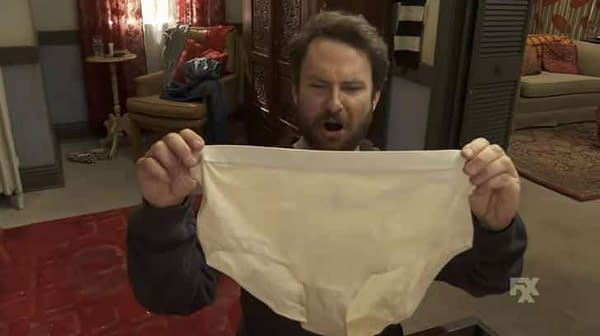 The Gang Returns… mostly…. in the 13th season of the FXX original comedy series It's Always Sunny In Philadelphia. Mac (Rob McElhenney), Charlie (Charlie Day), Dee (Kaitlin Olson) and Frank (Danny DeVito) return to their duplicitous, scheming ways at Paddy's Pub, while Dennis (Glenn Howerton) takes on the new role of father in North Dakota.

Even without Dennis Reynolds, the Gang has its hands full as Charlie hopes to have a child with The Waitress, Mac sets out to understand his newfound sexuality, Dee takes feminism to new heights, and Frank goes to great lengths for the Gang to experience the greatest moment in Philadelphia sports history – an Eagles Super Bowl victory.