'It's Always Sunny in Philadelphia' Season 13 Gets First Teaser, Key Art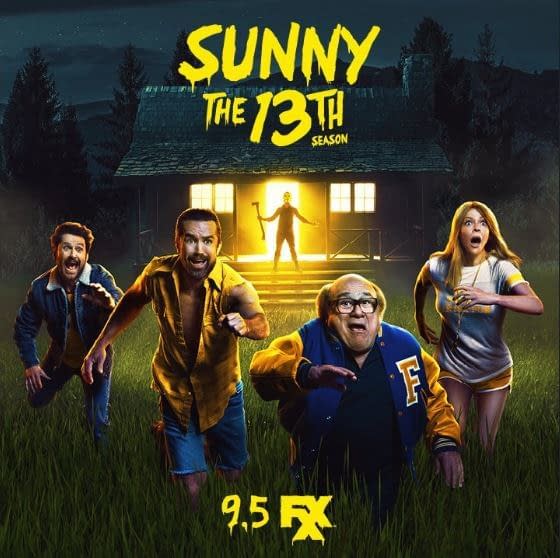 With less than two months to go before It's Always Sunny in Philadelphia opens Paddy's Pub for a 13th season, FXX is sharing a new teaser and key art ahead up the upcoming season premiere on Wednesday, September 5th, at 10 p.m. ET/PT. In the artwork, Charlie Day, Rob McElhenney, Danny DeVito, and Kaitlin Olson are pictured in an 80's-style summer camp/slasher setting, running terrified from a secluded cabin and an ax-wielding, hockey mask-wearing maniac…who might just be Dennis (Glen Howerton)? Hmmm…clues…
The teaser spotlights a number of the show' supporting players huddled around a campfire under the tagline "After 12 seasons, we have a lot of stories to tell": Gregory Scott Cummins's Luther, Artemis Pebdani's Artemis, Lynne Marie Stewart's Bonnie, Andrew Friedman's Uncle Jack, Lance Barber's Bill Ponderosa, Thesy Surface's Margaret McPoyle, Mary Elizabeth Ellis' Waitress and Sandy Martin as Mac's mom.
With Howerton's NBC sitcom A.P. Bio being renewed for a second season (and an expected early 2019 airing), most were expecting the actor to have a scaled back role on the series due to conflicting filming schedules. With that said, there's always the possibility that this is a big swerve on the part of FXX and the cast/crew of It's Always Sunny in Philadelphia; and that Howerton may be back for more episodes than any of us expect.

Here's a look back at the official Twitter announcement of the upcoming 13th season's premiere date, as well as FXX's official season synopsis – and if you believe what you're reading, Dennis is going to be spending some serious "Daddy Dennis time" in North Dakota. So unless Dennis plans on lodging some serious "frequent flyer" miles back and forth to the bar, Howerton may be MIA for a decent chunk of the season.
The Gang Returns… mostly…. in the 13th season of the FXX original comedy series It's Always Sunny In Philadelphia. Mac (Rob McElhenney), Charlie (Charlie Day), Dee (Kaitlin Olson) and Frank (Danny DeVito) return to their duplicitous, scheming ways at Paddy's Pub, while Dennis (Glenn Howerton) takes on the new role of father in North Dakota.

Even without Dennis Reynolds, the Gang has its hands full as Charlie hopes to have a child with The Waitress, Mac sets out to understand his newfound sexuality, Dee takes feminism to new heights, and Frank goes to great lengths for the Gang to experience the greatest moment in Philadelphia sports history – an Eagles Super Bowl victory.