Amy Chu's Writer's Commentary on KISS: The End's Finale, #5 – "Hell Or hallelujah"
Amy Chu has a Writer's Commentary on KISS: The End's finale, issue #5 published by Dynamite Entertainment yesterday. She writes,
Well, hello again! Here we are at the END of The End! Bet you never saw that coming! Before we dive into this issue, I must confess even though I had written three KISS miniseries I had never actually been to a KISS concert. This I just couldn't live down. So last month in the middle of toiling over another script, I saw the band was performing a mere hour away from me. I immediately sent a message to Gene's backstage VIP manager who I met at our joint signing at the Wizard World in Philadelphia a few years ago. She got right back to me and let's just say, I ditched my script faster than you can say "hell or hallelujah."
Fast forward a few hours, me and my family were waiting backstage. Now here is where it gets REALLY surreal. You have to understand there is a huge line of people back there waiting to get their photo with the band and this is right before Gene, Paul, Eric and Tommy are supposed to go on stage. So they are in complete makeup and costume and wearing those enormous boots and they look NINE FEET TALL. And staff people are yelling, and lights, and here comes my turn. I, a 5'3" Asian American gal with glasses clutching the KISS: The End #1 comic finally walk up to them, and Gene waves and shouts "Hey, it's Amy Chu everyone!" And he turns to me and says, "Everyone loves the comics." I mumbled something incoherent. Paul Stanley just looks at me expressionless. I can only imagine what his thought bubble looked like. The other two guys I can tell just want to go on stage. But anyway, I got my photo and shout out from Gene and it will go down in my Facebook history as MOST LIKED PHOTO EVER. The show itself was everything and more. So needless to say, my first and presumably last KISS concert was a memorable one!
Now back to this show…
This cover! Stuart Sayger rides again! I saw the solicits for the trade paperback coming in November and looks like it is this cover, so amazing job, Stuart!
Page 1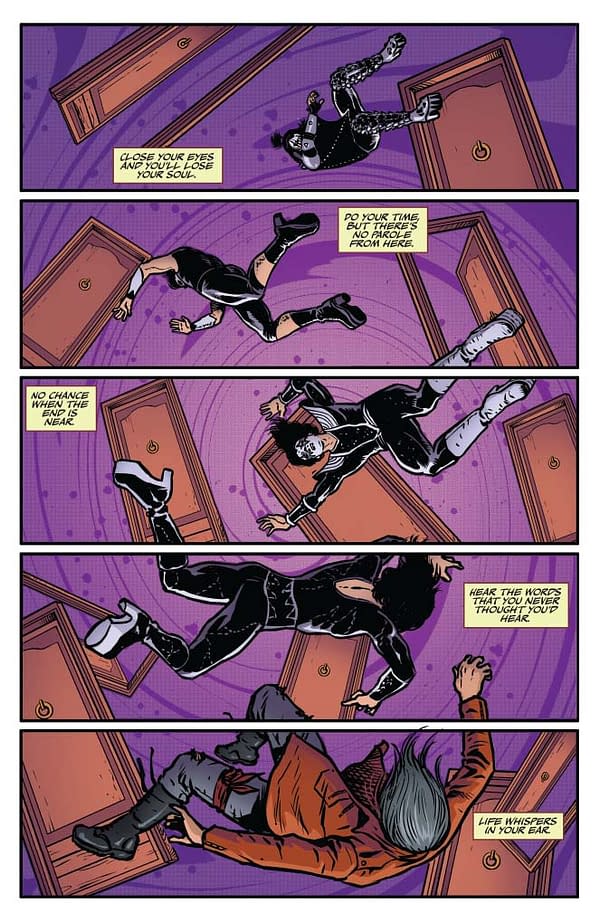 Motion is incredibly hard in a static medium like comics. As I writer I can say "they fall like Alice in Wonderland" but how do you show that? This is the challenge for sequential artists.
I should really run a contest, identify the lyrics in this issue. Maybe I'll do it on my website. That would be fun, yes?
Page 2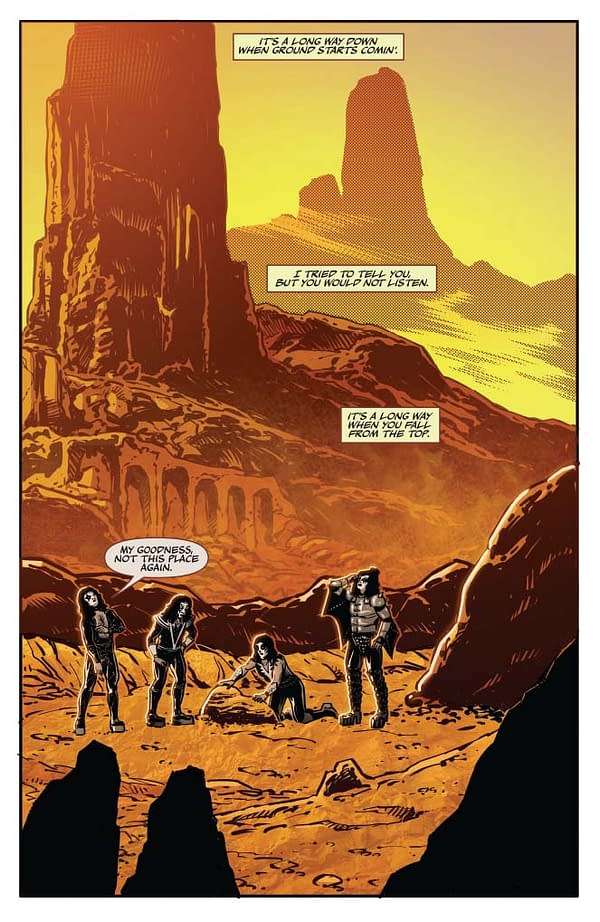 Glory to Jorge Sutil for these magnificent colors.
A surprising byproduct of finally making it to a KISS concert is that I have a much better idea of Paul Stanley's "voice". His banter with the audience has a lot of character and expression and I wish I had the opportunity to do more with it. Oh, well…
Page 3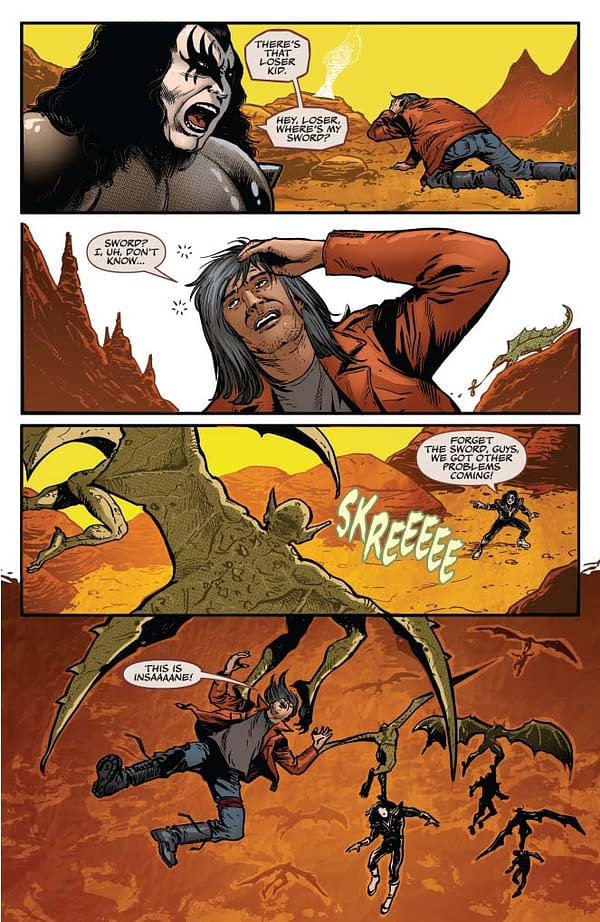 Now that I've met Gene TWICE, let's just say his voice is much more clear in my head….
Page 4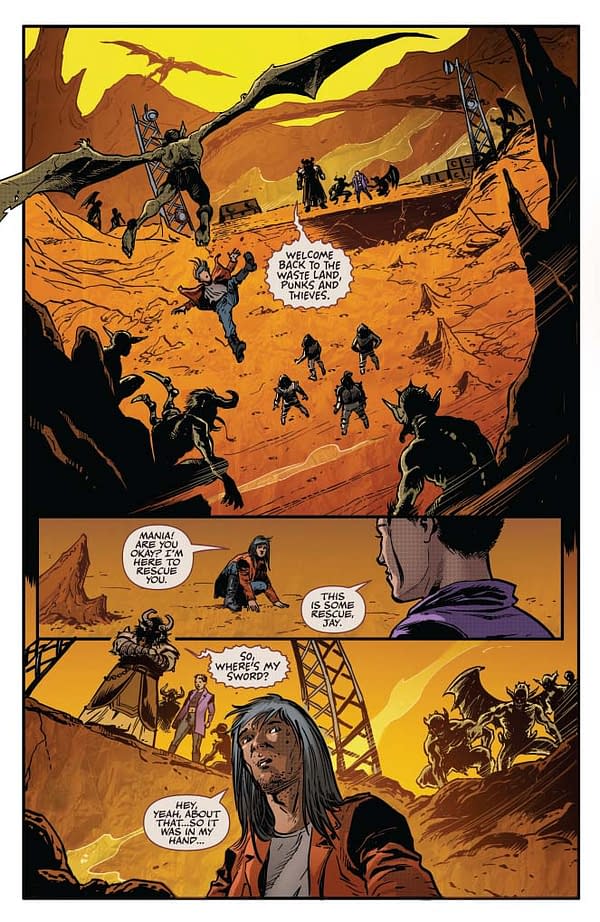 A touch of the Luke-Leia Star Wars rescue scene. Do you see it?
Page 5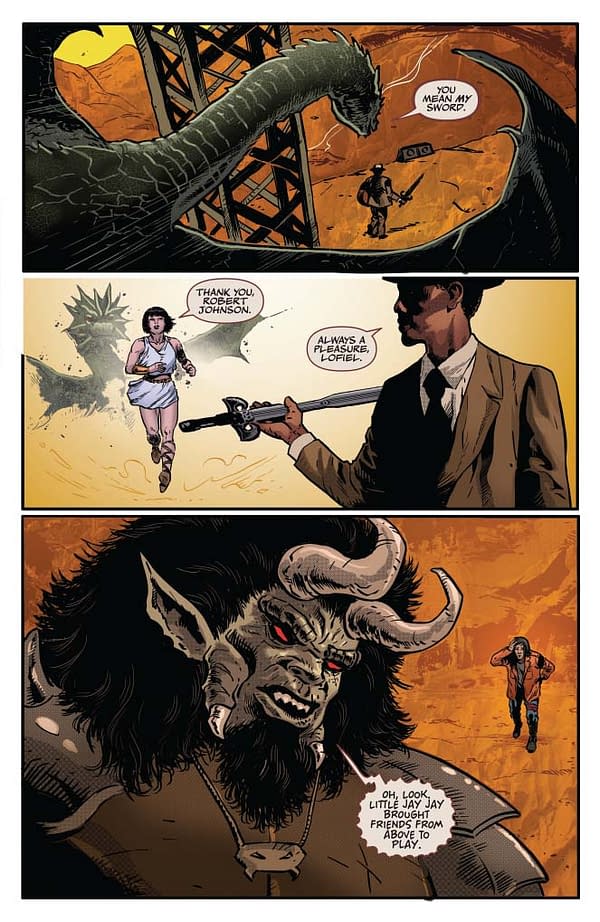 Remember Lofiel turned into the dragon in the previous issue (in case you were confused…)
Page 6
The legend of blues master Robert Johnson of course is that he sold his soul to the devil at the crossroads for his talent. Read up and listen to his music.
Page 7
Conveying emotion is such an important part of the visual storytelling. I love how Edu really gets the Lord of the Waste Land here.
Page 8
If someone ever cosplays as this guy, I will just DIE. Please do. I will shower you with praises.
Page 9
Is it terrible that I laugh at my own characters?
Page 10-11
You knew this was coming, right? A KISS concert in Hell! I know these double page spreads can be annoying for digital readers, but the artist needs to have some fun every now and then! I just told Edu to think of the triptych Bosch's Garden of Earthly Delights. I think he was worried I meant literally, but I meant compositionally. I felt the sigh of relief from across the continent…
Page 12
So now comes the test for Jay.
Page 13
And that's the end for Mania and Jay. Or is it…
Astute readers know we have seven more pages to go!
Page 14
Call back to the first issue. Wow, Jay is much buffer than I imagined him to be!
Page 15
And finally the KISS you've been waiting for…
Page 16
Couldn't resist bringing these guys back into the story…
Page 17
I promised I would bring Kimiko back!
Page 18
Surprised?
Page 19
After all, this is a KISS comic!
Page 20
The is sadly, the end of my collaboration with the legendary and wondrously fun and witty William Messner-Loebs. I am so pleased with the way this ending turned out. I hope you are too. It seemed a fitting way to pay proper homage to Robert Johnson, music legend.
As you know, things don't always turned out the way they are planned, for better or for worse. This is the story of Bill as well. As many of you may know, he and his wife have unfortunately lost their home. I will be putting up some signed KISS comics on my alphagirlcomics.com website. All proceeds will go to helping them with their medical expenses and to find a new place to live. Also please look out for his collected Wonder Woman edition from DC. Now if they would only reprint his Flash too…SOS Jim Lee and Dan DiDio…
In the meantime, if you haven't already, please join Fans of William Messner-Loebs Facebook group page for more news.
Thanks to our wonderful editor Kevin Ketner, stoic Edu Menna, lyrical Troy Peteri, glorious Jorge Sutil, fearless leader Nick Barrucci and everyone at Dynamite. And thank YOU, dear reader, for buying this book!