Lalo Meets Hector Face-to-Face in AMC's Better Call Saul 'Wiedersehen' Preview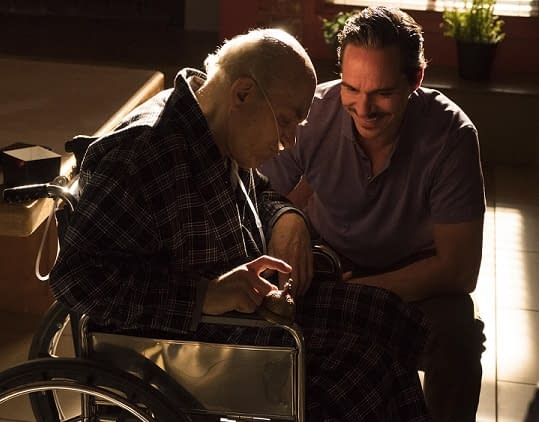 Last week's episode of AMC's Better Call Saul – Vince Gilligan and Peter Gould's Breaking Bad prequel-sequel series starring Bob Odenkirk, Rhea Seehorn, Jonathan Banks, Patrick Fabian, Michael Mando, Mark Margolis, and Giancarlo Esposito – saw a number of our characters making moves (and decisions) that slide the series' narrative closer and closer to its Breaking Bad inevitability.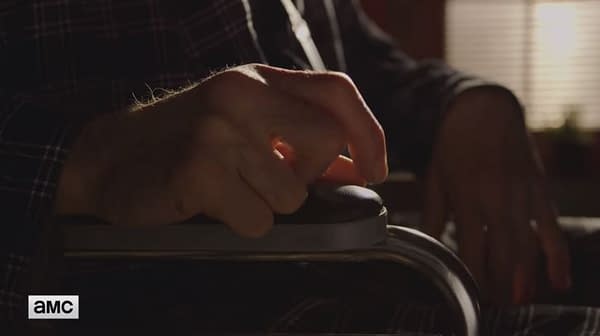 While Jimmy (Odenkirk) professionally seduces Kim (Seehorn) to the "dark side" (translation: "Saul Goodman's" thinking) with courtroom success and Mike (Banks) is realizing pretty quickly that loose lips might sink Gus' (Esposito) meth lab even before it's begun, it's Nacho (Mando) who's feeling some real heat.
Rising up through the Salamanca organization, Nacho is solidifying power by tightening up the business – and that includes showing Domingo (Max Arciniega) how to handle dealers who don't meet their quota. But Nacho's control is about to be challenged by Eduardo "Lalo" Salamanca (Tony Dalton), sent to "assist" Nacho with the running of the business – and unlike Hector's (Margolis) "broader picture" approach, Lalo's attention to details is causing Nacho serious concern. As we can see from AMC's preview for 'Wiedersehen,' Lalo's "attention to details" begins with meeting "The Man" himself face-to-face:
Better Call Saul s04e09 'Wiedersehen': Jimmy and Kim unburden themselves, risking their relationship in the process; Nacho is forced to make the rounds with Lalo; Mike has cause to worry.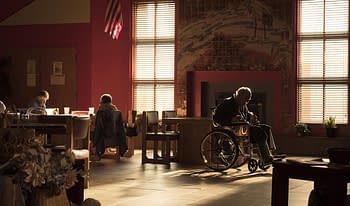 In Better Call Saul's fourth season, Chuck's death catalyzes Jimmy McGill's transformation into Saul Goodman. In the wake of his loss, Jimmy takes steps into the criminal world that will put his future as a lawyer — and his relationship with Kim — in jeopardy. Chuck's death deeply affects former colleagues Howard (Patrick Fabian) and Kim as well, putting the two of them once again on opposite sides of a battle sparked by the Brothers McGill.

While Mike takes a more active role as Madrigal Electromotive's newest (and most thorough) security consultant. It's a volatile time to be in Gus Fring's employ, as Hector's collapse sends shock waves throughout the Albuquerque underworld and throws the cartel into chaos — tearing apart both Gus and Nacho's well-laid plans. While Gus changes course, Nacho finds himself in the crosshairs of deadly forces.