Brooklyn Nine-Nine Season 6: Locked and Way Too Loaded in New NBC Promo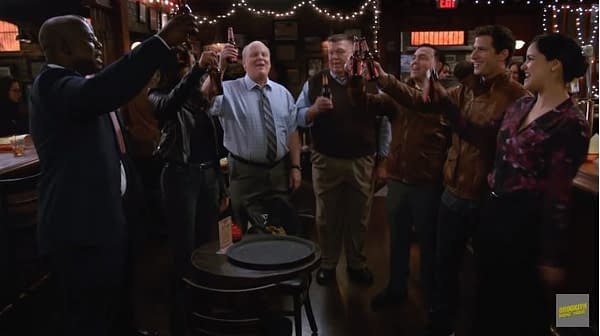 Bigger, badder, and back on the air thanks to a last-minute repreive from NBC after Fox sent the series down "The Green Mile," Brooklyn Nine-Nine is set for its sixth season premiere on NBC in January 2019. Now you're probably thinking about the new year being two months away and how that seems like a long time to wait – well stop worrying! Your friends at "The Peacock Network" are giving a first-look promo at the upcoming season – and while it may not do much to tie up any dangling storylines from last season, it does prove that the shows isn't missing a beat in the network move:
https://youtu.be/ZsScSS64FgM
The hilarious heroics of New York's funniest police precinct continue for a new season, with a brand-new home: NBC.

SNL alum Andy Samberg and Emmy winner Andre Braugher lead this diverse, critically acclaimed ensemble that solves crimes like only they can – with tons of humor and the heart to match. Winner of a Golden Globe Award for Best Comedy Series and from Executive Producers Michael Schur and Dan Goor, "Brooklyn Nine-Nine" has captured the hearts of millions, and NBC is proud to be a part of the story.
In May 2018, the network (in)famous for cancelling Firefly and Family Guy decided not to renew Brooklyn Nine-Nine – but this time, NBC was there for the rescue. The network originally picked up the series for a 13-episode sixth season, eventually upping the order to 18 episodes. NBC Entertainment Chariman Robert Greenblatt has this to say at the time of the announcement:
"Ever since we sold this show to Fox I've regretted letting it get away, and it's high time it came back to its rightful home. Mike Schur, Dan Goor, and Andy Samberg grew up on NBC and we're all thrilled that one of the smartest, funniest, and best cast comedies in a long time will take its place in our comedy line-up. I speak for everyone at NBC, here's to the Nine-Nine!"
Executive producers Dan Goor and Michael Schur took to Twitter to announce that the show had been picked by NBC, thanking fans for the save:
Hey everyone, just wanted to say no big deal but….
NBC JUST PICKED #BROOKLYN99 UP FOR SEASON 6!!!
Thanks in no small part to you, the best fans in the history of the world!

Nine-nine!!!!!!!!!

— Dan Goor (@djgoor) May 12, 2018
Brooklyn Nine-Nine. Season 6. NBC. pic.twitter.com/ezW4ejgxGL

— Ken Tremendous (@KenTremendous) May 12, 2018
At this summer's Television Critics Association (TCA) press event, Goor reassured fans that fans will get the Brooklyn Nine-Nine they want:
"Yes, the mandate from NBC all along is we know this show, we love this show, that's why we picked up this show, please keep making the same show. In a lot of ways, I think it is the same type of show. I don't want to say it's the same show. I think it's going to be even better this year. Definitely put that in. I'm doing The Secret. There are no substantive changes in terms of our approach to the show or anything else."