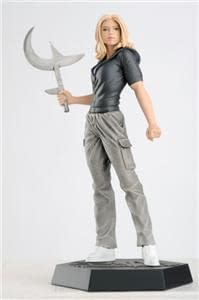 European publishing company Eaglemoss, known for their "partwork" magazines, have struck gold over the last few years with their Classic Marvel Universe Figurines and DC Super Hero Collection line, magazines profiling the company's characters, with detailed, painted lead figurines attached.
Although designed for the European newsagent/news stand market and personal subscriptions, they've been very well received by the US direct comics speciality market, with the added bonus for Eaglemoss of non-returnable sales.
And now Eaglemoss has arranged for their Buffy line of magazines and figurines to be distributed in the USA as well. As with the DC and Marvel line, each issue's magazine spotlights a different character, with an attached figurine.
Odds are it will be just as, if not more, successful. Although I'm not sure if a lead stake would have the same effect on a vampire.
It's currently planned for the Marvel line to run to 140 figurines, and DC to reach 80. And new figures will be exhibited at the San Diego Comic Con. But the lines have already both been extended more than once, so odds are they'll be extended again…
Buffy image copyright Fox.
Enjoyed this article? Share it!