Cobra Kai: Check Out Unseen Karate Kid Footage, NYC Pranks and a Sweeping Endorsement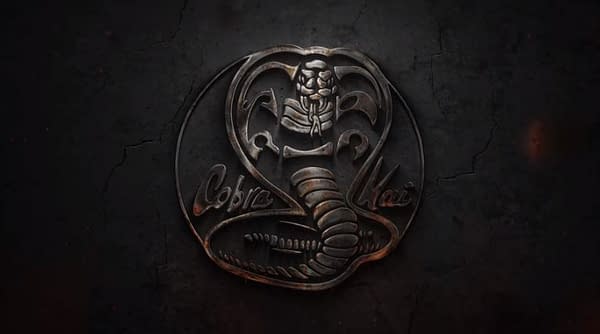 With the first two episodes of YouTube Red's The Karate Kid continuation series Cobra Kai ('Ace Degenerate' and 'Strike First') dropping today, the streaming service has been turning their promotional machine up to "11" over the past few weeks in some very cool ways. With an emphasis on social media and online promotion, we've been introdcued to the upcoming ten-episode season's characters and storylines through teasers, trailers, fake ads, and profiles.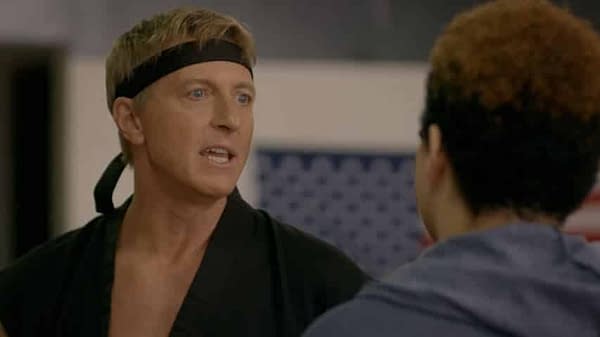 This time, we've got a mixed bag of some interesting stuff: some previously unseen footage from the original The Karate Kid film that helps better define Daniel (Ralph Macchio) and Johhny's (William Zabka) rivalry thirty-four years later; a pretty good karate prank on the streets of New York City; and a double "sweeping" endorsement for the series.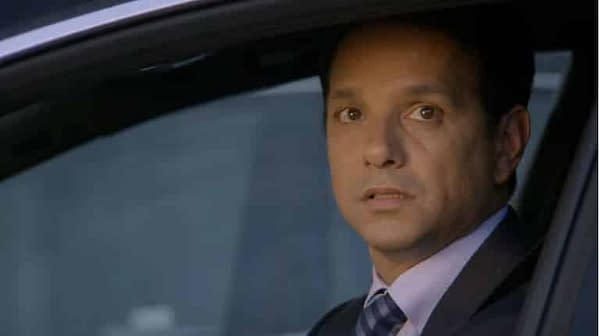 But first, here's a look at the official trailer and series overview:
In the highly-anticipated return of two iconic characters, the arch-rivals from the legendary Karate Kid film series reunite over 30 years after the events of the 1984 All Valley Karate Tournament. Now living in the affluent hills of Encino, Daniel LaRusso (Ralph Macchio) leads an enviable life with his beautiful family, while running a successful string of car dealerships throughout the valley.

Meanwhile, his high school adversary, Johnny Lawrence (William Zabka), whose life has taken a rocky turn, seeks redemption by reopening the infamous Cobra Kai karate dojo. Their lives inevitably become intertwined and the rivalry is reignited, setting forth the next generation of "karate kids" in COBRA KAI, a YouTube Red Original Series.

COBRA KAI also stars Courtney Henggeler (Mom, Fixed) as Daniel's wife, Amanda; Vanessa Rubio (How to Be Single) as Carmen, single mother and Johnny's girlfriend; Xolo Maridueña as Carmen's son, Miguel; Mary Mouser as Samantha LaRusso, Daniel's daughter; and Tanner Buchanan (Designated Survivor) as Robby, a Cobra Kai recruit (against his wishes) with an agenda of his own.
Josh Heald (Hot Tub Time Machine), Jon Hurwitz (Harold & Kumar Go to White Castle) and Hayden Schlossberg (The Pact) explain how unused footage from the original film helped define Johnny as a reluctant protagonist in Cobra Kai:
In this promotional prank set up on the streets on NYC, watch the reactions as bystanders witness a karate prank where a street lamp, a motorcycle, and a water hydrant get "destroyed" action movie-style:
Actor/comedian Patton Oswalt (Happy!, A.P. Bio) tweeted out his daughter Alice's "official endorsement" for the upcoming series – and his endorsement of the swag box (which is pretty sweet):
Only to be followed up with an almost Inception-like endorsement-within-an-endorsement scenario, as original Cobra Kai sensei John Kreese (Martin Kove) seemed impressed with Alice's skills – but did offer a little sage advice: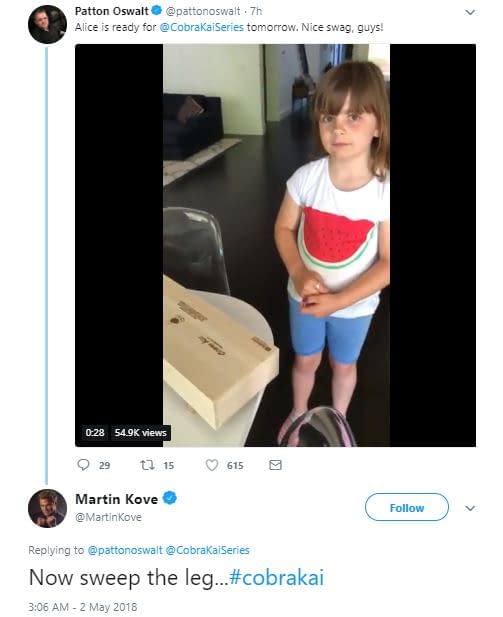 And before we forget, here are our thoughts on the first two episodes of YouTube Red's Cobra Kai:
Heald, Hurwitz, and Schlossberg write and executive produce the series; with Hurwitz and Schlossberg directing in the first season. James Lassiter (This Means War) and Caleeb Pinkett (Hawthorne) executive produce for Overbrook Entertainment, in conjunction with Sony Pictures Television Studios.