DC Expands to 6 Walmart Exclusive Comics Including Wonder Woman and Swamp Thing
When DC Comics launched their exclusive 100 Page Giant-Sized Walmart titles, it was noted that despite the recent film, there was no Wonder Woman title. That has now changed, as the titles jump from four a month, plus specials, to six a month.
Teen Titans and Justice League Of America will be canceled, replaced by a new Titans #1 and Wonder Woman #1. Superman and Batman will continue. And there will be new titles, The Flash and Swamp Thing. Surprisingly this time, no Aquaman to accompany his billion dollar movie.
The first Swamp Thing 100-Page Giant includes an original story, Desert of Ash by Tim Seeley and Mike Perkins with Swamp Thing and his witch companion Briar as they face the pyromaniac Char Man, who possesses the ability to control flames, a power granted by the elemental spirits of fire itself. Issues #2 and #3 feature Bog of Blood, a two-parter by Seeley and Joëlle Jones, which introduces a terrifying and potentially supernatural slasher stalking the swamps of Louisiana.
The comic will also include Jeff Lemire, Travel Foreman and Dan Green's The Hunt, from Animal Man, and Raise Dem Bones from Scott Snyder and Yanick Paquette Swamp Thing, plus Death in a Small Town, with Detective Chimp and Shadowpact.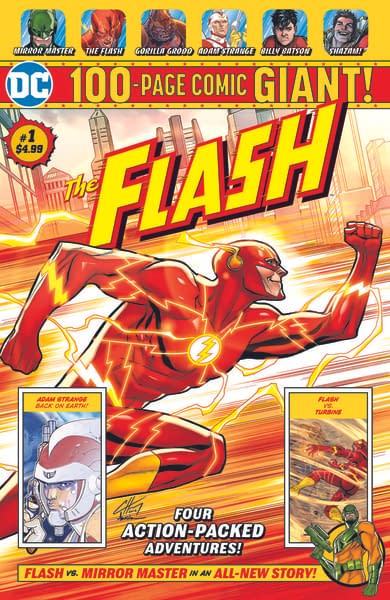 The Flash 100-Page Giant #1 features an all-new twelve-part story by Gail Simone and Clayton Henry, Glass Houses, in which Barry Allen is dedicated to keeping the streets of Central City safe as the Fastest Man Alive, but when his old foe Mirror Master shows up looking to cause trouble, it's up to the Flash to stop him. This book also includes Flash stories by Francis Manapul and Brian Buccellato, Adam Strange by Andy Diggle and Pasqual Ferry and Shazam, by Geoff Johns and Gary Frank.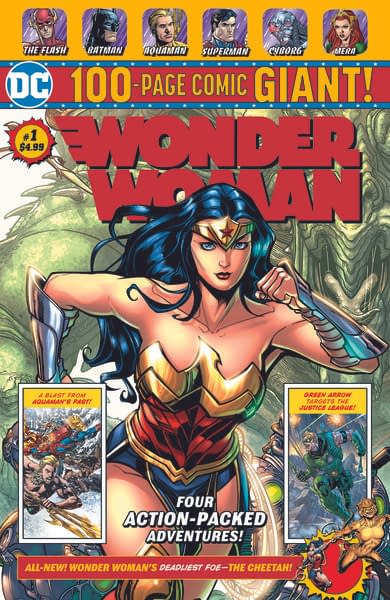 Wonder Woman #1 will continue the original Wonder Woman story by Amanda Conner, Jimmy Palmiotti, Tom Derenick, and Chad Hardin from the Walmart Justice League comic, with Justice League and Aquaman stories from Geoff Johns, Ivan Reis, and Joe Prado, plus 2006's Who Is Wonder Woman? by Allan Heinberg, Rachel Dodson, and Terry Dodson.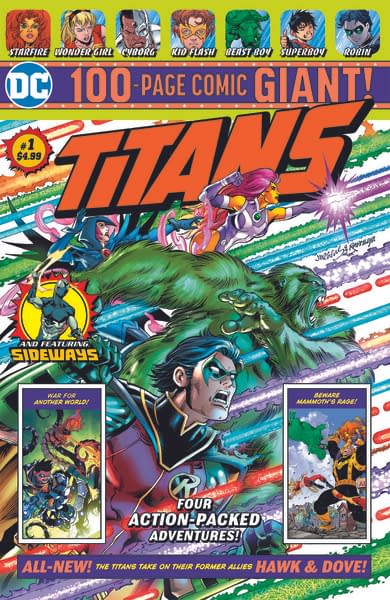 Titans 100-Page Giant #1, has Dan Jurgens continuing his original story with Scot Eaton and Wayne Faucher. In addition, the book will continue with Geoff Johns and Tom Grummett's Teen Titans from 2004, Peter Tomasi's Super Sons and Kenneth Rocafort, Dan DiDio, and Max Raynor's Sideways.
Each 100-page comic sells for $4.99 and will be available in more than 3,000 participating Walmart retailers in the United States. To find the one nearest you, use the Walmart store finder.
---
---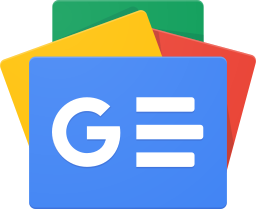 Stay up-to-date and support the site by following Bleeding Cool on Google News today!