It has been established in the Watchmen world, as portrayed in the unauthorised sequel Doomsday Clock, that DC Comics titles have been published. So when the Watchmen characters come to the DC Universe, they already know certain aspects of it from pop culture.
But do they have Marvel Comics as well? Apparently the prevalence of actual superheroes killed off the genre in comics, with pirate comics becoming the standard. But is it possible that Mark Millar and Steve McNiven's Civil War made it through? Before Watchmen established that Ozymandias was inspired by The Twilight Zone, could Dr Manhattan have flicked through a copy of Civil War? If only for research, to find out more about the bloke who wrote another naked floating blue man at a funeral in another unrelated comic, The Magic Order?
Civil War began with an explosion killing many, blamed on the New Warriors, reality TV show, that got mass media coverage and kicks off the Superpower Registration Act that so divides Captain America and Iron Man and encouraged everyone to decide Which Side They Were On.
That aspect was pilfered from Watchmen, how costume vigilantes were outlawed, with those affected picking a side. Also snaffled by the Incredibles.
But could Doomsday Clock be doing the same? In Doomsday Clock #8, in Moscow's Red Square as everything between Superman, Firestorm, the Protectorate and the Russia army kicks off, it appears that it is Dr Manhattan who sends the explosion to kill so many. Resulting in the following headlines… could the Supermen Theory about to inspire international legislation and do away with Superman for good? And preventing Superman killing Dr Manhattan? We've already seen the strings he is pulling in Batman #60 today…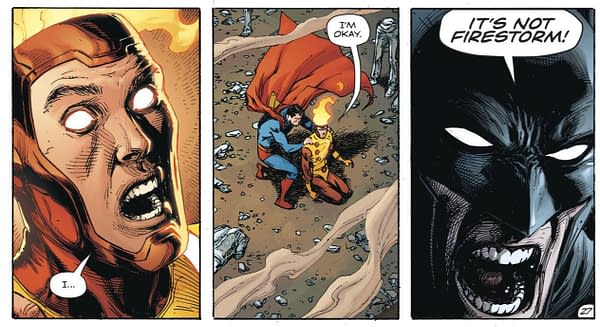 Or is Dr Manhattan the future version of Jonathan Kent now? He does seem to take a lot of interest in that boy… maybe he has plans for Damian too… here's how the world reacts.
DOOMSDAY CLOCK #8 (OF 12)
(W) Geoff Johns (A/CA) Gary Frank
The critical and commercial hit series by Geoff Johns and Gary Frank continues following the shocking revelations of last issue. As the truth behind Dr. Manhattan's actions against the DC Universe are revealed, Ozymandias turns to the only being who can stop him: Superman.In Shops: Dec 05, 2018
SRP: $4.99
Enjoyed this article? Share it!