The Bleak Depressing Power Of The Drunken Bakers
Viz Comic is Britain's best selling non-licensed comic book, and has been for decades. An adult comedy magazine, full of short strips and text pieces, it remains a searing satirical indictment of British society at all levels. It parodies classic British comics of some remembered childhood between the fifties and the seventies, it has built up characters and catchphrases that began with the joy of taking a childhood favourite and making it swearier, to taking apart searing social issues of a modern Britain in a fashion that cannot be ignored.

One of their recent additions in the last decade is Drunken Bakers. It is a comedy staple to use drunkenness for slapstick and mockery from comics strips to sketch show to sitcom. The Porter scene in Macbeth, with a drunken porter awoken by knocking through the night, slurring his words and shouting at the audience may be one of the best known early examples.
And Viz does this too, early on in its first issues over three decades ago with Brown Bottle, a man who thinks he becomes a superhero after drinking Newcastle Brown, but instead becomes a drunken nuisance – the inspiration for Garth Ennis and John McCrea's Sixpack in Hitman.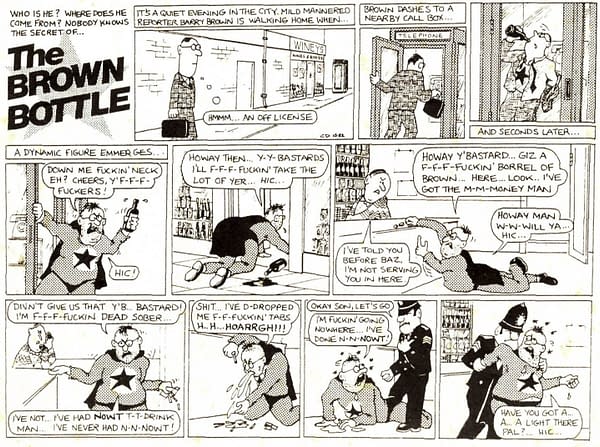 The more recent 8-Ace being one of the best examples, the slapstick of a father estranged from his family with the best of intentions, always ending up spending his last £1.49 on 9 cans of Ace lager. It's horrific but it is traditionally comic in structure.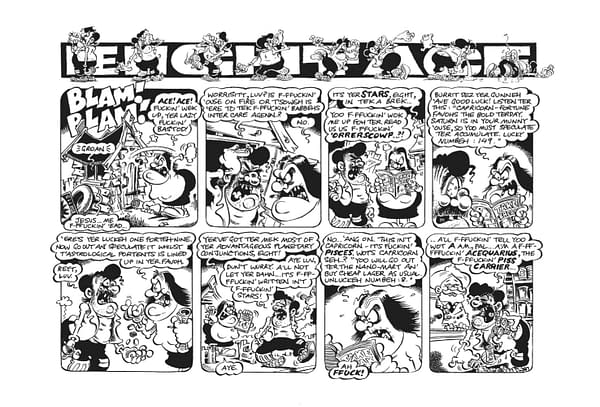 Drunken Bakers rejects this tradition however, and instead shows the true horror of alcoholism at its worst, as two bakers, whose red noses are slightly ameliorated by the fact that they have a slight appearance of classical clowns, try and get through the day with nothing to live for but booze and destroying anything of worth in their lives. Their best of intentions are destroyed through their own behaviour and it is guaranteed that nothing they aspire to achieve will ever be fulfilled. It's funny in a horrific way, Ken Loach meets David Lynch behind the bins throwing up for two hours straight. It is a remarkably bleak experience for an ostensibly humour magazine but its survival shows how it does that line beautifully – and chillingly.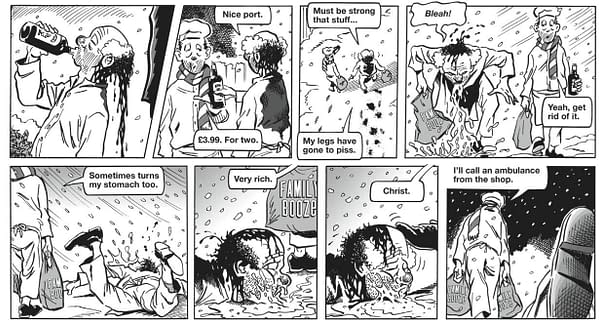 When government looks to act on legislation regarding alcohol, they could read hundreds of pages of social reports – or they could just read Drunken Bakers. The odds are they'd get an understanding of the situation far clearer with the latter. Comics, you see. Words and pictures. And you can do anything with words and pictures.
Drunken Bakers by Barney Farmer and Lee Healey appears in this month's Viz Comic #277.