Egyptian Graphic Novel Banned, Creator And Publisher Fined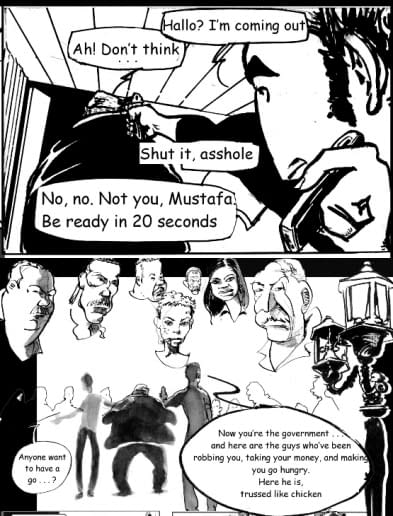 Metro is a graphic novel that was published in Egypt in 2008. Billed as the country's first graphic novel intended for adults, and possibly the first adult graphic novel written in arabic, it's set in modern day Cairo, the story of a young software designer forced into debt by corrupt government officials, who robs a bank to pay the money back.
In 2008, the publisher's offices were raided, all copies seized and the publishing or further copies banned. Booksellers were ordered to deny knowledge of the book and delete it from their systems. Both publisher Mohamed El-Sharqawy and creator Magdy L Shafee were arrested. The charge was offence to public morals and the use of colloquial language. Blimey.
This weekend, the verdict came down on the charge of printing and distributing a publication infringing public decency, based on one section which contained a limited sexual nature. The book has been banned and the creator and publisher fined.
Shafee will appeal the verdict, which has been condemned by a number of human rights bodies.
Sadly the Comic Book Legal Defensze Fund only operates within the borders of the United States of America.