Family Guy Showrunners Rich Appel, Alec Sulkin on Season 17: Adam West Farewell, Brian Married, and More
Coming off an Emmy campaign that included a mailer addressing the Harvey Weinstein and Kevin Spacey scandals that the show referenced years earlier, Family Guy showrunners Rich Appel and Alec Sulkin sat down to discuss what fans can expect from the popular long-running animated sitcom as it begins its 17th season. Over the course of their interview with Deadline Hollywood, Appel and Sulkin teased a Family Guy take on Fatal Attraction, a tribute episode for the late Adam West, Quagmire's long-lost daughter, and more: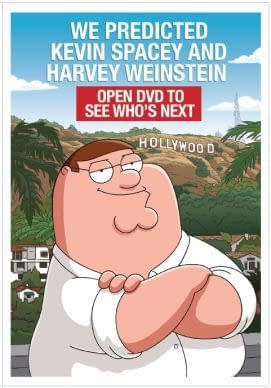 ● Family Guy will continue experimenting with the three acts/three different styles going into season 17, including a take on "three classic love stories": Helen of Troy, Romeo and Juliet, and… Fatal Attraction? That last choice makes perfect sense to Appel: "What could be more romantic than watching Fatal Attraction on Valentine's Day, or at least the Family Guy version of it?"
● But the show's also trying something new next season: a "DVD commentary episode" that has the cast (in voiceover) "watching" the episode that viewers will be watching, offering behind-the-scenes highlights from the making of the episode. Feeling a little Inception-y right now? Let's let Appel explain:
"We have one story that's happening in the episode that they're commenting on, and then another story that just unwinds in the recording booth and voiceover when Lois discovers that Peter makes more money than she does, and the reason for that is that he's still paying alimony to Sarah Paulson — playing herself — who was his first wife. She was also in our universe as a guest star in the episode they're commenting on, and the director of that one, Greg Colton, spent a ton of time, because you have to adjust the volume of what story you're listening to, but the story on screen still has to make sense."
● Weddings are a pretty standard staple for long-running sitcoms, and it looks like Family Guy isn't immune: the show's two-part season premiere will include Brian getting married.
● While the show has paid tribute to the passing of "Mayor" West, Sulkin and Appel revealed that the actor would be receiving a "proper farewell" in an upcoming episode:
"We're going to have a big episode which says a proper farewell to Adam West who obviously was a huge part of our town. He was the mayor, he played Mayor Adam West, and as a person and as a character, he was as original a comic voice as you could imagine and such a collaborative and sweet man, honestly. So we wanted to commemorate him, and there's a full episode about how we honor him and say goodbye to him."
● Family Guy will also tackle… the Korean Olympics?!? Tara Lipinski and Johnny Weir are set to appear.
● Additional appearances for the upcoming season include Breaking Bad's Bryan Cranston as Peter's new boss — and new semi-recurring cast member; and Mandy Moore as Quagmire's previously-unknown teenage daughter.