By Cameron Hatheway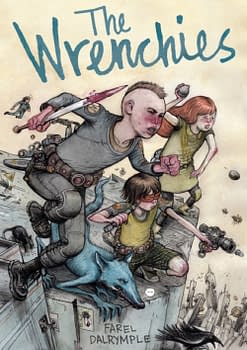 In a post-apocalyptic world where demons, zombies and agents of the damned roam the earth, only one gang known as the Wrenchies are brave enough to kick evil's ass and save what's left of humanity. Oh, and they're only a bunch of kids.
In The Wrenchies from First Second Books (due out in September), it's as if creator Farel Dalrymple shoved time-travel, aliens, magic and Moebius through a meat grinder and painted the pages of his young adult graphic novel with the final blended product. At times it's hard to figure out whether Dalrymple's as mad as a hatter, or some sort of twisted genius. By the end of the book it's a healthy little serving of both.
The story begins with two brothers, Sherwood and Orson, as they discover a cave that forever changes their lives. After battling their first demon that resides in the cave, the brothers acquire a taste for demon hunting, and soon after make it their life's work to rid the world of these sinister Shadowsmen. Sherwood then becomes the primary focus, as his adventures and life's work go through several changes as he grows older. He's an important character that you see bits and pieces of throughout the novel, and it becomes very apparent how he's connected to everyone and everything.
But enough about Sherwood, let's focus on the badass Wrenchies and the post-apocalyptic wasteland that they call home. Gangs of kids are the main inhabitants of this world, and when they reach a certain age they're stolen away by the Shadowsmen and join their undead ranks. Not the Wrenchies though, for they're a group comprised of the brightest and bravest who don't give two shits about being targeted by the Shadowsmen until they ultimately are, then they're forced to seek out the Scientist; a professor trapped in a mechanical golem body. The Scientist was once a friend of Sherwood, and plans a journey to destroy the source of all evil that the Shadowsmen thrive on.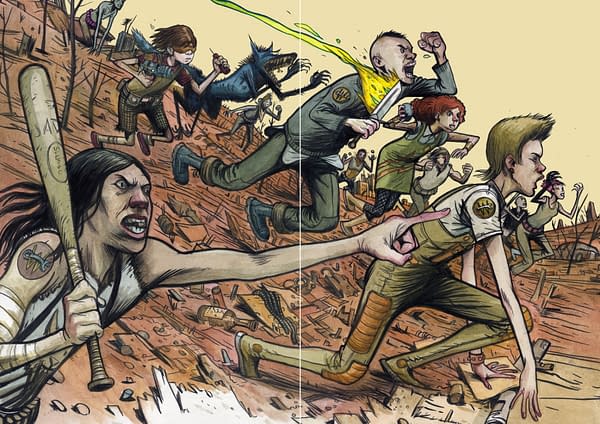 Before the journey can even begin, the Scientist requires more companions for the inevitable battle ahead. Enter stage right Hollis, a young boy with the heart of gold who dresses up as a superhero to keep his neighborhood safe from bullies. A fan of comic books, Hollis one day catches a magical amulet thrown off the balcony of his neighbor Sherwood's apartment and is transported through time and space to the Scientist's lair. The gang got their name from a comic book of the same name, The Wrenchies (which Hollis is a fan of), and thanks to the combination of both science and magic the Scientist is able to bring those characters in the comic to their world as well. With an A-Team of heroes and outcasts assembled, the adventure begins the rid the planet of the Shadowsmen.
It took five years for Dalrymple to complete this dystopian masterpiece, and his heart and soul can definitely be both seen and felt on every page. With a beautifully gritty style and incredibly imaginative story throughout, there's no other graphic novel like it out on the stands today. Best known for his creator-owned Pop Gun War, Meathaus anthology, Prophet and It Will All Hurt, Dalrymple truly boosted his creative juices to overdrive in this new sci-fi magnum opus. In fact, The Wrenchies takes place in the same universe as It Will All Hurt, prompting new readers to seek out more of his earlier works.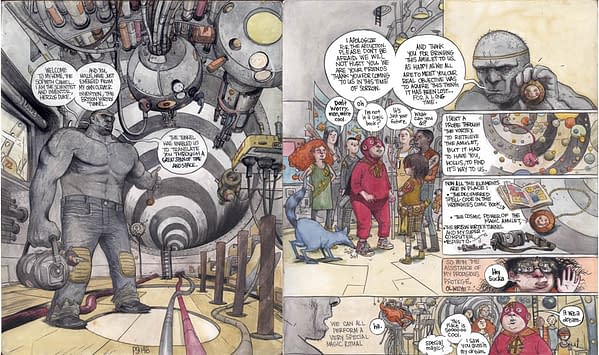 While the story can be a little hard to follow at times, subconsciously it's still easy to comprehend where Dalrymple wants to take the reader, amplifying the expectations for an action-packed big finish. The world is rich in both details and history, making sense of the characters and situations in its own unique way. The journey and destination are quite incredible, for Dalrymple's art stylings are incredible in their own rights.
Heading to Comic-Con at the end of the month? Be sure to check out more of First Second Books' wares at Booth #1323.
The Wrenchies (First Second Books)
by Farel Dalrymple
304 Pages, $19.99
Cameron Hatheway is the host of Cammy's Comic Corner, an audio podcast. You can join his gang the Hammeries on Twitter @CamComicCorner.
Enjoyed this article? Share it!