Super Weird Heroes v2.1: Gene Simmons, Steve Ditko, and Hand Gestures of Power
Comics creators are collectively among the most powerful forces on Earth. Don't ever let anyone tell you otherwise. They're connected to everyone and everything. They're the original masters of memetics. This is why Thomas Nast had political clout in the 19th Century that the likes of Stephen Colbert or Jon Stewart could never dream of having. Not only was Nast insightful and clever, but he could make his point with a single image that his readers could readily understand in about three seconds, and then pass on to their friends.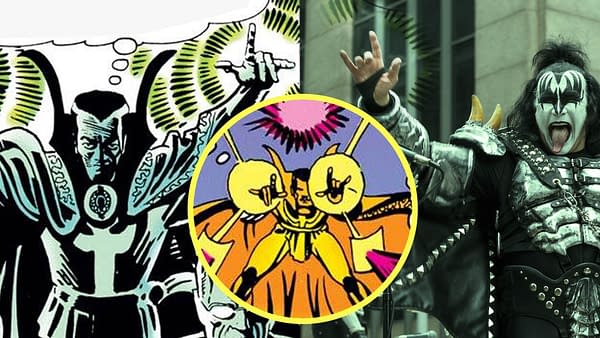 This is why cartoonists were the first targets of the Espionage Act of 1917 — a law that has been used to charge the Rosenbergs, Aldrich Ames, Chelsea Manning, and Edward Snowden and many others since then. But it was first used against cartoonists, for political cartoons critical of the war effort during World War I. The government feared the power of these cartoonists. They subsequently did studies about the effectiveness of comics, and were convinced. They understood it even better than the comics artists themselves, I think. Towards the end of the War, an outfit called the Bureau of Cartoons was formed to "direct the scattered cartoon power of the country".
I mention the above because it came up in conversation with comics historian Craig Yoe, while he was pitching me a series of posts which will be a companion of sorts to his upcoming Super Weird Heroes Volume 2 from IDW (Super Weird Heroes Volume 1 is still available wherever comics are sold). I've always liked Yoe's work because he casts a light on important aspects of comics history that receive little attention, and this book is another good example of that. "Super Weird Heroes" is a good title, but it's really a sort of road map to a lot more than that, as we'll see here on Bleeding Cool over the next ten days or so.
Yoe began his pitch by saying, "So Mark, I wonder if you'd be interested in doing this thing about comics history…", and he's a smart guy and knew his audience, and could have stopped there. Old paper is my catnip, and when I see some I can't help but stop and roll around in it and bliss out for awhile.
But the conversation did continue, and in about ten minutes we covered that above bit about the Espionage Act, then moved on to the pulp illustrator who became a famous student of Frank Lloyd Wright, then some stuff about a man who once worked for Robert Heinlein and was also a student of Enrico Fermi who became a highly accomplished soldier/spy/scientist during Vietnam, and was likely used as a model for a character in charge of a certain Marvel Comics agency that combined those things in that era, which I'll be talking more about in Marvel Declassified soon.
If we'd continued on for another 20 minutes or so, we could've revised the entirety of American history to be firmly connected to comics creators and yet still remained 100% true history. We'll get back to that on another day as well.
Somewhere in there, Yoe also mentioned that he'd been a member of a 110 year old club of elite cartoonists, writers, and other media figures which has included the likes of James Montgomery Flagg, Isaac Asimov, Charles Dana Gibson, Walter Cronkite, and several Presidents of the United States. I wasn't surprised to hear this. You have to see how all those things fit together to be a good comics historian.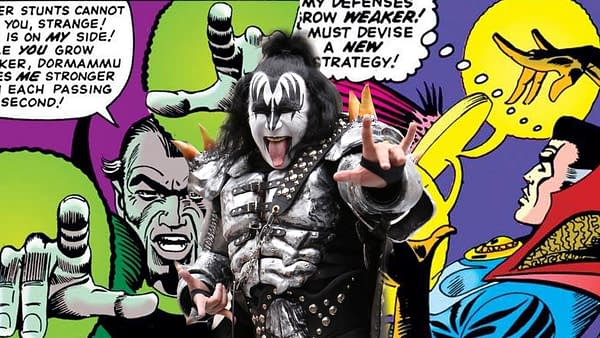 That's why I was also unsurprised, when I started reading Super Weird Heroes Volume 2, to see that Yoe contributed to a fanzine title called Wonderment in the 1960s alongside another frequent fanzine contributor of the era named Gene Klein. Klein changed his name sometime after that, and is better known today as KISS legend Gene Simmons.
As Simmons explains in his introduction to Super Weird Heroes Volume 2, comics continued to influence his work in very significant ways. In fact, if you're the kind of person who tends to skip the introduction, you should make note of this one, because Simmons is dropping atom bombs:
It goes without saying that the band I've been privileged to be in, KISS, which is America's number one gold record award winning group of all time in all categories (RIAA), was directly inspired by comics. My costume in particular owes its origin to the short, underarm wings worn by Namor and Black Bolt…

… and my hand gesture (thumb up, index and pinky up) comes from Ditko's Dr. Strange.
Simmons studied and wrote about comics in the 1960s alongside the earliest wave of fans who did that, understood the power of it, decoded it, and he made it work for him in a major way. He has lots more to say in this intro so you should check it out when it hits stores on August 15.
So yes, it's true: Steve Ditko invented the universal hand gesture for metal/rock. I know you Dio fans are going to have something to say about that, but we'll see how that history develops (because yes, history is fluid).
I probably could've gotten three or four more installments out of this material alone, but I'm only on page seven here and haven't hit the table of contents yet, so we'll save it for some other time, I think. Tomorrow, we'll talk about a Super Weird Hero created by Golden Age legend LB Cole, and much more.