Tim Drake was the third Robin character in Batman. He was also a virgin. While other Bat characters were wont to put it about a bit, Tim's only mistress was fighting crime dressed in thigh-exposing lycra.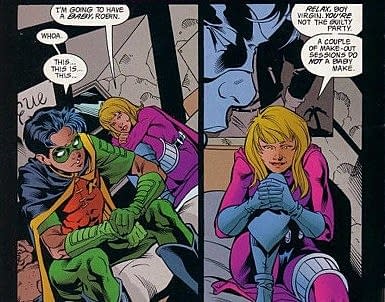 For some people that came to define the character, also suggesting he was asexual or gay, and were rather nonplussed when later he was seen to be seriously canoodling with Cassandra Cain and/or Stephanie Brown in the dark
Of course, that was two or three continuity resets ago. Since then, he's had a Lobdellectomy and has joined the rest of the Batfamily horndogs. But in Young Justice #2 by Brian Bendis, Patrick Gleason, Emanuela Lupacchino, Ray McCarthy, Alejandro Sanchez, Josh Reed, Jessica Chen and Mike Cotton, could this be a subtle sign that Brian Bendis is restoring Tim Drake's hymen, as it were?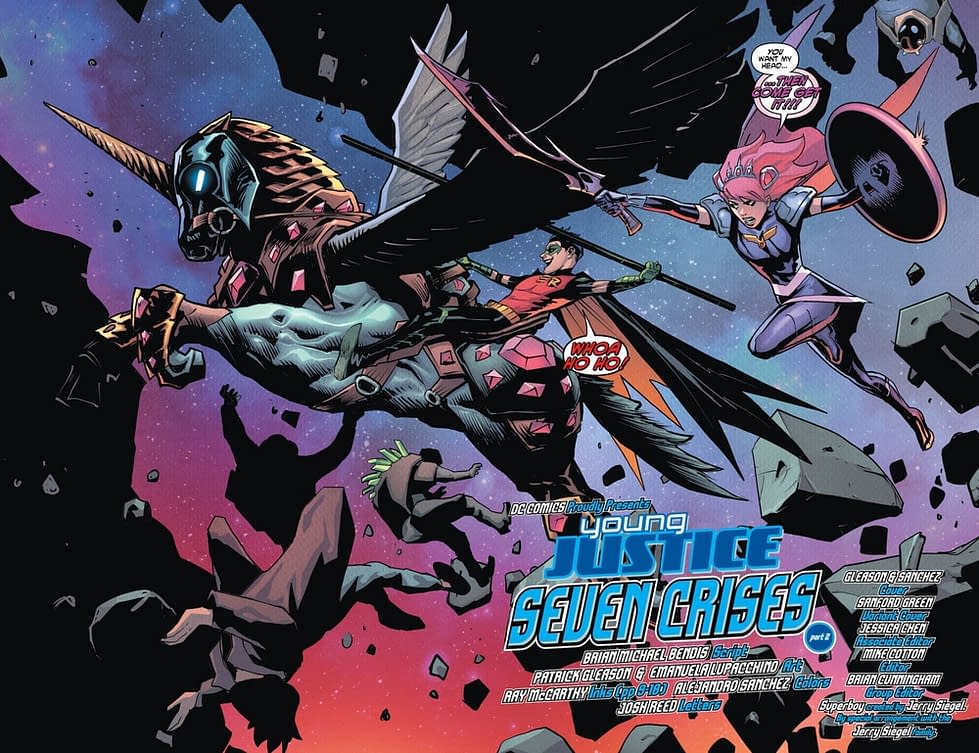 He's riding a unicorn, folks. The classic trope of a virginal character – whether literally, metaphorically or just in homage to his previous portrayal?
Leonardo Da Vinci, whose work inspired the original look of the Batman, wrote,
The unicorn, through its intemperance and not knowing how to control itself, for the love it bears to fair maidens forgets its ferocity and wildness; and laying aside all fear it will go up to a seated damsel and go to sleep in her lap, and thus the hunters take it
Tim Drake, Batmaiden?
YOUNG JUSTICE #2
(W) Brian Michael Bendis (A) Emanuela Lupacchino (A/CA) Patrick Gleason
The new teen super-team unites as Robin (Tim Drake), Wonder Girl, Teen Lantern and Jinny Hex join forces to help Amethyst free Gemworld from those who control it. In another section of the strange dimension, Connor Kent and Impulse find themselves taken captive-but if this is really Superboy, why isn't he putting up a fight with his friend and former teammate against the bad guys?
RATED T+In Shops: Feb 06, 2019
SRP: $3.99
Enjoyed this article? Share it!