Issue 1 of CLiNT featured a three-page story by Manuel Bracchi at the back, part of Mark Millar's talent search, intriguingly "presented" by BBC News reader Huw Edwards. It was a funny aside, the like one might see in Viz Comic, entitled Huw Edwards' Space Oddities. Basically Tharg's Future Shocks with a pop culture twist. I presumed that at least unofficial permission had been granted, thanks to CLiNT's various media connections. Perhaps not. Any mention of Huw Edwards now seems to have been stripped from the Clint website, from ad banners, to the following listing of the talent search, the left version taken from the Google cache.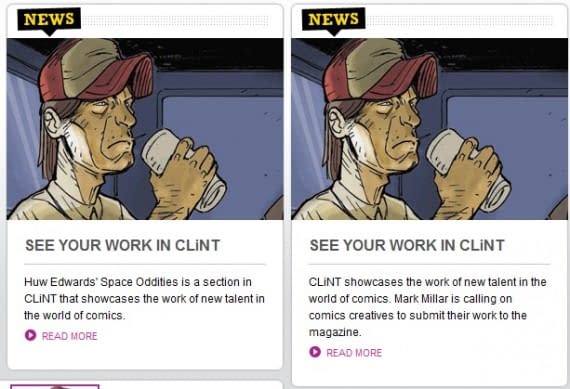 Did any of m'learned friends get involved? I guess we'll find out at the end of the month to see if Huw continues past the first issue…
Mark Millar and Titan Magazines did not respond to enquiries.
Enjoyed this article? Share it!