IDW Artist's Edition: Jim Lee, Jack Kirby, and More at #WonderCon 2018
Joshua Stone writes from WonderCon 2018:
One of my favorite things that has happened in comics in the last 10 years is the creation of the Artist's Edition books by IDW. Allowing the reader the opportunity to own and look at in person the highest quality scans of some of the most important original comic book art at a fraction of a cost of what the original art would cost, the IDW Artist's Edition have been a game changer for fans of some of the greatest comic book artists ever to put pen or pencil to paper.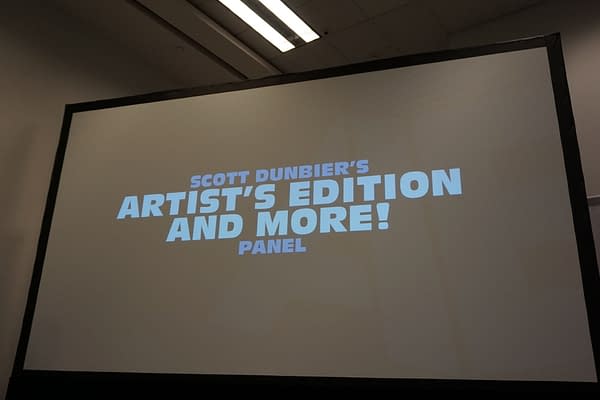 While other companies have copied the format, none has produced as many, with over 60 Artist's Editions, Artifact Editions, and Artist's Edition combined, nor have they produced such a variety at such a high level of quality.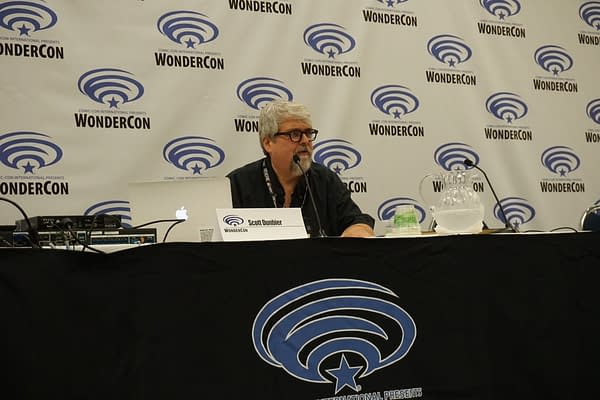 The person behind this at IDW from the beginning has been Scott Dunbier, and at the 2018 WonderCon IDW's World Famous Artist's Edition and Artist's Select Panel – New and Improved, Dunbier came ready with announcements to make many a fan happy.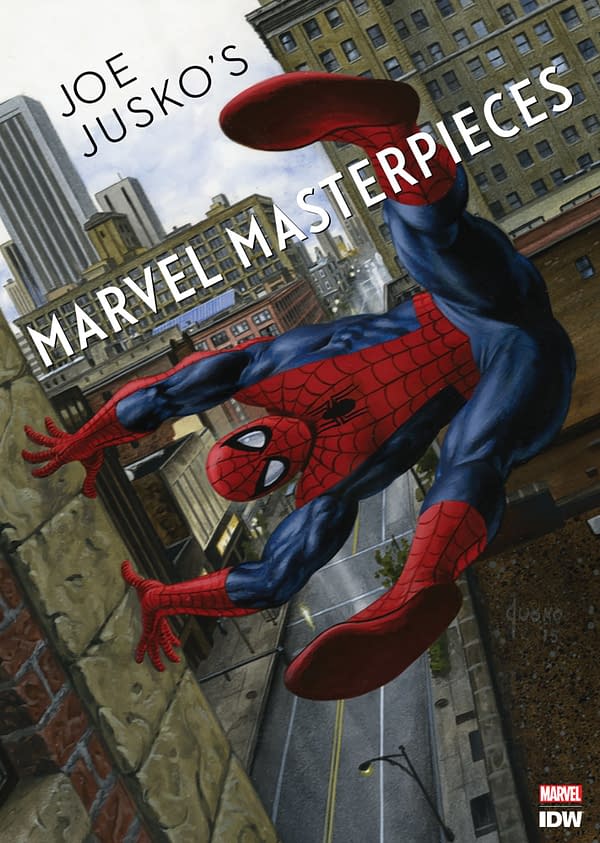 Dunbier started the announcements sharing some images from the upcoming Joe Jusko's Marvel Masterpieces. This book will present Jusko's 2016 Upper Deck set of Marvel characters in close to their original painted format. The book will be 9×13, and the original paintings were 10×14.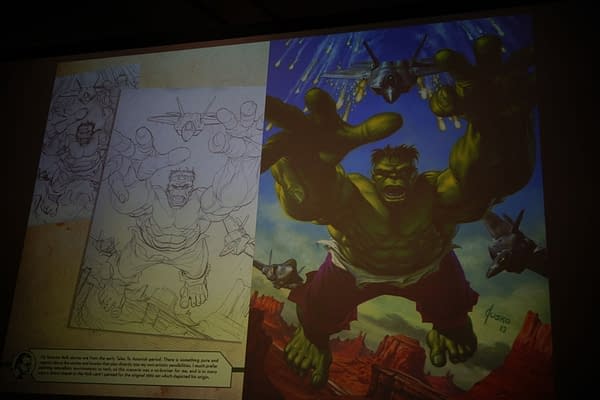 Each page will look like the above image, with the final painting on one page and preliminary sketches and something written by Jusko himself describing the process of creating the painting on the opposite page. Dunbier shared some more information regarding the book, stating that beyond the regular edition of the book there would also be two special limited editions, with one being a 2018 SDCC exclusive cover and the Jusko would be a guest of IDW at SDCC signing the book.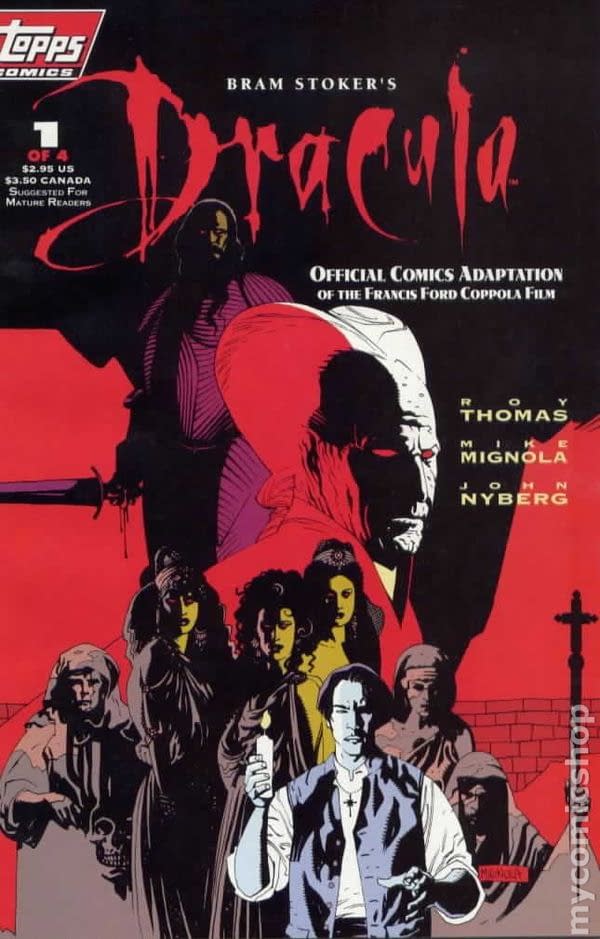 Next Dunbier announced that IDW would be releasing new versions of Topps' Comics 1992 release of Bram Stoker's Dracula based on Francis Ford Coppola's movie. The book was written by Roy Thomas, art by Mike Mignola, and colors by John Nyberg. This will not be an Artist's Edition release, but will have two different editions. One will be an oversized black and white edition and the other will be released six months after the black and white with remastered a colors.
Next Dunbier shared the upcoming Artist Select Series releases from IDW. Coming soon will be Bob Layton's Iron Man, John Byrne's Fantastic Four, and Rob Liefeld's Deadpool. All had been previously discussed at the same panel at last year's WonderCon.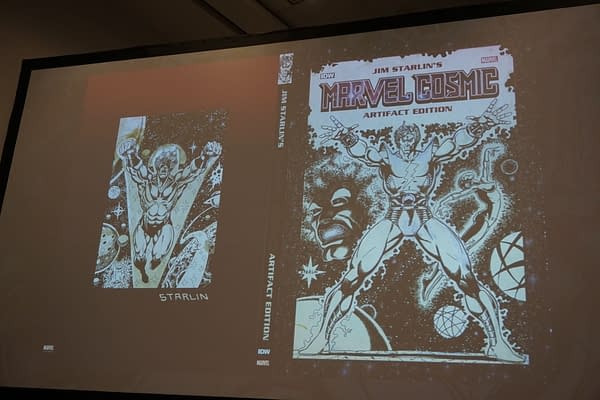 Next up were the Artist's Editions. First Dunbier shared Jim Starlin's Marvel Cosmic Artifact Edition. Every page in the book will be from Starlin's work on Captain Marvel, Warlock, The Avengers, and Marvel Two-in-One Annual 2. The book is scheduled for release in April 2018, with a signed limited edition being available at SDCC this year.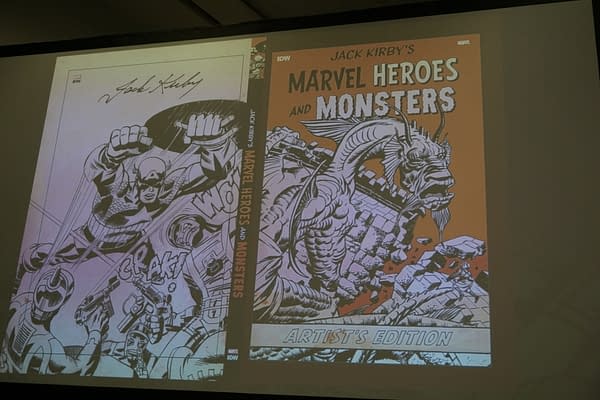 Dunbier then discussed another Artist's Edition from Jack Kirby. Kirby has had, from my count, eight releases to date, and Dunbier shared some images from the upcoming ninth, Jack Kirby's Marvel Heroes and Monsters Artist's Edition. The book will feature Captain America on the regular edition cover and will have two variant covers, but Dunbier only shared the one with Fin Fang Foom.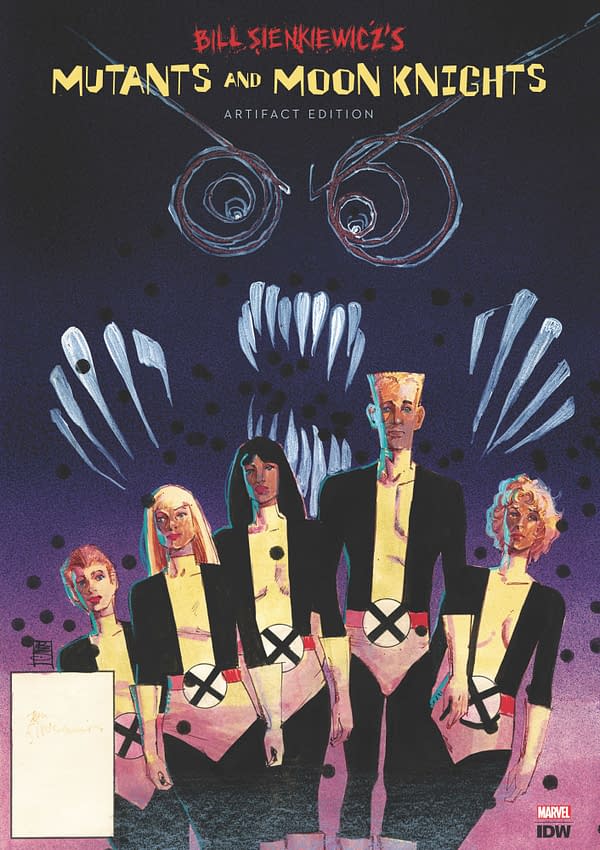 Next was John Byrne's X-Men Artifact Edition. Scheduled for release in July, the book will only include Byrne's work on X-Men from issues 108-143, except it will also include the wrap around cover from Phoenix: The Untold Story issue one.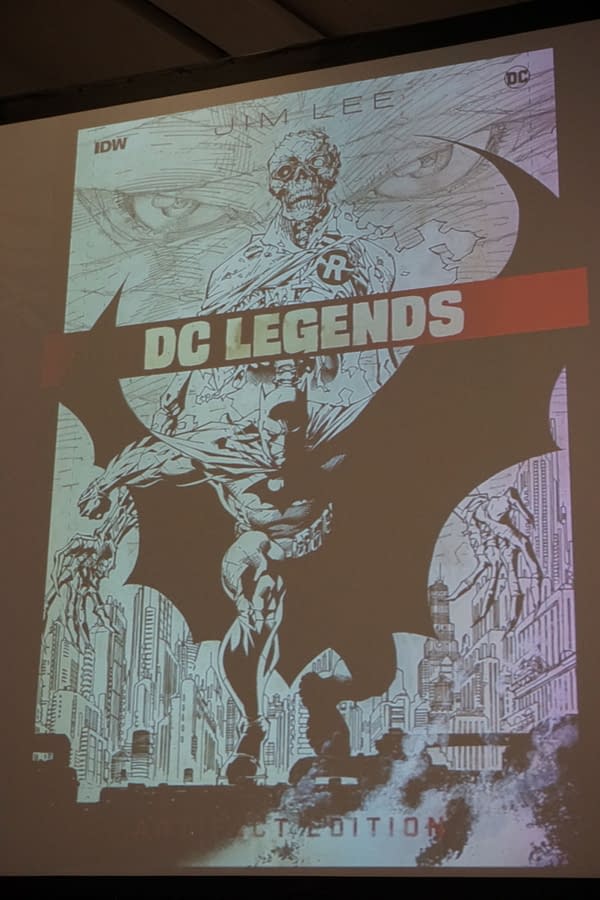 The last big announcement, previously shared here, was the upcoming Jim Lee DC Legends Artifact Edition. Dunbier shared a video of Jim Lee himself talking about this upcoming release. Featuring splash pages, covers, and panels from Lee's long run at DC Comics, the book will be 12×18 and will come out in September 2018.
Dunbier then took questions from the audience which was a series of questions asking when or will this person, fill in your favorite artist, be getting an Artist's Edition release. I myself asked about a previously announced book — when will Jim Steranko's second Artist's Edition be coming out? I think I may have asked Dunbier this some question a half a dozen times at least over the last few years, and Dunbier gave me the same answer: we should be happy we got the first book. So no update on this release.
To end the panel Dunbier asked a few trivia questions, with the last question having a prize for the winner, Marvel Covers: The Modern Era Artist's Edition variant SDCC cover. The question was what was the first Marvel book that Jim Lee worked on, and what was his first X-Men? After a few people attempted an answer, it was the guy typing up this article who walked away with the prize.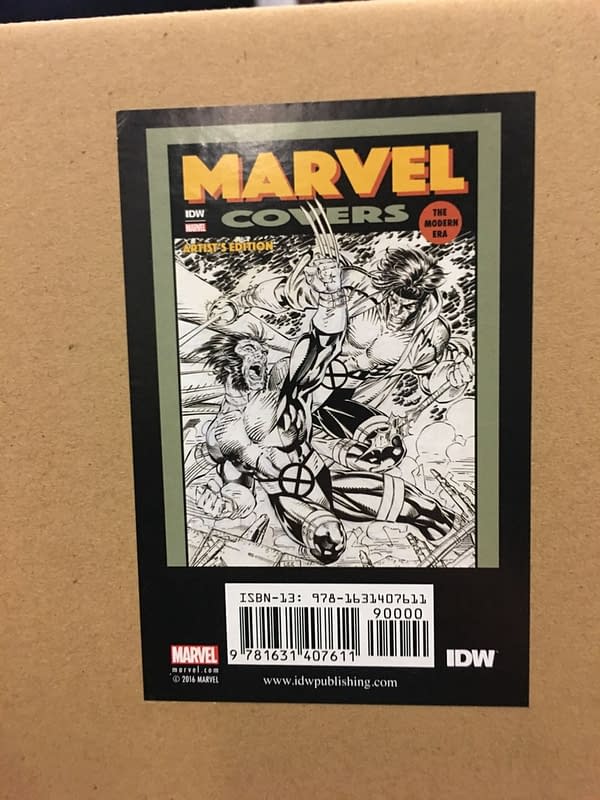 For further musings from Joshua Stone you can follow him on the Twitter @1Nerdy One.