James Jean and Tara McPherson at ComICA by Paul Tierney Paul Tierney attended the ComICA talk on behalf of Bleeding Cool with James Jean and Tara McPherson last Friday.
Like many of the talks at ComICA in the ICA, Fabulous: James Jean & Tara McPherson was originally scheduled to take place in the 90-capacity Nash Room. However demand for tickets was so great that the talk was moved to the venue's main cinema. I arrived to find a queue for the sold-out event stretching out of the building. Tara McPherson was first on to the stage, and she's probably best known to a comics audience for her stylish covers and comics pages for the Vertigo books The Witching and Fables: 1001 Nights of Snowfall, but her work also extends to album covers, gig posters, advertising and editorial illustration, sculpture and toys.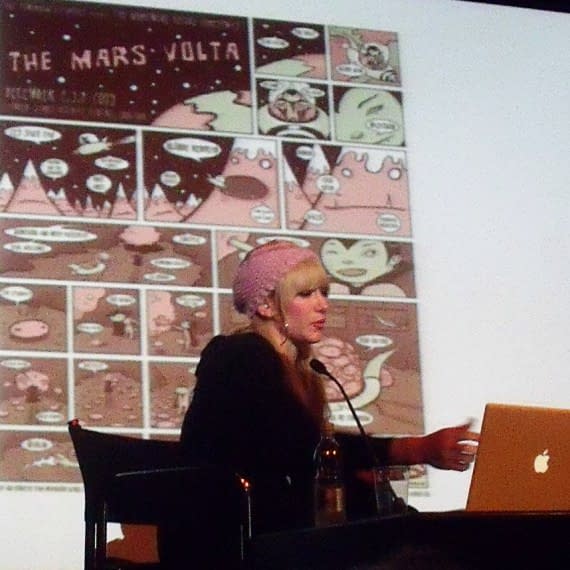 She began her talk with some of the images she produced during high school through to college, musing on how the past shapes the future as many of her signature motifs were present in her earliest work. Leaving high school early McPherson went on to community college, but finding all the art classes full she took an astronomy class, a field that she "completely fell in love with", and swapped her major to astrophysics for 18 months. Thinking hard about a career in astronomy she decided she didn't relish spending long nights alone logging data in an observatory, so she switched her major back to art. She now finds herself spending long nights alone in her studio instead. Her first comics job was for Vertigo, a cover for Lucifer, which led to working on covers for Thessaly and The Witching. This in turn led illustrating a 14 page story for Fables that she found challenging, giving her a renewed sense of respect for the workload tackled by comics artists.
McPherson went on to lead us through an engaging slide-show illustrating the wide variety of work she produces and the processes she uses to make it. She feels strongly that artists should retain the rights to their work, it's "super important, never do work for hire", she asserts. Regardless of what a work was originally produced for it is always possible that it can be exhibited or re-purposed in new work.
James Jean started his talk with a quick bit of family history; born in Taiwan, the family moved to New Jersey after his father was sent there by the chemical company he worked for. He studied at the School of Visual Arts in New York City with ambitions to become a narrative painter. After graduating he briefly visited Europe before returning to look for work in a post-9/11 New York. The market for illustration was at a low point but it was at this time that Vertigo commissioned seven Fables covers from him.
Speaking of the excitement comics like Wolverine brought into his peaceful suburban upbringing he showed us an early adolescent drawing of the X-Men influenced by the style of Jim Lee. Followed up with an image produced ten years later from his professional career which drew gasps from the crowd.
Jean showed slides of some of his early influences, George Grosz, Kathe Kollwitz, R.B. Kitaj and moved on to his student work and images from his early, highly worked, sketchbooks. Continuing, he provided the audience with an entertaining overview of his artwork, technique and career path up until the present. Touching upon his many illustration commissions, comics related work, books, his poster of Silk Sceptre in the Watchmen film, and most recently his mural and animation designs for Prada in New York and Milan.
He finished up with some images from the sketchbooks he kept while hanging around the set of the upcoming film Peacock – portraits of it's stars including Ellen Page, Susan Sarandon and Cillian Murphy. Also he showed some of the life-drawing and painting he's produced with Sasha Grey modelling for him.
Once the talk and Q&A were over all that was left to do was to quickly get out of the cinema to make way for a 20:30 screening, and to go and join the long queue for signings, and perhaps to try and get some of that limited edition James Jean crockery (yes, that too).
by Paul Tierney. ComICA continues in London through the rest of November.