Dynamite Entertainment is kickstartering theur Bettie Page Deluxe Ultra-Premium Sketch Card Collection. With Jerry Lawler featured as an additional card premiering via Kickstarter, and contributing signed and exclusive sketch cards to the set.  Artists included in this set including Joseph Michael Linsner, David Williams, John Royle, Scott Chantler as well as Bettie Page photos.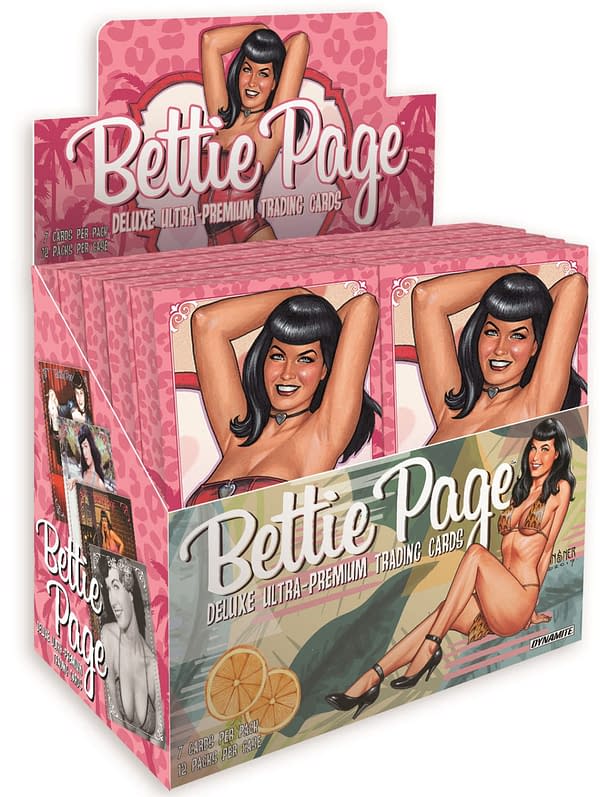 Every foil pack includes a 'Peek-a-Boo' cards are semi-naked photos of Bettie Page, black bagged like a full size adult magazine that has to opened to reveal the entirety of the card.
The Jerry Lawler promo card is inspired by the work of 1980s painter Patrick Nagel, included in a limited number of packs.
"I've been a Bettie Page fan for a long, long time," said Jerry Lawler. "As an artist myself, I've always been a huge fan of pinup art from models and legends like Gil Elvgren and Olivia. Bettie and I are both from the beautiful state of Tennessee. There was a kind of connection. I was the king of wrestling and she was the queen of the photoshoot! She always seemed special to me. I'm excited about the fact that the Dynamite cards and comic books are letting today's fans get acquainted with an icon like Bettie again or for the first time. It's not just art to me, it's doing a piece for one of my all time favorites. Its a win-win!"
Another reward tier option for supporters are Bettie Page graphic novels by David Avallone and Colton Worley.
Backers who preorder four foil packs or more will be able to choose among a selection of top tier artists to produce exclusive one-of-a-kind sketch cards just for them. Also available are various, one-of-a-kind sketch card puzzle sets of 4,6 and 9 cards. Sketch card artists in this set include Axe, Ken Haeser, Kevin Graham, Mike Lilly, Mitch Ballard, Rich Molinelli, Sanna U, Tim Shay and more.
Enjoyed this article? Share it!