Justice League/Power Rangers Writer Tom Taylor Cancels ECCC Appearance Because The USA No Longer Feels Safe And Welcoming
Well, not everyone.
Every comic convention has guests that are cancelled. Sometimes life gets in the way, deadlines, sickness, other shows, sometimes they never even confirmed.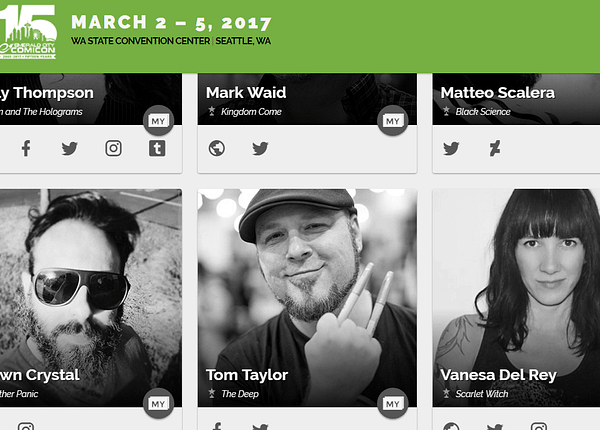 Australian comic book creator Tom Taylor is listed on the cancelled comics guests at Emerald City Comicon. And it looks like the writer of All-New Wolverine, Injustice: Gods Among Us, Earth 2, The Deep and the current smash hit Justice League/Power Rangers won't be at any shows in America this year.
Yesterday, in the wake of the experience of fellow Australian author Mem Fox, he explained why.
Sadly, I won't be attending Emerald City Comicon in Seattle this week.

I have also turned down all other US signing and convention invitations so far this year.

I know I'm far from the only person concerned about traveling to the States at this time, but I wanted to explain my decision.

I want to start by saying this decision was incredibly difficult. I was really looking forward to this trip. I have traveled to the US regularly since 2009. This year, I have four different books with three different publishers, and a TV series to promote. Beyond this, I have fans and colleagues I was looking forward to meeting. I also have many good friends in the States, and I was looking forward to catching up with all of them. Truth be told, I'm missing them.

But America, through no fault of most of its citizens, doesn't feel like a safe or welcoming travel destination at this moment.

There have been reports of interrogation, phone data downloads, requests for social media accounts, returns and five-year travel bans and everyone from children to the elderly being detained. All of this has many people I've spoken to reconsidering or cancelling their US travel plans.

I've had friends and people I work with suggest I leave my phone at home, or delete my twitter account for a month before I come.

I refuse those terms.

My twitter account isn't complimentary towards the current administration, but it's far from inflammatory and shouldn't need to be scrutinized to gain entry to a country where free-speech is so highly valued.

Traveling fifteen hours on a plane is bad enough. Travelling towards uncertainty, half-worried about being caught in limbo by overzealous border security, with my wife and children wondering why I haven't called, is nightmare fuel.

However, there is something else which bothers me more than all of this, and ultimately decided me in talks with my family.

And that's the idea that I have nothing to worry about. The idea that I could be let in without the extra scrutiny, without incident, without a care in the world… purely because I'm a straight white guy.

I don't want to happily visit a country that is in the process of denying entry to so many, purely because of where they were born or what they believe. And so, I won't.

I truly hope things change soon. I hope America becomes the welcoming place it has been for me, and so many others, for so long. I hope I can again visit without trepidation, and I hope the country, once again, welcomes refugees who need America more than I ever will.

Until then, I will continue to write stories of America's greatest fictional heroes every week, and hope that real American heroes step up.

Hopefully see you soon.

Tom Taylor.