Showtime Adapting Thriller Novel 'Kill Creek' – Scott Derrickson to EP/Direct, Misha Green to EP
Underground co-creator/showrunner Misha Green will be doing double duty on the dark side, with the Lovecraft Country writer/showrunner joining Scott Derrickson (Doctor Strange) as executive producer on Showtime's series adaptation of Scott Thomas's award-winning novel Kill Creek.
Optioned by Platform One Media, and co-produced with Showtime, the series has tapped Derrickson to direct; Thomas will adapt his novel and executive produce. Joining Green, Derrickson, and Thomas as executive producers are Adam Gomolin, Andrew Lazar (American Sniper), and Platform One Media's Elisa Ellis (Narcos).
From the series description, Kill Creek introduces us to best-selling horror author Sam McGarver and three fellow masters of the macabre who reluctantly agree to spend Halloween night in one of the country's most infamous haunted houses. Their presence awakens an entity that will torment and threaten to make them a part of Kill Creek's bloody legacy.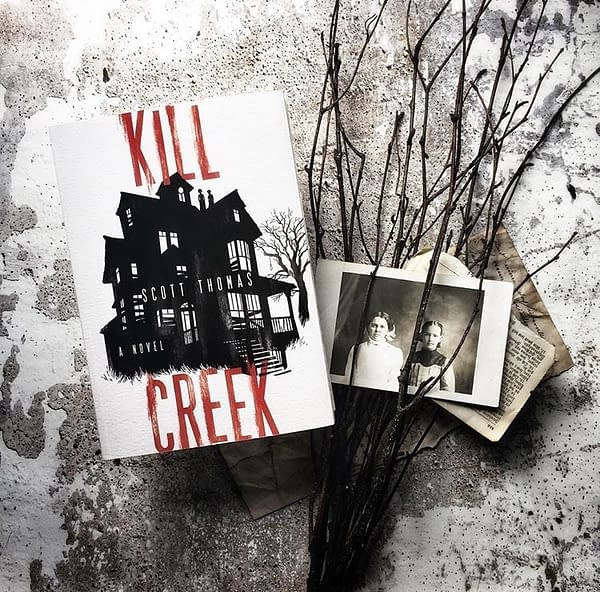 Published on Halloween 2017 by publisher Inkshares, honored as the American Library Association's Horror Book of 2017, and shortlisted for the Bram Stoker Award, here's an overview of Thomas' Kill Creek:
At the end of a dark prairie road, nearly forgotten in the Kansas countryside, lies the Finch House. For years it has perched empty, abandoned, and overgrown–but soon the door will be opened for the first time in many decades. But something waits, lurking in the shadows, anxious to meet its new guests.

When best-selling horror author Sam McGarver is invited to spend Halloween night in one of the country's most infamous haunted houses, he reluctantly agrees. At least he won't be alone; joining him are three other masters of the macabre, writers who have helped shape modern horror. But what begins as a simple publicity stunt soon becomes a fight for survival–the entity they have awakened will follow them, torment them, threatening to make them part of the bloody legacy of Kill Creek.