Live From The Comic Shop: Spider-Woman #2, Oddly Normal #4 And Drifter #2
Written by Christine Marie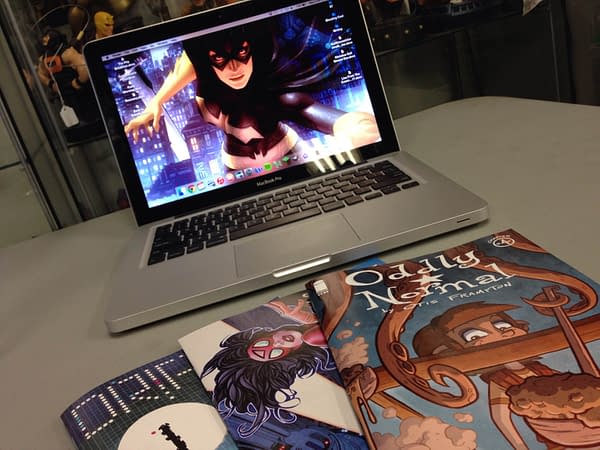 Happy Wednesday Bleeding Coolers! Hope you're filled with the holiday spirit, and have gotten most of your holiday shopping done! I'm at Conquest Comics in Bayville, NJ looking forward to diving into some of the comics that have been released this week. On to the comic reviews!

Spider-Woman #2 from Marvel Comics, written by Dennis Hopeless, with art by Greg Land was the first new release that caught my eye today. I was anxious to continue reading this dimension hopping adventure. This month, Jessica Drew attempts to follow the trail of an imposter that works in the enemies' house. This task proves to be extra tricky because the Spider-Woman clone has a devious way of getting what she wants. Silk is still on the run, and once again requires some assistance from Spider-Woman when she gets herself into trouble. The two of them seem to have a sibling type relationship, meaning they annoy each other, but they both recognize the benefits of having the other around. To be honest, After reading this issue I feel more interested in Silk's plot. It's not that I don't' like Spider-Woman's plot, because I do. I love her tough personality, and enjoy reading her inner dialogue. However, Silk's plot is way more intriguing and it makes me want to keep reading. Do any of you Bleeding Coolers feel the same? Putting all storyline aside, Greg Land's art is incredibly detailed and realistic. There is one particular page that has three different action scenes illustrated with an image of Silk running drawn on top of the whole thing. It creates a sense of how fast paced her journey has been so far. It is amazing! I don't want to give anything away, but there is a fantastic cliffhanger at the end. Even though this is the first Spider-Verse series that I've read, I think I'm hooked.

It's an overwhelming day at Menagerie Middle School in Oddly Normal #4 from Image Comics, written, illustrated and colored by Otis Frampton. We get a first hand look at what it's like to go to school in Fignation, and that includes having a number of unique teachers instructing subjects. The first half of this issue is actually quite comical. The cast of characters that make up the faculty are very amusing. Watching Oddly interact with her teachers as she tries to figure out her own feelings about what she is continued to make me feel for her character. I'm sure a lot of people can understand how hard it is to fit in at a new school, and even though Oddly is amongst people that can relate to her, it's still a challenge. For every few nice people, there's a group of bullies that yearn to pick on the weak. The small group of friends that Oddly interacts with in this issue are adorable. I especially like Ragnar. Even though there is a bit of struggle for Oddly, she possesses a very brave personality and I am enjoying watching her grow in this new society. I wish that I could take a trip through Otis Frampton's imagination, because reading Oddly Normal once a month isn't enough. This guy is brilliant. The creatures he illustrates amongst the pages of this fun book are incredible to look at.

I thoroughly enjoyed the outer space feel of Drifter #1 last month, and was happy to dive into Drifter #2 from Image Comics, written by Ivan Brandon, with art by Nic Klein today. We pick up where we left off in the last issue with Pollux confused about the amount of time he was asleep after his ship crashed landed and he was injured. The Marshal assures him that the ship he's looking at isn't his, but he doesn't listen. After diving into the water eager to discover the truth, Pollux finds himself in a world of trouble. Although the Marshal tries to pull him out of his daze, he finds a picture of his significant other, and begins to reminisce about their last conversation. This very heartfelt moment is quickly interrupted by an intense, violent, action packed series of pages. Klein's use of colors really impact the feel of this issue. There's a lot of dark purple mixed with different shades of blue, and that creates a chilly mysterious ambiance that really impacted my reading experience. I also have to applaud his illustration of the "bear" monster. What a creepy, creative looking monstrosity. I will say that I found it hard to follow everything that was happening in this months issue. I had to read it a few times to get a better grasp on certain things that were taking place. I have to stay I'm still not entirely sure where this story is going, but I kind of like that. This is a spectacular creative team, and the world that they've created is very complex. I look forward to reading more next month.
To finish off my Live report, I'll share co-owner Pete's pick of the week! He chose, Rumble #1 from Image Comics co-created by John Arcudi and James Harren with art by Dave Stewart.
Well, it has been a great Wednesday here at Conquest Comics. Thanks for reading Live From The Comic Shop! Be sure to come back next week for more new release reviews! If you're looking for some more awesome things to read on Bleeding Cool, check out Typing on the Dead and Sweet Release by Jared Cornelius!
Conquest Comics is located in Bayville, NJ. You can find out more about their awesome shop @conquestcomics.com or follow them on Instagram @ConquestComics.
Christine Marie Vinciquarra is a writer and bibliomaniac with a love for all things creative. Some of her favorite things include: Batgirl, Star Wars, Harry Potter, Saga, Game of Thrones (the books and the show), Johnny Depp, and all things Disney. She spends her weekends feeding her competitive side while she plays tabletop and/or video games with her friends. She is currently working on a multitude of different creative projects. You can find her on Twitter and Instagram @AWritersWay or on her blog writerchristinemarie.wordpress.com.