Live(ish) From The Games Shop – The Elder Scrolls Online, Batman: Arkham Origins Blackgate Deluxe, Mercenary Kings
By Jared Cornelius
It's another round of new game releases on Bleeding Cool and this week finally looks like it's not overwhelming. This week a challenger steps up to challenge MMO giant World of Warcraft, the Dark Knight's small screen adventure get ported over to the TV and an indie darling hits the PS4. The Elder Scrolls Online, officially releases this week. The long in development MMORPG (Massive Multiplayer Online Role Playing Game) gives players a choice of gender, race, and four classes to specialize in. Players then take to the world of Tamriel to take quests and adventure. For an in depth look at the gameplay check out our very own Madeline Ricchiuto's look at the beta. I spent 200 hours in Skyrim so I'm actually considering playing this, (I don't usually do MMO's). Be aware that The Elder Scrolls Online does carry a monthly price-tag of $14.99 so keep in mind the ongoing fee. The Elder Scrolls Online releases Friday for PC, an Xbox One and PlayStation 4 version are scheduled to be released in June. Batman: Arkham Origins, Blackgate Deluxe, is the HD port of the Nintendo DS and PlayStation Vita release. The game takes place after the events of Arkham Origins and sees Batman trying to quell a riot at Gotham's infamous Blackgate prison orchestrated by the Joker, Black Mask, and the Penguin. The 2.5D exploration action title shares similarities with the Metroid-Vania style of gameplay where new areas are accessible by obtaining new abilities and gadgets. Blackgate shares the free-flow combat and detective vision of its console big brother and also features members of the Suicide Squad so that's cool. Batman Arkham Origins Blackgate Deluxe was released Tuesday for Steam, and PlayStation 3, Wednesday for Xbox 360 and Thursday for Wii U.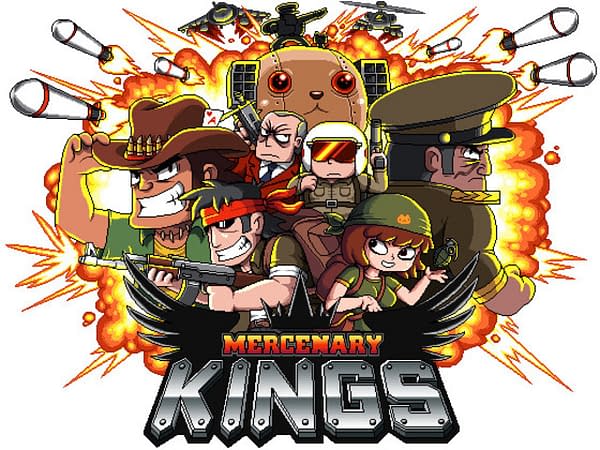 Mercenary Kings, is a Kickstarter success come to fruition. The 2D side scrolling run and gun, shares similarities with Contra and Metal Slug and wears the comparison with a badge of honor. Mercenary Kings has a cool pixelated art style from Paul Robetson who you may remember from the Scott Pilgrim game and over 100 missions to complete. Mercenary Kings is available on Steam and released on the PlayStation 4 on Tuesday and great news if you're a PlayStation Plus member, it's free.
Wow, games are on break after last month's cavalcade of releases. That's fine though since inFamous: Second Son is taking up a lot of my time, and Luftrausers is still my go to game for a quick few minute fix. If anyone's still waiting on South Park: The Stick of Truth, please don't overlook it, that game is funny and fantastic and you should buy it. As for the rest of April it looks like we'll be playing catch-up with Titanfall's Xbox 360 port and Dark Souls II's PC release. Also PlayStation Plus members make sure to check out this month's free games, Sly Cooper Thieves in Time, Hotline Miami, Pro Evolution Soccer 14, and Moto GP 13. Keep your eyes on Bleeding Cool for more of my content like Typing on The Dead, Bleeding Cool's The Walking Dead recap.
Jared Cornelius is some guy from New Jersey's coast who wants it to stop snowing. If you know how to speed up global warming contact him on Twitter @John_Laryngitis