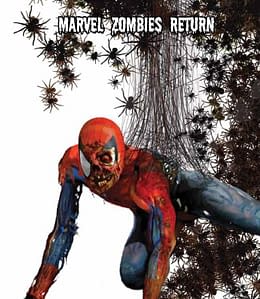 The Marvel Zombies are back in September, as a series of one-shots.
Marvel Zombies Return: Spider-Man with Nick Dragotta brings back the horrific undead Spider-Man, Colonel America, Power Man, Giant Man and Wolverine – into their own past. so Peter Parked-In-A-Grave goes back to his college years in an attempt to undo the evil he would one day commit. With great powder comes great responsibility I guess…
Next up is Marvel Zombies Return: Iron Man, by David Wellington, author of zombie novel Monster Island, and artist Andrea Mutti. Iron Man, his bottle, James Rhodes and Stark Industries versus a wave of the undead.
Fred Van Lentre also writes Marvel Zombies Return: Avengers with Wellington Alves, with the slogan "Avengers Dismember!" to bring all the rotting heroes back together and take over the multiverse as The Zombie Avengers. Nice.
Oh and there's a Marvel Spotlight on those who keep returning and returning from the dead – from zombies to vampires to mutants.
It's not a dead horse folks… it's a zombie horse! This mother can keep on going and going…
Enjoyed this article? Share it!