Megyn Kelly Reportedly Out at NBC; $69 Million Payout Expected (UPDATE: Not So Fast?)
***Update*** According to Variety, looks like things might not be going as smoothly as NBC thought it would…
After a week that saw both the news host and the network taking major heat following comments made regarding the use of "blackface," NBC has reportedly parted ways with Megyn Kelly, with the firing of the ex-Fox News host effective immediately. Reports indicate that the network will pay out the remaining $69 million of her salary (Kelly had been with the network for a little over a year); and with no new episode of Megyn Kelly Today on Thursday morning, it's also expected that her morning show is officially cancelled.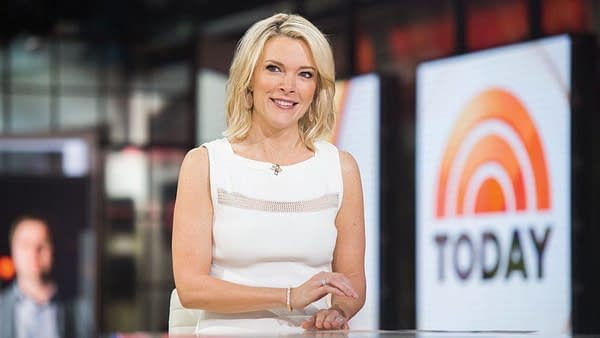 As background, during a Tuesday morning segment of her show when Kelly and her guests discussed Halloween costumes, the host compared "blackface" (the practice of darkening one's skin as part of an outfit, costume, etc.) to non-racially based costuming practices and implied that the practice wasn't inherently racist (you can see the footage at the beginning of CNN's coverage below):
Later that morning, Kelly issued an email apology and offered an on-air apology during Wednesday's edition of Megyn Kelly Today – which you can see below:
https://twitter.com/MegynTODAY/status/1055084273420722176
Even with efforts to apologize and explain in-play, pushback to Kelly's comments was swift and mounting – including from within NBC. Today "elder-statesman" Al Roker addressed the matter directly during Wednesday's show, followed by a group of show and network employees discussing and refuting Kelly's claims from a historical context; with participants in that segment included Morgan Radford, Hoda Kotb, and Craig Melvin. The cast of Netflix's House of Cards cancelled their upcoming appearance on Kelly's program, and even CAA dropped her as a client.
The Hollywood Reporter reported the following on Thursday:
"Megyn Kelly's lawyer, Bryan Freedman, one of Hollywood's top talent-side litigators, will meet with NBC News executives in New York as soon as Friday for what are expected to be talks about the terms of her status at NBC News, sources close to the situation tell The Hollywood Reporter."