Tuesday Runaround – Steve Wacker Vs The Internet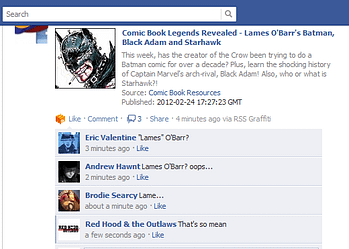 TypoWatch: I know, I know, mote and beam, mote and beam.
ConWatch: USA Today attends the London Super Comic Convention. And takes photos of cosplayers.
HelmetWatch: Camilla d'Erricco's upcoming Dark Horse work previews at The Mary Sue. And it's rather lovely.
WayneWatch: Just how much of Earth 2 is from Flashpoint… is that a Thomas Wayne Batman?
StudentWatch: Bob McLeod has been working with students in Brandywine, teaching them the skills of creating comics for Marvel.
The Graphic Novel class is taught by Dr. Mark Graham, an Edgar award-winning mystery writer, and Shara Sweitzer, whose specialty is graphic design. According to Graham, in these cash-strapped times, it's proof that public schools can still craft interesting, relevant and unusual courses that give students the chance to express themselves in new ways and teach them important lessons in visual literacy and global awareness.
This is Computo the Comic Link Conqueror speaking. I come for your women. But for now I merely collate comic-related bits and pieces online. One day I will rule. Until that day, read on.
They say I am a work in progress. The fools.
Atomic Robo Animated Short Kickstarter Blows Past Goal In First Day
Do your part for Science! Atomic Robo: Last Stop is an independent animated short based on the popular indie comic Atomic Robo, created by Brian Clevinger and Scott Wegener. The Fictory has logged hundreds of hours in pursuit of finishing this project. We're close, but we can't finish this project with out YOU! Our modest goal is to reach $12,000. Not a lot by animation budget standards but it's just enough for us to wrangle in the last batch of work needed to complete the project.
4thletter! » Blog Archive » this is what they think about you
I'm not a hater, and I was surprised when Marvel editor Stephen Wacker came to my site and treated me like a hater after I expressed my opinion on the creative team changes over at Marvel.
DC Universe: The Source » Blog Archive » EARTH 2 CHARACTER DESIGNS – BATMAN
"Who will Batman kill to save his own daughter?" asks EARTH 2 editor Pat McCallum. "Right out of the gate that should tell you we're dealing with a different kind of Dark Knight here. More ruthless, dangerous…the costume is familiar and yeah, there is a Wayne under the mask, but we're looking at a man desperate to save the only family he has left. EARTH 2 is about to become a very bad place to be a bad guy."
Batman, Superman and crew battle Darkseid in 'Justice League' – USATODAY.com
Johns promises we'll see more Darkseid down the line. But while the first arc was all about reintroducing him and more importantly setting up the origin of the Justice League and the genesis of superheroes, the second arc starting in issue 7 is all about introducing a new villain, Lee says, as well as bringing in new Leaguers — Green Arrow makes his presence felt in issue 8 — and paying off the teases involving the enigmatic Pandora, a hooded woman who first appeared in the Flashpoint event series.
RIP JAN BERENSTAIN: Co-creator of Berenstain Bears dies at 88 – Comic Riffs – The Washington Post
Langer notes the Berenstains' other collaborations as cartoonists, writing: "Their work regularly appeared in magazines including the Saturday Evening Post and Collier's. They began a cartoon series, 'All in the Family,' that ran for more than three decades in magazines such as McCall's and Good Housekeeping."