So Much Better Than Necessary – Will There Be More Sleepy Hollow From Boom?
The title actually does make sense if you'll bear with me a moment. I was already impressed with Boom's Sleepy Hollow comic from its first issue onwards, which I got a sneak preview of at New York Comic Con last autumn and then considered again when, as a fan of the show and the literature surrounding Sleepy Hollow, I visited the town on Halloween. But over the holidays I finally got a chance to read Issues #2 and #3 of 4. Of 4?
Please tell me this comic is returning for another arc.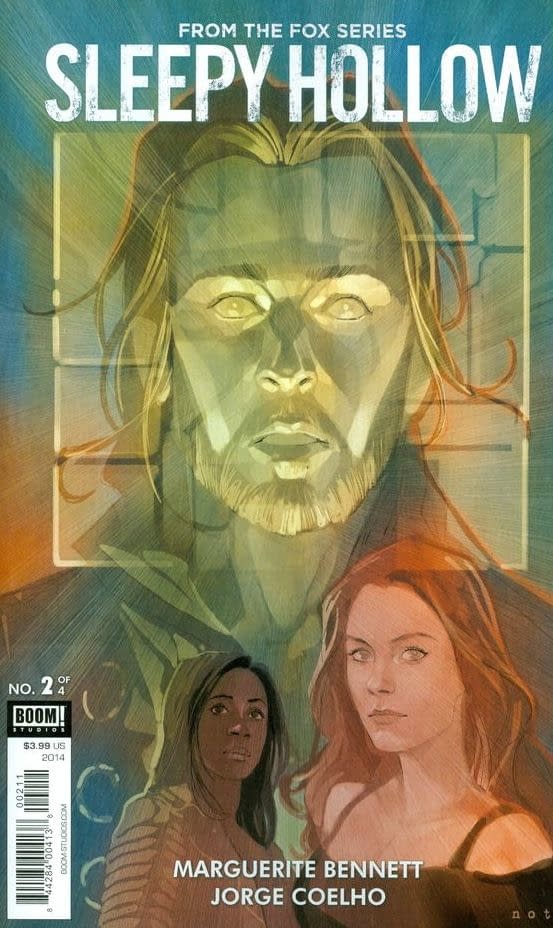 Because as swept away as I was by Jorge Coelho's artwork on the first issue, now the combination of Phil Noto's covers on #2 and #3, the amazingly imaginative art from Coelho, the intricate reasoning of the storyline as typical of the show from writer Marguerite Bennett, and many other features have convinced me that this comic is just way better than it is necessary for it to be. What I mean by that is that the creative team have put together a comic that far exceeds what's needed to keep a fanbase for a show reading a comic, and have instead created something new, their own, which toes the line on very high standards of craftsmanship.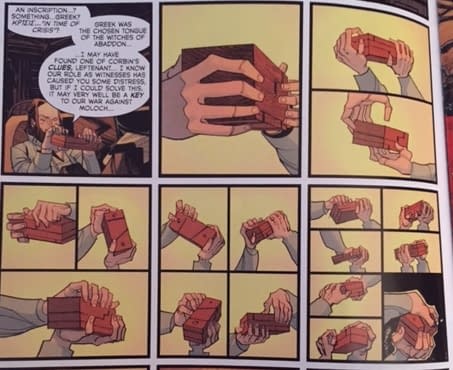 There are some visual passages in both #3 and #4 that made me pause and consider the skill that went into them. One of them will also, no doubt, make you laugh. It's a long sequence that's elegantly detailed, of Ichabod Crane trying to open a puzzle box and in each fragment of the sequence we see Coelho coming up with yet another position for Crane's hands and the box. It seems nearly impossible that he could have made such a sequence interesting, even funny, as Crane's hands seem to dance through these positions with increasing annoyance. Coelho also does an excellent job with facial features and expressions. Since there is plenty of "banter" humor in this comic, primarily between Crane and Abbie Mills, like in the show, as Crane handles a new life in the 21st century, Coelho has to work double time to convey warm and amusing expressions half the time while bringing drama in for equally important scenes of conflict.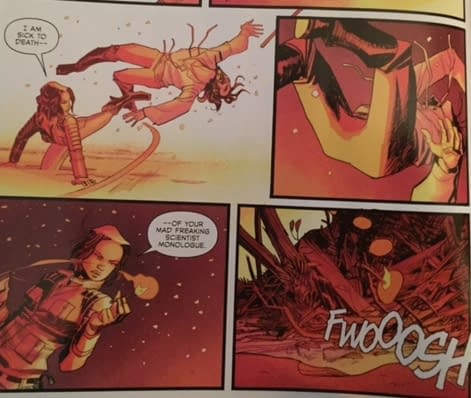 Without, I hope, giving away too many spoilers, Issue #3 is outstanding for a number of reasons artistically and thematically. A large portion of the story is given over to psychological landscapes that involve characters' worst fears and this premise really allows the writing as well as the artwork to spread its wings and consider the many possibilities available for presenting the characters and the way they perceive their own lives. Entering into the minds of the characters could easily have taken a road more traveled, but Bennett and Coelho have come up with a chain of cause and effect which is unique and interesting, and when it comes to seeing worst fears realized, it's handled in a very basic, emotive way by Bennett without belaboring too much the elements that are central to these personalities. We don't feel hit over the head with these revelations, and things keep moving at a brisk pace as well to keep the sense of adventure alive.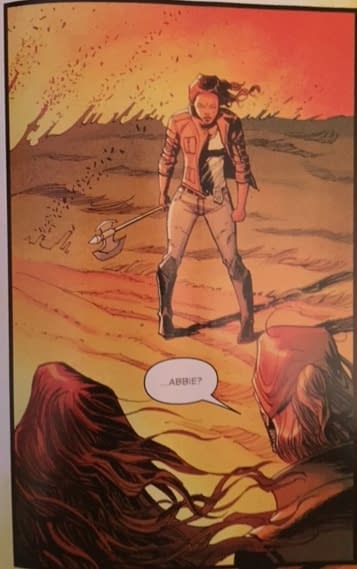 One thing that the comic probably had to do fairly well in order to succeed as based on a popular TV show was present action sequences convincingly, entertainingly, and in this case, supernaturally as well. In that, the comic could easily have labored through a few predictable reverse shots or swoops of weapons or spells each time and that would have been deemed acceptable by readers. I don't mean to demean readers by saying this, since I include myself in their number. But when we love a property already, as long as a comic related to that property is competently handled, we often overlook minor faults. Here there is no need to do that. Not only are the fight scenes competently handled, but, sacrilege, I actually prefer them to the TV's shows own action scenes. Why? Because the use of color and lighting is superior to the TV filmed fight scenes and helps me discern key "moments" when characters are growing beyond their previous roles and impressing the audience.
Another feature to note and praise is the addition of Noelle Stevenson's shorts at the back of these issues, both drawn and written by her. They are light, amusing, speak to the strange realities of the world of Sleepy Hollow, and as I have found, are also uniquely character driven. They almost always capture a kind of glee in characterization in each panel that does make me laugh and feels like an expansion on the world of the story as I know it.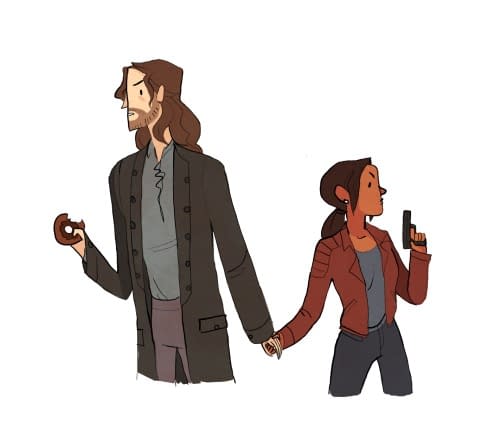 It would be a real shame if this comic didn't continue, though I have no doubt that each of the creative team would continue to bring their superior work to other projects, but what we have here in Sleepy Hollow is a comic that's better made, better imagined, better written (the dialogue is fantastic), and more winning than many of the non-licensed comic concepts out there and I can't help but want to see more. Hat tips to colorist Tamra Bonvillain and letterer Jim Campbell for bringing such a sense of polish to the finished product, too. The colors suit the subject matter perfectly–making even the creepy vibrant and compelling, and the lettering carries some at times seriously dense dialogue effortlessly, making words a big part of the entertainment behind this comic.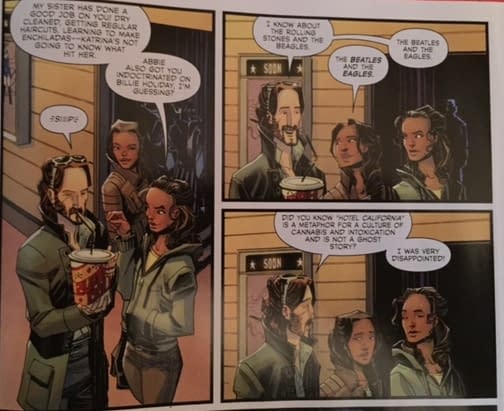 The show is going strong, there's even a devoted fan magazine from Titan Magazines coming out, so why not more comics, too?
Sleepy Hollow #4 arrives in shops on January 28th and is listed in Previews with item code NOV141094