Less than usual this week because DC haven't got round to balancing their New 52 schedule for five week months yet. I understand however that this may be addressed for the next time around.
Here are some initial thoughts from ten of today's comics. There may be spoilers but I will attempt to avoid any major ones. This is the top half of one page in today's Justice League #6. The bottom half hasn't got much more in it. That's how you were able to get a 24 page story from Jim Lee this month…

Often the different clashing worlds of superhero universes don't make sense together. Spider-Man is a street level hero, his world is closer to our own, and in Amazing Spider-Man #680 he's faced with a problem with an astronaut in a space station so he goes to… The Fantastic Four. And we get Johnny Storm above, ready to pilot off a FF space ship. However this does expose a flaw in the Marvel Universe. At the beginning we see all the expertise and manpower and danger of getting a man into space, with talk of funding and developing a mission to Mars. Yet the Fantastic Four, round the corner, can do all that on their lunch break. Why hasn't NASA or Horizon outsourced all this to Reed Richards? Still, any excuse to catch Johny Storm singing and dancing to Friday…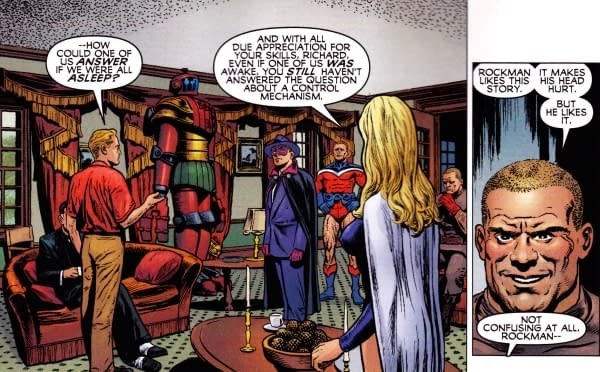 I'm currently writing a drawing room detective expose for The Many Murders Of Miss Cranbourne. So it's nice to see JMS and Chris Weston do the same in The Twelve #10. The ridiculousness of that set up is nicely contrasted with the ridiculousness of some of the costumes. And I guess there is one scene that will get talked about at length… and probably pop up on Comics Alliance. If not, I'll revisit it later… but damn Chris Weston, you do go into detail, don't you?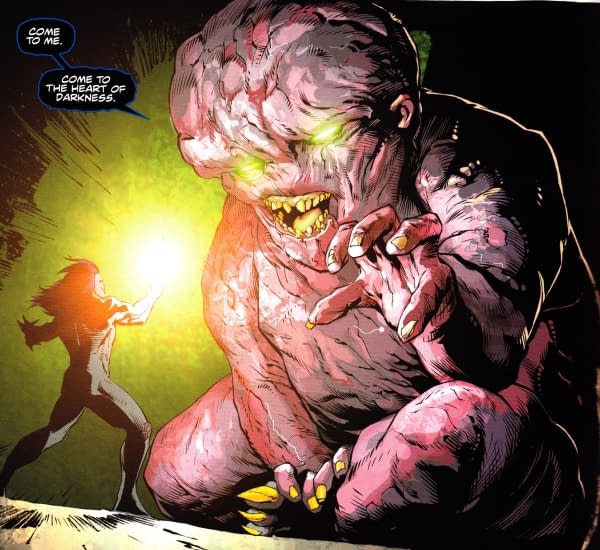 I read the first few issues of The Darkness all those years ago, when Garth Ennis and Marc Silvestri were working on it. I dropped it when they stopped. This, the hundredth issue, is the first I have read in an age. And thankfully it begins by going back to the beginning, and summarises the series so far.
Either way I didn't know when reading this comic that there would be one scene (not the one above) that would play with the medium in such a fashion that I haven't seen taken seriously since… well, since the comic 1963. Think Batman turning itself on its side was innovative? That's just peanuts compared to what happened on page six. Has every issue been like this?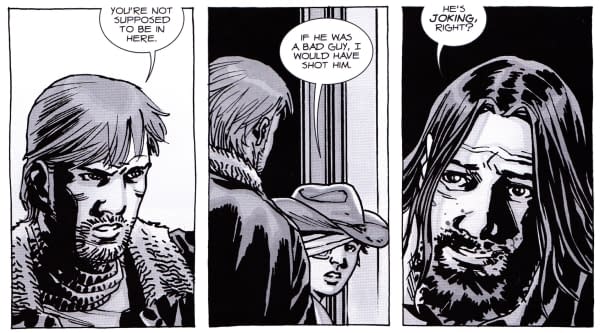 The Walking Dead is six months away from its hundredth issue. That will make it the fifth Image issue to reach such dizzying heights. And its so much better than the TV show. Here in #94 we get pull back and reveals throughout, unreliable storytellers, and some who are more reliable than we'd have believed. It's a moment of change for the book. I've stopped buying it in trade and gone back to the monthly comic… I doubt I'm alone.
Spaceman has rapidly become one of my favourite new comics. With four new Vertigo books coming in March, I'm hoping it will have some friends. This issue (#4) demonstrates one of its best tricks, mixing high technology with a grungy world. The Blade Runner technique, but the distance between the two seems insurmountable here, a reflection of today's increasingly financially divided world, while simultaneously throwing genetic distance in there as well. Oh, and kids swearing. Kids swearing is always big and clever.
Batman: Odyssey#5  is increasingly a guilty pleasure. But a pleasure for all that. A prehistoric underworld, Neanderthal Batman, a hierarchy that seems to be based on the bulbousness of one's nose, I don't think I could actively encourage anyone else to buy it without knowing their tastes very well. But if you like the Mighty Boosh but wish it had more Batman in it (which is my take on the matter), then this could very well be your guilty pleasure too.
There are those who see James Robinson's Shade as a little too esoteric for them. An exercise in page design. Making references to literature they have no interest in. Going out of its way to be obscure. Not only are they wrong, but in issue 5 you also get scenes like this one. Claws, knives, blood, high heeled boots in face and holes in leggings.
C'mon people, get into Shade. It's only twelve issues long. We hope.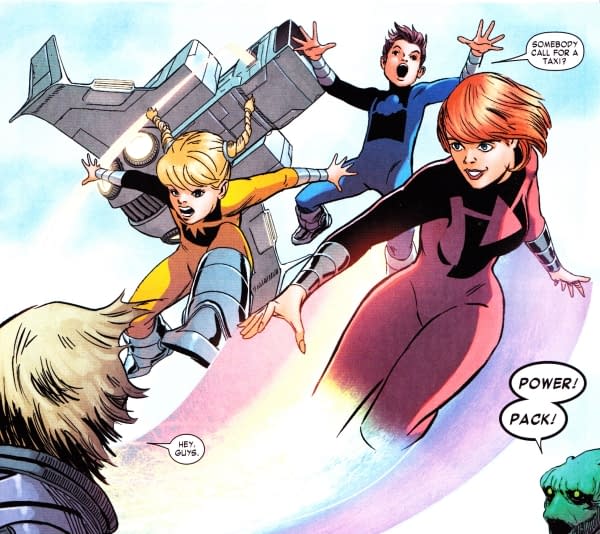 See, I was tempted to buy every copy of FF #15 on the stands for this. I used to buy Power Pack from the Kiosk newsagent in Pontefract, West Yorkshire, the only shop that I knew of that stocked any American comics at all. So I got a smattering of issues. Didn't care, they were great. Still are. And this one isn't bad either. We get the exact same ending as the last issue of Fantastic Four, but from the child's perspective and, after reading that issue, the central mystery here, if it ever was one, is pretty clearly answered. We do get some great Moloid scenes though.

Thanks to Orbital Comics of London, Their new show, Stripped, is about to start.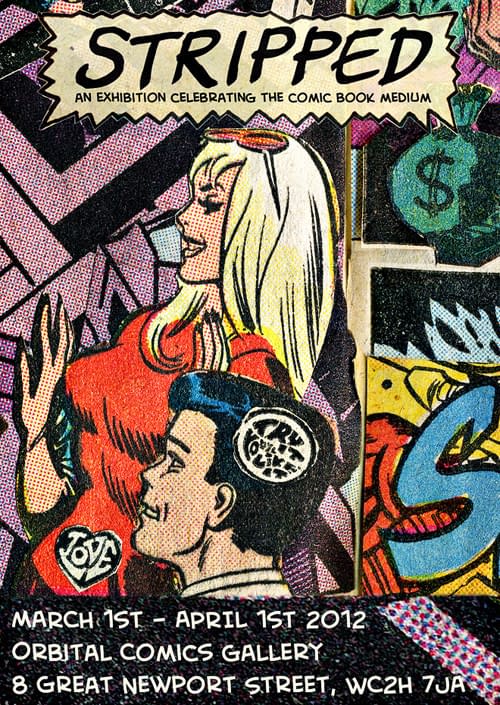 Enjoyed this article? Share it!