By Chris Thompson
[audio:http://popculturehound.net/podcast/OiCPodcastEpisode119.mp3]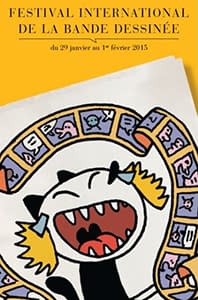 Following on from last Orbital in Conversation with the inspirational duo of Sepideh Jodeyri & Miss Lasko-Gross (which you can still listen to here), this week I'm joined by Karl from Orbital Comics to discuss our recent trip to Angoulême for the 42nd Festival de la Bande Dessinee d'Angoulême.
Karl and I discuss our history with the show, the numerous exhibitions we managed to see, some of the creators and fringe events we came across, and delve into the incredible swag we picked up along the way.
To close the show I chat with Paul Gravett about his memories of past festivals and how he felt about this year's show. If you've never had the chance to go, here's your chance to experience it vicariously through us!
Please note – the boutique publishers I refer to during the show are Original Watts, and I highly recommend you check them out. Hey, guys!
And never fear, you can still enjoy the Pop Culture Hound back-catalogue right here, as we continue to put out the same quality interviews and discussion with Orbital in Conversation going forward. It's only gonna get better, folks!
To get in touch, send feedback or submit projects for consideration, please email chris@orbitalcomics.com. And if you missed last week's episode (or any others) you can find them right here or subscribe via iTunes. You can also support the Orbital in Conversation podcast by clicking here to make a donation. Your contributions are greatly appreciated and will help us maintain the site, get new equipment, and encourage us to keep going on those cold lonely nights.
Chris Thompson's Twitter: @popculturehound
Chris Thompson's website: popculturehound.com
Orbital Comics' Twitter: @orbitalcomics
Orbital Comics' website: www.orbitalcomics.com
Paul Gravett's Twitter: @paul_gravett
Paul Gravett's website: www.paulgravett.com
Angoulême BD Festival's Twitter: @actudufauve
Angoulême BD Festival's website: www.bdangouleme.com
You can hear Part 1 of my coverage from last year's festival here:
popculturehound.net/episode-75-live-from-angouleme-with-joe-keatinge-friends
And listen to Part 2 (featuring Paul Pope in conversation) here:
popculturehound.net/episode-76-live-from-angouleme-with-paul-pope-friends
Enjoyed this article? Share it!