Pro-Life Or Pro-Choice? Avengers #29 Flips The Script (Spoilers)
Today's Avengers #29 may be one of *those* comics, A kinda 'what were you doing when you first read Avengers #29 by Jason Aaron and Ed McGuinness' moments. And not just because Blade is wearing a new super-space-suit formed entirely out of a Man-Thing. While the Black Widow gets her own new suit, the War Machine armour redesigned for her a War Widow…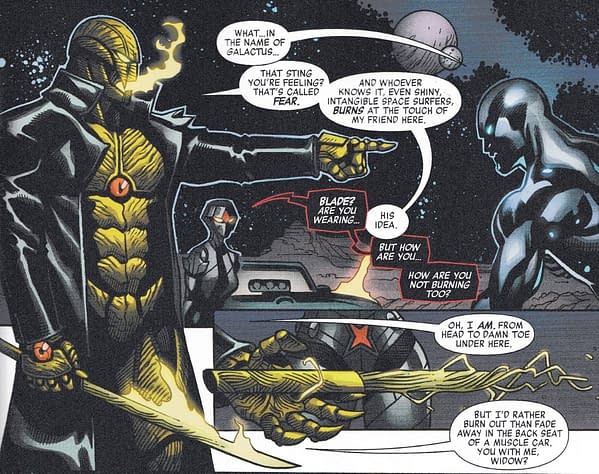 And a rather painful super-suit too. Pangs of Penance there. But the bit that might get people talking and looking with hushed tones towards Avengers #30 comes at the finale of the issue, where Gladiator faces down the current wearer of the Starbrand, the ultimate weapon and part of Earth's planetary defense mechanism. Although one that seems to be taking down other planets in the process.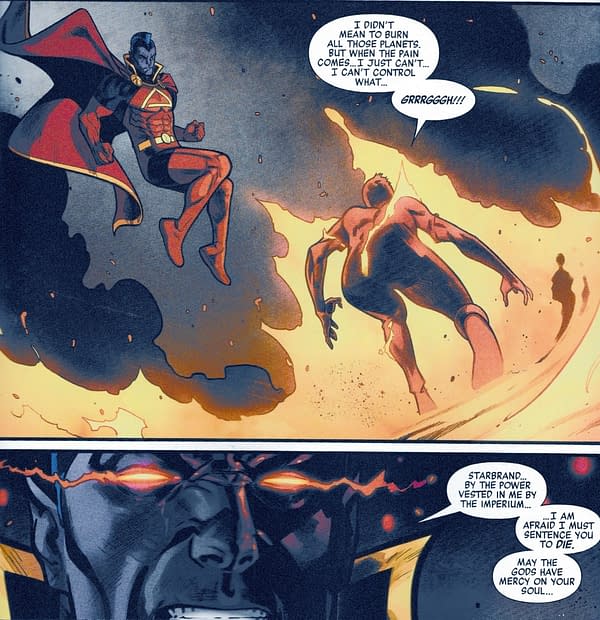 More of that burning pain. But who…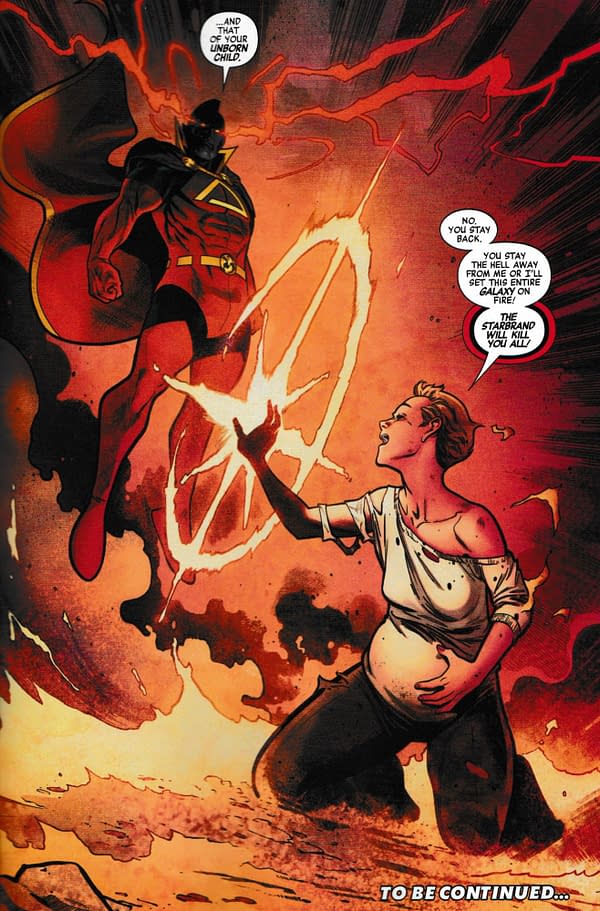 Okay so plenty to unpack here. Pregnancy, a moment of creation and nurturing, can be pretty damn uncomfortable and childbirth one of the most painful acts humans can endure. The process can cause soem interesting mental effects but burning down planets is not usually one. The Starbrand does look quite close to due date, here, but have birthing pains started? And as the Avengers finally catches up to the Free Comic Book Day issue from last year, complete with Steve Rogers' bandana, what is this trying to say about pregnancy on a cosmic level? And what kind of baby would a Starbrand-wielding person give birth to? How about the Star Child from the original New Universe series?
Avengers #29 is out today from Marvel Comics… I bought mine from Piranha Comics in Kingston-Upon-Thames. Piranha Comics is a small south London comic store chain with a small south-east store in Kingston-Upon Thames's market centre, which runs Magic The Gathering nights on Fridays, and a larger south-west store in Bromley, which also runs Magic nights and has an extensive back issue collection and online store. If you are in the neighbourhood, check them out.

AVENGERS #29
(W) Jason Aaron (A/CA) Ed McGuinness
STARBRAND REBORN Part Three: THE RISE OF THE WAR WIDOW
The battle for the Starbrand heats up like a supernova, as Captain Marvel goes toe to toe with Firelord, Ghost Rider races the Silver Surfer and Brood Thor… tries to eat the Avengers. Meanwhile the Black Widow kicks much butt in outer space with a bold new weapon in her arsenal. That's right, the Black Widow + the War Machine armor = the all-new, all-deadly War Widow.
Rated T+In Shops: Jan 15, 2020
SRP: $3.99