Riverdale: The Town That Dreaded Sundown Review
Good, wholesome Archie Andrews is going insane. Wrought with guilt over his father being shot, he creates the Red Circle, to try and intimidate the Black Hood. Ultimately this backfires on him, causing the adults in the town to look at Archie in a new light. After Dilton lets Archie know about a place in town where he can purchase weapons (and Archie uses a fake ID with an old MLJ character, which gave me a chuckle), Archie gets to work on letting the Southside of town that the Red Circle is watching. All hell breaks loose, Principal Weatherbee thinks it best to disband the football team all together. Things are looking grim for Archie, but he still has that weird Andrews luck on his side. And trust me, it's weird.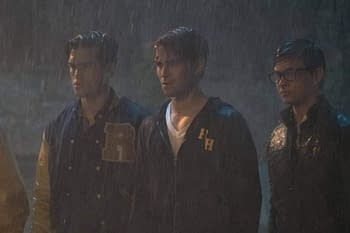 The Black Hood isn't just a menace to Archie either. After sending a letter to Alice last week, he sends one to Betty as well. But don't worry–she's in no danger. In fact, her speech during last season's town hall may have inspired the killer. He also sends an encrypted letter that Betty has to figure out. Once she does, we are told the killer would strike again "where it all started". That means a lot of things for a lot of people, but I am reminded of that July 4th from season one…
Speaking of Betty, things are getting tense between her and Jughead. Jughead's new friend Toni is becoming a bigger thorn in Betty's side, and it's clear Betty is mildly jealous of the friendship. While Jughead is typically a loyal guy (at least in the comics), he could surprise us in this show. I sincerely hope they don't make Jughead fall for Toni, but crazier things have happened. This love triangle is going to make a lot of viewers aggravated, much like I've been the past 27 years while reading the Archie-Betty-Veronica triangle.
Veronica takes a more prominent role as someone who appears to have it together. Despite her parents telling her to stay away from Archie (which is normal in the comics) she decides to go all in with supporting Archie. Her intentions are pure, but is Veronica getting herself into something she can't escape from?
This was a good episode to move the story along, though I feel we made little progress. This season is 22 episodes, so we have time. I have my own theories as to whom the killer is, but I'd love to hear yours.