Roving Reporter And Comic Writer Hits Seven Cons Bleeding Cool Style
Our own Bleeding Cool reporter B. Alex Thompson has committed to attending 7 cons this season, as well as promoting his professional comic book work and representing his small press publications. So seek him out and shake him down for information, comics, and tips on publishing, and when you do, take some selfies and send them in to us: we'll make a BAT gallery chronicling his struggles and triumphs…
Alex writes:
Well, hello there! My name is B. Alex Thompson and I'm a professional comic book writer/ small press publisher. My first Diamond distributed work was Vampires Unlimited: Shades of Things to Come #1 back in 2002, so I've been a "professional" for a little over a decade now.
For most of my career, writing was a side thing I did between punching the clock at a day job. In the early days of doing comics you should expect to lose more money (er, I mean "invest") than you gain out of it, so the day job was a way to pay bills and fund my dream as I honed my craft. About two years ago I severed the umbilical cord and went completely freelance as a writer. That in itself could be a completely different set of articles, but that's not why I brought you here today (thanks for stopping in, by the way… I hope you enjoy our time together).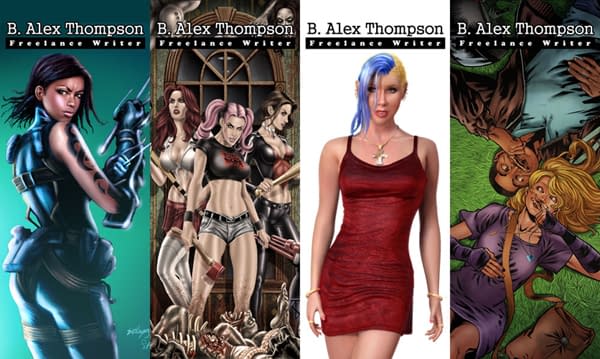 Part of the freelance and publishing life is to promote your projects and yourself. Trade shows and conventions are a huge part of that promotion process. I've done conventions my whole career. While I've heard that some creators don't like doing shows, I personally LOVE the experience. Where else can you meet readers and fans face-to-face? What other time can you enjoy the company of other creators you interact with online but rarely have the opportunity to knock back drinks with in person? And then there are the panels which are also a highlight of shows for me.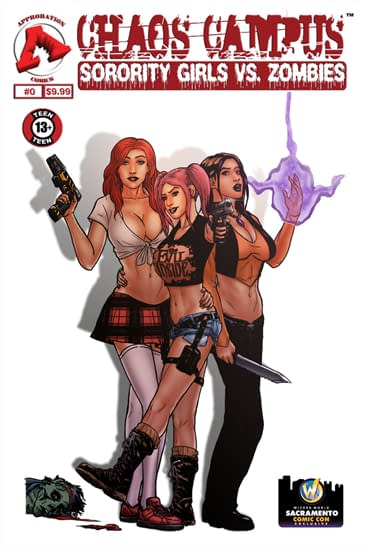 So many positive things to say about comic book conventions, but again, that would be another set of potential articles for another time. Let's get back to why we're here today.
This convention season I'm doing the most shows that I've ever done in a year. Though my list might not be as impressive as the "15 shows in 15 weeks" my friend Dirk Manning did last year (and chronicled for this very website), it's pretty manageable for me.
The seven shows for 2014 are:
Wizard World Sacramento
March 7-9, 2014 – Booth #B46
WonderCon Anaheim
April 18-20, 2014 – Booth #SP-094 (Approbation Comics)
Long Beach Comic-Con
May 31-June 1, 2014
Phat Con
June 14, 2014
San Diego Comic-Con
July 23-27, 2014
Long Beach Comic-Con
September 27-28, 2014
Wizard World Reno
November 21-23, 2014
These seven shows are pretty much a lock in where I'll be selling my wares, doing signings, networking, and all sorts of other fun convention related shenanigans. More might be added as the year progresses, but these are the main seven that make up my convention core for the year.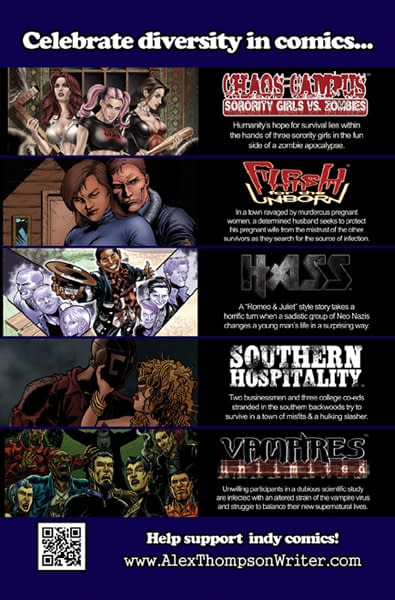 The projects I plan to promote at these wonderful venues include…
Southern Hospitality (horror/drama): Two businessmen and three college co-eds stranded in the southern backwoods try to survive in a town of misfits and a hulking slasher.
The Vessel (drama/thriller): A troubled young boy is possessed with the souls of four wronged spirits and has to extract revenge on their behalves before he can finally lead a normal life.
Flesh for the Unborn (action/horror): In a town ravaged by murderous pregnant women, a determined husband seeks to protect his pregnant wife from the mistrust of the other survivors as they search for safety and the source of the madness.
Hass (drama/thriller): A "Romeo & Juliet" style story takes a horrific turn when a sadistic group of Neo Nazis changes a young man's life in a very surprising way.
Vampires Unlimited (action/horror): Unwilling participants in a dubious scientific study are infected with an altered strain of the vampire virus and struggle to balance their new supernatural lives.
And also my ongoing series Chaos Campus: Sorority Girls vs. Zombies (action/humor): Humanity's hope for survival lies within the hands of three sorority girls in the fun side of a zombie apocalypse.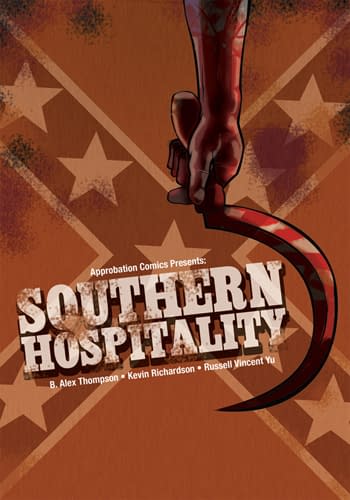 Okay, that's enough shameless self promotion. How about we direct this train back on the original track, eh?
Thanks to the wonderful crew at Bleeding Cool and hopefully your readership I plan to document my experiences with each show. I hope that at whatever stage of comic person you are (reader, retailer, writer, artist, letterer, colorist, etc) that you will find entertainment and possibly some insight from my musings.
Wizard World Sacramento is almost upon us, so I look forward to seeing you in a few weeks! ^_^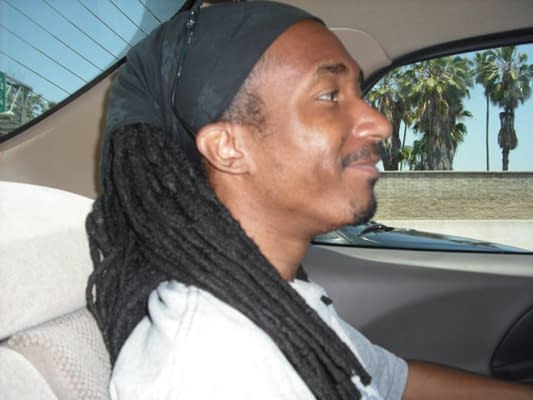 Los Angeles born and Midwest raised, B. Alex Thompson is a comic book writer, screenwriter, and letterer who has done work for Alias Enterprises, Approbation Comics, Arcana Studios, Lion Forge Comics, and Graphic Planet. Thompson is mostly known for his experimental humor/horror title Chaos Campus: Sorority Girls vs. Zombies which has over twenty-five issues released and more in the works. Discover more via www.AlexThompsonWriter.com and Tweet him directly @ApproBAT