Friday Trending Topics: Revisiting The Strange Visitor From Another Planet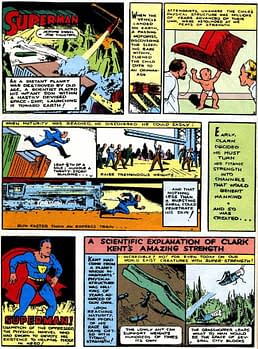 Rich nails it in his post on what makes New 52 Action Comics #5 so potentially interesting. Action Comics volume 1 number 1 page 1 by Jerry Siegel and Joe Shuster is the big bang of the comic book multiverse. It's the start of everything we know, and evidence of it can be detected everywhere you look, all these years later. That page has been expanded and stretched and cut apart and reassembled countless times over the years, but taking another good look at it never fails to fascinate, and often reveals something new. Grant Morrison and Andy Kubert are in the spotlight in what is likely to be one of the most-discussed post-launch books of the New 52.
Most-Read Comic Stories Today:
A New Superman Origin By Grant Morrison
Not only is there an explanation for having a mini interstellar rocket around Jor El's place, but we also find out exactly what's happened to Krypto… and get an answer to some of the ghost dog mentions in previous issues too. Grant Morrison and Andy Kubert lay it out.
Bryan Hitch Announces The End Of "An Amazing Decade At Marvel"
Bryan Hitch has been counting down for a while now, with lots of speculation as to what the countdown might be for. In covering the countdown, Rich wondered if the countdown was to "News that he's going fully independent from Marvel?"
Did The Parent Companies Of Marvel And DC Create The Piracy They Now Condemn?
There's a conspiracy theory going around courtesy of one Mike Mozart that alleges that the very backers of the Stop Online Piracy Act (SOPA) legislation actually created the very piracy they are now trying to combat, as some nefarious money making/power grabbing scam.
Most-Read TV/Film Stories Today:
Amazing Spider-Man Building Blocks Confirm A Spoiler Rumour
It's not Lego but Mega Bloks, their legally permitted imitators, who have scooped the Amazing Spider-Man licensing deal. Here are the box designs for three of the sets due to launch ahead of the movie.
There Seems To Be An Avengers Spoiler Hidden In This Description Of… Yes, Toys
Another day, another toy tie-in to a tentpole Superhero film and another apparent spoiler. This time, The Avengers, and we may have just learned which other naughty from the Marvel movieverse could be showing up.
Simon Pegg Likes The Screenplay For The Boys But Fears He's Too Old To Play Wee Hughie
The character of Wee Hughie in Garth Ennis and Darick Robertson's comics series The Boys was modeled on Simon Pegg, at least in terms of facial features and ginger beard, and he knows it. In fact, it was Rich who broke it to him in the first place.