Sammie Reads: Thomas Alsop's Gripping Conclusion And The Rad BOOM! Box 2014 Mix Tape
By Sammie Rice
Greetings, readers!
I just rode in on my hoverboard, since it is 2015, to discuss this week's new releases!
I wasn't sure anything could compare to the unbelievably fantastic first issue of Marvel's The Unbeatable Squirrel Girl last week but I had high hopes that Boom! would keep me just as entertained since they released several excellent titles this week. From the delightful first issue of the latest Adventure Time mini-series called Marceline Gone Adrift to the fourth trade paperback of a personal favorite, Bravest Warriors, I had some fun comics to look forward to reading. But there were two comics that stood out among the rest, and not just because my clumsiness literally caused one of them to jump off the shelf and onto my face.
Thomas Alsop #8 (of 8) by Chris Miskiewicz and Palle Schmidt is a dizzying and beautiful conclusion that left my heart very full, and hurting in the best way. Not familiar with this book? No worries, reader, I got you. Thomas Alsop is the story of a man with the generational power and responsibility to protect Manhattan from evil using incredible magic and a little bit of dark humor. This book gets a little gritty and isn't for the faint of heart, but be prepared to be taken on a journey that makes you reevaluate your views on life and death. Since this is the last issue of this series, you should be able to track down all of the previous issues and read them all at once. Your wallet won't even be mad and your heart will thank you.
It's no secret that art plays a huge factor in deciding whether to continue with a comic book. It almost doesn't even matter how good the story is, if the art doesn't suit your preferences, there is very little chance you are going to give the book a try. I was slightly hesitant to continue reading Thomas Alsop because the art isn't the clean-cut style that I'm used to. But I stuck it out, because the story intrigued me and several people told me how they really loved this book. But before I knew it, the art slowly started to grow on me as it started to slowly grow as an integral part of the plot. Schmidt is able to expertly communicate actions and emotions by the watercolor-esque style and his work is very reminiscent of Matt Kindt.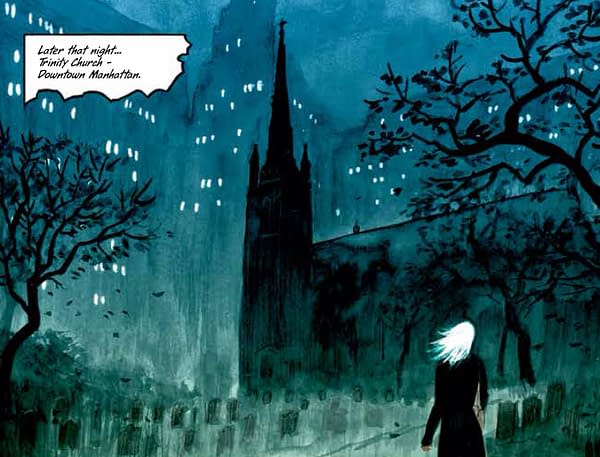 The way Miskiewicz is able to portray the feeling of pain and confusion when dealing with the reality of a lost loved one is truly unique. I obviously don't want to spoil the ending for you, especially if you have been reading since issue one, but I'll just say that I loved the how this issue didn't end abruptly, but instead held your hand through every panel as you said goodbye to each character. While I am sad this particular story has ended, I am super glad it didn't feel rushed in any way. I can't wait to see more adventures of Thomas Alsop! There is no question, I will definitely be collecting the trade paperback of all eight issues when it hits the shelves and I highly recommend you do the same!
One of my other all-time favorite comics that came out this week was the BOOM Box 2014 Mix Tape which is a collection of mini-stories by various writers and artists. Featuring some of your favorite comics and mine, this one issue includes never-before released stories from comics like Midas Flesh, Lumberjanes, Teen Dog, Cyanide & Happiness and the new Munchkin series. You never know what creator you might find in this exciting book and who knows, you may end up discovering your new favorite book.
Following my trend of massive love of Teen Dog, the short story written and illustrated by Madeline Flores with colors by Trillian Gunn called Help Us! Great Warrior just might be my new favorite thing. The art is vibrant and the characters are just too cute. It's the story that I didn't realize I needed until I read it, and I think I'm now utterly obsessed. Based on a webcomic, this kick-butt series will be coming out in print form in February so get excited about that!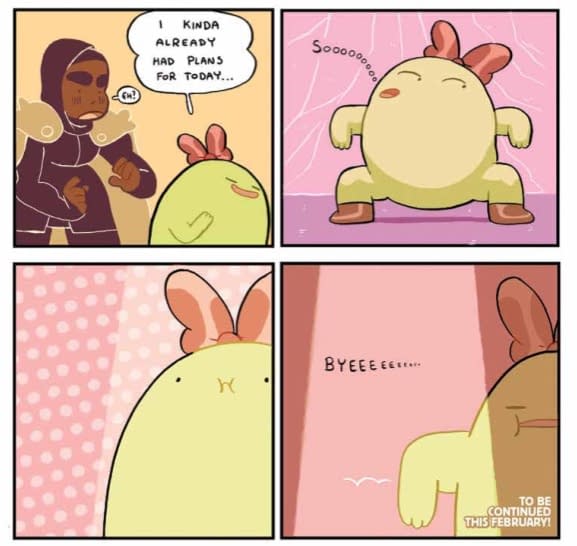 Full of laughs, moments of weirdness, smiling raptors and misunderstood haunted houses, the BOOM Box 2014 Mix Tape is certainly guaranteed to bring a smile to your hoverboard-less face.
Make sure to visit your friendly, neighborhood comic book store and report back to me your thoughts on this week's new releases! Also, check out the Help Us! Great Warrior on Tumblr at www.helpusgreatwarrior.tumblr.com
Until next week, readers!
Sammie Rice is a Florida comic book store employee and proud Valkyrie. She enjoys making nerdy friends and long strolls through the park in Pterodactyl-free zones. Find me on Twitter and Instagram: @SammieReads and on the fabulous world of Tumblr at www.sammiereads.tumblr.com