Screamfest Horror Film Festival Unleashes 2017 'First Wave' Film Line-Up America's largest and longest running horror film festival unleashed the "first" wave of its official 2017 film line-up on Tuesday, as Screamfest Horror Film Festival prepares to stalk the grounds of the TCL Chinese in Hollywood from October 10-19, 2017. Celebrating its 17th year, the film festival gives filmmakers and screenwriters in the horror and science fiction genres a place to have their work appreciated and showcased within the film industry and fans of the genres. Actor and producer Dominic Monaghan (The Lord of the Rings trilogy, Lost) has been asked to serve as this year's festival ambassador: an honor he respects as much as the purpose behind the festival itself: "I am extremely honored to serve as this year's Screamfest ambassador. I applaud Screamfest and its Founder and Festival Director Rachel Belofsky for embracing the work of filmmakers and actors in the horror genre. I'm a big fan of this space, and I couldn't be more thrilled to be a part of a fest that truly acknowledges unique and creative work."
Screamfest Horror Film Festival has a proud tradition of offering attendees access to some of the most creative minds in the horror and science fictions genres through film screenings; Q&As with casts and crews; and conversations with some of the most original and innovative visionaries working the industry today. Although gaining a certain level of notoriety in 2007 when it "discovered" Paranormal Activity, the festival has also premiere films such as 30 Days of Night; Let the Right One In; The Grudge; The Collection, Trick 'r' Treat and The Human Centipede. Filmmakers from across the pop culture spectrum continue to support the festival, including: Wes Craven, John Carpenter, Sam Raimi, Clive Barker, Eli Roth, James Wan, Zack Snyder, William Friedkin, John Landis and James Gunn.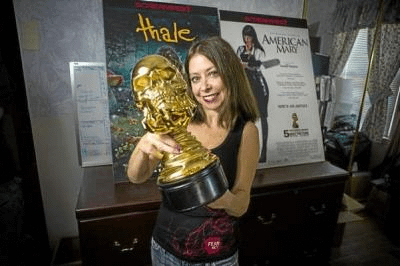 For Belofsky, having an actor of Monaghan's experience and understanding serve as "ambassador" is a win-win for the festival:
"We are thrilled to partner with Dominic Monaghan at this year's Screamfest. He is an amazing actor and filmmaker who understands the vision of this festival. His experience in the industry alone, I am certain, will inspire other actors, filmmakers and horror film enthusiasts."
For more information and to purchase film festival badges, please visit www.ScreamfestLA.com. Individual film tickets will be available at the end of September 2017, and all screenings are open to the general public. Now here's Screamfest Horror Film Festival's "first wave" line-up of films for 2017:
DEAD ANT (USA) 2017
Directed by Ron Carlson
Written by Ron Carlson
Produced by Ron Carlson and Stephanie Hodos
Cast: Tom Arnold, Sean Astin, Jake Busey, Ryhs Coiro, Leisha Hailey, Cameron Richardson and Danny Woodburn
World Premiere
When the "one-hit-wonder" glam-metal band "Sonic Grave" embark on a trip to Coachella in hopes of a comeback, their peyote trip pit stop in Joshua Tree incites an "unworldly" viscous attack, and they must "rock" themselves out of harms way.
LEATHERFACE (USA) 2017
Directed by Julien Maury, Alexandre Bustillo
Written by Seth M. Sherwood
Produced by Carl Mazzocone, Christa Campbell, Lati Grobman, Les Weldon
Cast: Stephen Dorff, Lili Taylor, Sam Strike, Sam Coleman, Vanessa Grasse
North American Premiere
In Texas, years before the events of the Texas Chainsaw Massacre, in the early days of the infamous Sawyer family, the youngest child is sentenced to a mental hospital after a suspicious incident leaves the sheriff's daughter dead. Ten years later, the Sawyer teen kidnaps a young nurse and escapes with three other inmates. Pursued by authorities including the deranged sheriff out to avenge his daughter's death, Sawyer goes on a violent road trip from hell, molding him into the monster now known as Leatherface.
RUIN ME (USA) 2017
Directed by Preston DeFrancis
Written by Trysta A. Bissett, Preston DeFrancis
Produced by Rebecca G. Stone
Cast: Marcienne Dwyer, Matt Dellapina, Chris Hill, Eva Hamilton, John Odom, Cameron Gordon, Sam Ashdown
LA Premiere
Alexandra reluctantly tags along for Slasher Sleepout, an extreme event that is part camping trip, part haunted house, and part escape room. But when the fun turns deadly, Alex has to play the game if she wants to make it out alive. TIGERS ARE NOT AFRAID (MEXICO) 2017
Directed by Issa López
Written by Issa López
Produced by Marco Polo Constandse
Cast: Paola Lara, Hanssel Casillas, Rodrigo Cortes, Ianis Guerrero, Juan Ramón López
LA Premiere
We are in a Mexican City turned into a ghost town by the drug-war. Estrella is 11, and when her mother vanishes, she makes a wish: she wants her mother to come back. And mom does return—from the dead. Terrified, Estrella escapes and joins a rag-tag gang of other children orphaned by the violence, all escaping their own past. But she learns that in a city ruled by death, you can't simply leave the ghosts behind; they walk with you wherever you go.
TODD & THE BOOK OF PURE EVIL: THE END OF THE END (CANADA) 2017
Directed by Craig David Wallace and Rich Duhaney
Written by Charles Picco, Craig David Wallace
Produced by Andrew Rosen, Sarah Timmins, Jonas Diamond
Cast: Alex House, Maggie Castle, Bill Turnbull, Melanie Leishman, Jason Mewes, Chris Leavins
U.S. Premiere
Continuing where the cult TV series left off, Todd & The Book of Pure Evil: The End of The End: The Animated Feature Film returns to Crowley Heights to find Todd, Jenny and Curtis grieving the loss of their dear friend Hannah. The three must reunite to fight evil when the Book of Pure Evil returns to Crowley High, bringing with it some familiar faces as well as some new foes. But these enemies are merely warm-ups to the final battle with their greatest nemesis yet: The New Pure Evil One. TRAGEDY GIRLS (USA) 2017
Directed by Tyler MacIntyre
Written by Chris Lee Hill, Tyler MacIntyre
Produced by Armen Aghaeian, Tara Ansley, Anthony Holt, Edward Mokhtarian, Craig Robinson, Cameron Van Hoy
Cast: Brianna Hildebrand, Alexandra Shipp, Kevin Durand, Jack Quaid, Craig Robinson
LA Premiere
Best friends Sadie and McKayla are on a mission to boost their social media fandom as amateur crime reporters hot on the trail of a deranged local serial killer. After they manage to capture the killer and secretly hold him hostage, they realize the best way to up get scoops on future victims would be to, you know, murder people themselves. As the @TragedyGirls become an overnight sensation and panic grips their small town, can their friendship survive the strain of national stardom? Will they get caught? Will their accounts get verified? TRENCH 11 (CANADA) 2017
Directed by Leo Scherman
Written by Matthew Booi, Leo Scherman
Produced by Tyler Levine
Cast: Rossif Sutherland, Robert Stadlober, Charlie Carrick, Shaun Benson, Karine Vanasse
U.S. Premiere
In the final days of WWI a shell-shocked tunneller must lead an Allied team into a hidden German base…100 hundred feet below the trenches. The Germans have lost control of a highly contagious biological weapon that turns its victims into deranged killers. The Allies find themselves trapped underground with hordes of the infected, a rapidly spreading disease and a team of German Stormtroopers dispatched to clean up the mess. The only thing more terrifying than the Western Front… is what lies beneath it.