By Gordon Mclean
Last weekend Glasgow Comic Con once again pulled off its sunshine miracle. Now in its fourth year, GCC somehow continued its unbroken streak of Scotland's grey clouds and chilling rains taking a break so the sun could shine on the swarm of attendees and cosplayers flocking to its main venue, the Centre for Contemporary Arts. And the Melon of Doom.
But we don't talk about the Melon of Doom. Meet The Guests
Among the foreign visitors fooled into thinking Scotland's a place of glorious sunshine and warmth were the Con's four biggest guests making their GCC debut: Erik Larsen (Savage Dragon), Gail Simone (Batgirl, Red Sonja), Peter Milligan (Hellblazer, X-Men) and Howard Chaykin (Satellite Sam, American Flagg!).
All four had nothing but positive things to say about the convention. Milligan said, "It's fantastic! I love it and the people who've come. I like the size – it's just the right size for a convention." Simone echoed this, adding, "It's more like an art jam than a U.S. convention and the people are lovely. It's going to be very hard to go home and leave Glasgow."
Chaykin talked about how "everybody from the staff to the enthusiastic fans has been just terrific" while Larsen kept it short and sweet: "I've had a good Con. Everyone's been very polite." Anything else to add? "Buy Savage Dragon, please. By the truck load!" There was also talk of upcoming projects. Simone stated there's going to be "big stuff" happening in issues 32 to 34 of Batgirl and to "stay tuned to see if Red Sonja gets any snuggle time."
Milligan was happy to share some details of his new Vertigo title The Names. Pitched as "Wall Street meets Kill Bill", the series will follow the wife of a banker who apparently killed himself due to the ongoing financial crisis only to discover he was really murdered by a secret cabal that controls the world's markets. "It's a metaphor for all of the bastards who rule the financial world," said Milligan. He also teased that the upcoming final issue of All-New Doop will be even crazier than what's come before. How will he top Mama Doop? Stay tuned.
Also happily signing, sketching and posing for photos were beloved Con returnees John Wagner (Judge Dredd, A History of Violence), Rufus Dayglo (Tank Girl), Colin MacNeil (Judge Dredd, Chopper), Tanya Roberts (Star Wars: The Clone Wars) and a host of others.
"And the award goes to…" The Scottish Independent Comic Book Awards (SICBAs) have become a key part of GGC. With a short list that included the likes of Crawl Hole , Beginner's Guide to Being Outside, and with the industry buzz-magnet And Then Emily Was Gone, the competition was stronger than ever. However, nothing could stand before the juggernaut that was Dungeon Fun.
A ridiculously entertaining tale of a young girl more than ready to dish out some sword-based justice to anyone or anything trying to stop her from escaping the most bizarre dungeon you've ever seen (think what Dungeons and Dragons would be like if the Monty Python team decided to rewrite it), Dungeon Fun made it a clean sweep when it took home Best Comic, Best Art, Best Writer and Best Cover. By the time they accepted the final award the creative team of Colin Bell and Neil Slorance couldn't help but look both humbled and just a tad embarrassed. "I'm really sorry about this," said Slorance, award in hand. "I only wanted one." The roar of the audience told them they deserved their success.
The crowd was half expecting Dungeon Fun to somehow snatch the Outstanding Contribution to Comics award as well. Instead the special award went to John Wagner, co-creator of Judge Dredd and a British comics legend. Notorious for avoiding awards ceremonies, Wagner wasn't present at the SICBAs and so it was left to Rufus Dayglo to pick up the trophy on John's behalf. Before presenting the award Wagner's one-time writing partner Alan Grant told the funny tale of the last time Wagner attended an awards show he returned to his hotel room, put his trophy in the bin and went to the bar. Us Scots has got our priorities right! Small Press, Big Presence
GCC expanded to three venues this year to try and accommodate the wealth of indie comic book creators who wanted to take part and even then there were more who sadly couldn't be squeezed in. With dozens and dozens of small press and self-published comics for sale the good old cliché "something for everyone" can be dusted down for one more use: whether you wanted an intimate tale of a small girl growing up or a galaxy-wide sci-fi epic with more explosions than speech bubbles you could find it amongst the stalls.
Here's just a taste of what was available and all come highly recommended:
And Then Emily Was Gone: A search for a missing girl takes a haunted former police detective to a remote community in the Orkney Islands, where strange and terrifying things are happening.
Apes 'n' Capes: A story of conflict that poses the question, what if orangutans were meant to inherit the Earth but humanity conspired to stop them?
Crawl Hole: A deliciously twisted mixture of horror comedy shorts that was nominated for a SICBA,
Crossing Borders: This SICBA nominee is part diary, part cultural observation and part travel guide to Thailand and Cambodia that's as funny as it is informative.
Dark Ascension: Pogo the Clown used to be the best performer in his circus and was always its biggest attraction. What no-one knows is that Pogo is haunted by a dark chapter from his past… and when new performer The Cadaver arrives it looks like Pogo's ghosts are about to come calling.
Graphite Fiction: This publisher had no less than three darkly atmospheric tales on sale: Medusa, Golem and Flood.
iHero: The story of what would happen if you could get an iPhone that gives you superpowers and how it would change the world.
Imperious Press: This publisher was promoting their hit title Fat-Man and Ribbon and unveiled their new webcomic Pure Super Pals.
Out of Time: Mix together Dr Who and Hitchhikers Guide to the Galaxy for this tale of a time travelling company revolving around a depressed 40-something, a shape changing alien dog, a man who thinks he's a robot and a girl desperate to make it to the big time.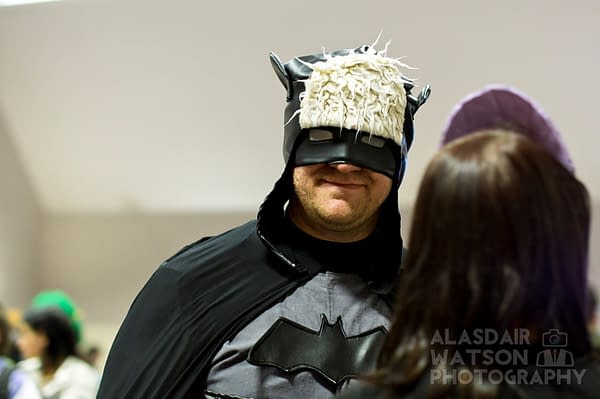 Plagued: A witch-hunter, a witch and a talking dog are forced into making an uneasy alliance as they search for a cure to a devastating plague in post-apocalyptic Scotland.
Reel Love: A comic about a young boy who forms a relationship with his local cinema.
Rollerskates and Breakfast Dates: a light hearted diary comic containing skating, coffee, ducklings and much more.
Saltire: Invasion: featuring Scotland's first comic book superhero, Saltire's dark and gritty world is a pseudo-history of Scotland and its mythology which sees the titular hero caught up in pivotal moments from the country's past. The Beginner's Guide to Being Outside: A wildlife-themed comic telling the tale of a young girl who reconnects with nature while on a family trip to the Scottish Highlands which helps her to find solace during a turbulent time in her home life.
The Standard: The story of an elderly former superhero-turned-chemistry teacher forced out of retirement.
Thug: A comic about lowly henchmen struggling to get by in a superhero-filled world.
Unthank Comics: This hot new publisher had three titles on sale. Neverending is the story of Olivia, a girl who never sleeps, and is described as a "spy drama meets superhero book by way of Orphan Black". Freak Out Squares follows the exploits of a young man who is crushed to discover that his hero – cosmic rock god Johnny Orion – is not the idol he was promised. Gonzo Cosmic is a Grant Morrison-esque "thrill ride, massive in scope, but compressed into 12 issues of pulsing action, this is a sci-fi/superhero story with vicious political teeth."
Comics, Comics, Comics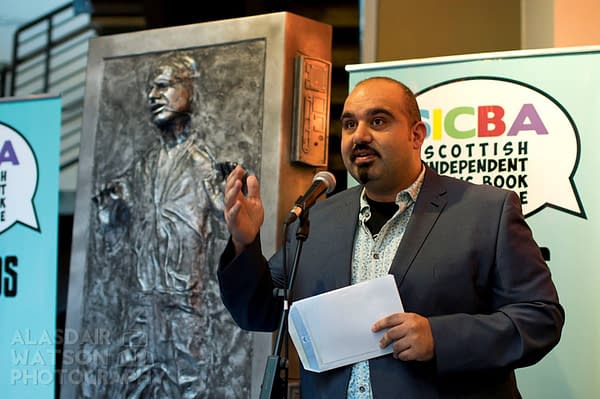 Founded by Black Hearted Press in 2011, Glasgow Comic Con has grown at an impressively fast rate. Two years ago it was forced to abandon the beautiful but cramped confines of its original venue the Mackintosh Church for the much larger Centre for Contemporary Arts. Even that was not enough and this year saw the debut of two additional nearby venues to cope with the demand from comic creators wanting to be a part of the weekend as well as an expanded list of panels and events and nearly 3000 attendees.
GCC's continued focus on nothing but comics is especially admirable in current climes when the UK's convention-bloated calendar sees many other Cons giving in to the temptation to add film and TV stars to try and bolster their appeal. GCC has a purity of focus and ever-growing importance to both the local and national comic book scene – dare I say it's becoming the Scottish Thought Bubble?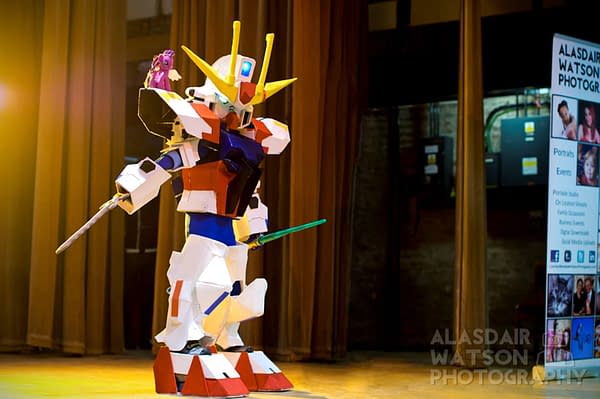 Most photos kindly supplied by Alasdair Watson Photography.
Enjoyed this article? Share it!