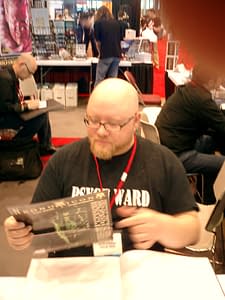 See Greg knows what to do. Hours into reporting from the floor of C2E2, he's sucking up to the site's owners. He'll go far.
The Avatar Press booth is already one of the hot spots at C2E2, thanks in no small part to their Crossed mask promotion. "I'm shocked at how popular the masks are," said Jacen Burrows, artist on the series. In addition to the upcoming Neonomicon with Alan Moore, Burrows also announced another sequel to the series re-teaming him with original creator Garth Ennis. In the meantime, he's also got a special C2E2 edition of the Crossed hardcover, as well as a special edition cover for the current Crossed: Family Values series featuring a flesh-chomping nod to a certain popular space zombies comic that just wrapped up.

Elsewhere (and by elsewhere, I mean one table over), Christos Gage told me that fans of his series Absolution should definitely get to the Avatar Press panel at 5:15, promising "terrifying secrets."

But the biggest secret comes from Lady Death co-writers Brian Pulido and Mike Wolfer. "I heard there was a big blowup between the guys writing Lady Death," said Pulido. Wolfer nodded, "Oh yeah, I forgot about that." Added Pulido, "I think one threatened the other and it ended with one of them choking the other in a fountain."

Also in attendance were Wolfer's artist on the new Wolfskin series, Gianluca Pagliarani, and the Studs Terkel of the undead, Max "World War Z" Brooks, both signing at the Avatar booth.

Later tonight, Avatar will present Brooks and George R. R. Martin reading on stage. The rest of the Avatar talent will also be present- but it's a ticketed event, so it you want in, stop by the Avatar Press booth.
Greg Baldino lives and writes in Chicago, where he watches over the local comics scene like a posthuman autocrat. His fiction and journalism has appeared in many publications internationally. He can be contacted at greg.baldino@gmail.com.
Enjoyed this article? Share it!