By Michele Brittany, a West Coast Bleeding Cool Correspondent
Welcome to 2015! Those of you into your popular culture references will know that this year when Marty McFly traveled to a 2015 version of Southern California in Back to the Future Part II. However, it is not the only film to take place in a cinematic realized 2015. There is also Arnold Schwarzenegger's The 6th Day (2000) about cloning, Memory Run (1995) explores a new kind of immortality based on science, and while set in the year 2022, Charlton Heston's character Frank Thorn reads a classified report referencing 2015 in the sinister Soylent Green (1973). Somebody really needs to remake that movie!
A new year brings some changes. As you may have noticed in the title, I have shifted my focus to events happening in Southern California. There are more than enough activities just in this region to concentrate my efforts, and provide brief tips if I've been to the event in the past. I hope that there are some established writers or aspiring writers who will step up and cover the Pacific Northwest and the Southwest regions in the near future.
Without further adieu, let's see what coming up in SoCal!
If you are a Trekkie, you will not want to miss the Los Angeles Comic Book and Science Fiction Convention being held at the Shrine Auditorium Expo Center on Sunday, January 11 from 10 AM to 5 PM. There are several comic book vendors as well a mix of other collectible items available for purchase. Admission is $10. Having attended this event in the past, I strong suggest bringing cash for admission and parking.
The fourth annual HRM Steampunk Symposium will be held on the Queen Mary, docked in Long Beach, California, January 16 – 19, 2015. Single day pass is $35 or three-day pass for $95. I have heard this is one of the best steampunk events and I wish I was going. Have fun if you are! SPECIAL SIGNING: Anaheim's Beach Ball Comics presents Stan Sakai, creator of Usagi Yojimbo and the new Star Wars series from Marvel. Sakai drew an exclusive cover for the comic book shop. RSVP on Facebook for this signing being held on Saturday, January 17 starting at 2 PM!
City of Industry's Fran and Son Collectible is hosting Nuke the Fridge Con on weekend of January 24 and 25. Guests include Stan Lee, J. Scott Campbell, Humberto Ramos, They Live star Rowdy Roddy Piper, The Road Warrior star Vernon Wells, and professional cosplayers Vegas PG and Ivy Doomkitty. Event and parking is free to those who join on Facebook. Please note that autographs are not free.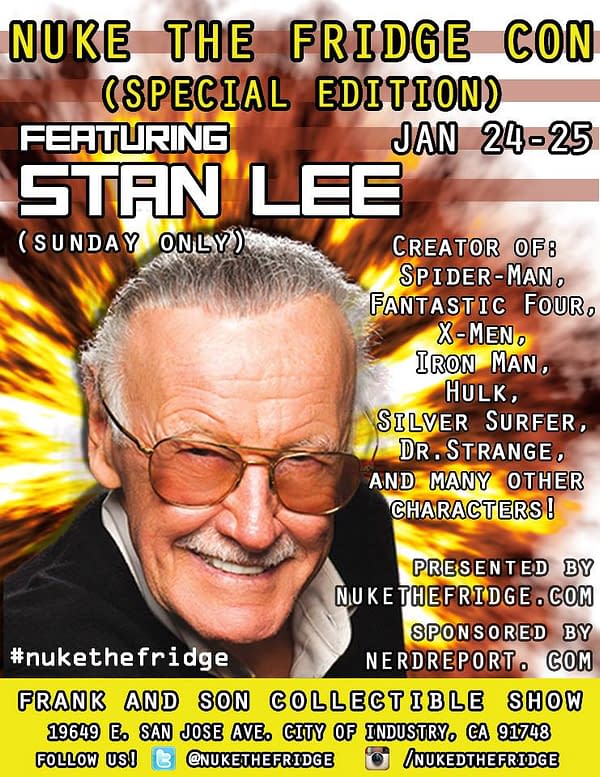 Phat Collectibles is back again with their annual free Phat Con, being held at Dave and Buster's in Orange on Saturday, January 24 starting at 11:30 AM and running until 5 PM. I attended last year's con, waiting in line for over an hour just to get in, but it was worth it! This is a dedicated comic book show without the long boxes. Lots of SoCal local favorites will be attending and there will be plenty of giveaways throughout the day. If you want some guaranteed loot, Phat Con is offering a VIP package for $25.
Sunday, January 25 at the Yorba Linda Community Center will host the 9th annual California Comic Convention from 9:30 AM to 5 PM. Special guests include artist Ken Kelly, who worked with legendary great, Frank Frazetta. and artist Thomas Yeates, who has drawn several series for DC Comics, Eclipse Comics, Pacific Comics and for the role playing company, T.S.R. Admission is $10 and parking is free. Advanced tickets purchased online by January 15 will receive additional raffle tickets. LAUNCH EVENT: Stan Lee will launch his new graphic novel The Zodiac Legacy: Convergence, at Barnes & Noble at The Grove in Los Angeles on Saturday, January 31 starting at 2 PM. Lee will not be signing books – there will be pre-signed books available for sale – he will only be chatting about his book. This is a wristband event. RSVP on their Facebook page.
And, looking ahead, here are a couple of events to put on your calendar:
Tickets are now available now for the annual Long Beach Comic Expo scheduled for the weekend of February 28 and March 1. Weekend passes are $45 or single day passes for less. Special discounts available for seniors, law enforcement and military. Wondercon 2015 will be back at the Anaheim Convention Center the weekend of April 3-5. I've been attending this con since the con moved to SoCal and it's one not to be missed. Badge details have not gone up yet, but some special guests have already been announced.
While I try to cover all the major event happenings as well as some of the signing events in Southern California, if I missed your event, please post the details in the article's comment section. And for those with SoCal events coming up in future months, please feel free to reach out to me via Twitter @mcbrittany2014.
Michele Brittany is an independent popular culture scholar and semi-professional photographer and editor of James Bond and Popular Culture: Essays on the Influence of the Fictional Superspy (McFarland & Company). She regularly posts reviews and analysis on the spy/espionage genre on her blog, Spyfi & Superspies and can be followed at Twitter @mcbrittany2014.
Enjoyed this article? Share it!