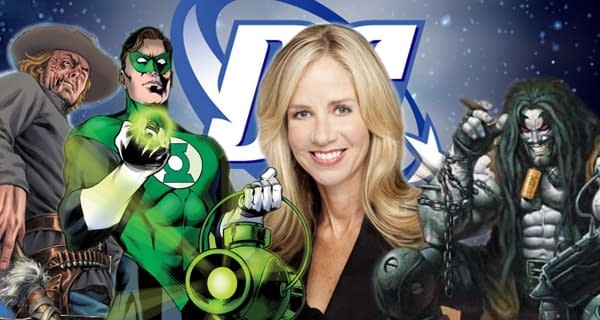 Today is new comic day!
Yesterday's exclusive Bleeding Cool scoop that Paul Levitz was stepping down as President/Publisher was reported on everywhere, with the DC Source blog being the official disseminator of information about the setting up of DC Entertainment. But who will Paul's replacement be? Well, despite names such as Mike Carklin, Dan DiDio, Karen Berger, Richard Bruning and Jim Lee being tossed around, one person even suggesting Heidi MacDonald to me, odds are it will be a Warner suit with an impeccable resume parachuted in. Mind you, Diane Nelson has only three people on her LinkedIn profile, and one of them is Wildstorm head honcho and co-creator of Youngblood, Hank Kanalz…
Oh yes, and Rich Johnston 1, Nikkie Finke 0, as far as that one story goes. In everything else, of course, it's Nikki Finke 9999, Rich Johnston 1. Maybe one day.
Diane Nelson doesn't mention comic books once in her multi-media message to the company and its readers. Mentioning "DC Comics" as a company name at the very end, doesn't count. In an interview to The Wrap, she says;
But I'm the first one to admit, I'm not by my nature a comic fan. It's not what I'm bringing to the party. We have so many experts who will remain the cornerstone of DC Entertainment. What I bring to the party is a skill at moving properties and brands through Time Warner as a company.
Go on, someone get her to reach Sandman or Preacher. That's usually the way…
But I have to tell you, I've been really encouraged by the commentary in comic book world.
Does she mean me? Thing is Diane's far too professional to give the kind of quotes that I can play with, imply snark or cause me to say "ooh! handbag!" in a Vic Reeves style…
Unlike Marvel, we are not setting up redundant organizations for expertise that exists. We will track all DC properties to measure financial success.
Yay! Yay! Yay! Go Diane! Go Diane!
The important thing is, we are not creating a stand-alone production group that is developing movies.
No, back where you were, call Joe Quesada a doody head or something. Paul Levitz was far too much of a gentlemen, Bob Wayne reserves it for convention panels, come on Diane, bring on the snark!
Talking of Paul Levitz – "And now, if you will forgive me, the future is calling" – damn, he's a fun writer.
And this is where DC mentioned Diane for the first time, officially. Hmm, you've have thought they could have linked back to an earlier Bleeding Cool? Okay, maybe not…
And was Francis Manapul from Adventure Comics untimely ripped? In this CBR interview, published hours before the official announcement, with the news that Paul Levitz would be taking over Adventure Comics, Francis talks about his plans for working on the title from #6 on, hios second arc on the book. And then suddenly #6 is now his last issue…
Oh yes, and Joe Quesada apparently had a big interview about Marvel/Disney, in which he didn't answer the questions he wasn't able to, and announced that this would be his last word on the subject. Just as he did on $3.99 comics a while back. I wish I could get away with that at home. "This is the last time I will be talking about the bathroom incident, and I will choose which questions about the dried phlegm on the sink to answer, woman!" There was a big countdown to it… but events got in the way…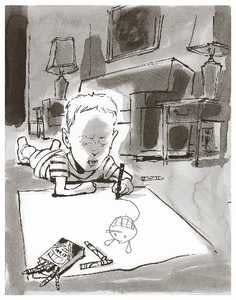 And children's illustrator David Small creates Stitches, an autobiographical graphic novel about the abuse he suffered at the hands of his parents. And how being subjected to overdoses doesn't so much give you super powers, but takes away your voice. It's one that Small really seems to have found now…
MTV have taken down their "exclusive" tag for the Bluewater JK Rowling story… and The Sun has picked up on it. So JK's people definitely know by now.
Singer/actor Terrance Zdunich creates his own graphic novel, The Molting.
And amid all the fuss at DC yesterday, Robert Burke Richardson gets local press for his new Zuda comic, Absolute Magnitude.
And Chud thankfully debunks any Pixar/Ant-Man rumours with Edgar Wright Jr – the film is his, live action and non-Pixar suitable… Not that there's anything wrong with Pixar. Far from it. But there's lots right with Edgar Wright Jr. Clue's in his name.
Enjoyed this article? Share it!