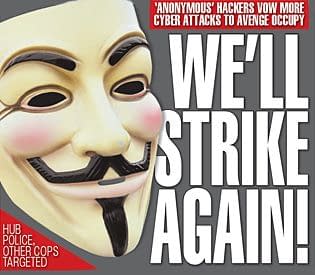 BostonWatch: Front page of the Boston Herald, yesterday.
BBCWatch: Scottish vampire comic gets a little interest…
Mandragora Productions/Invictus Films, which also operate from Glasgow, have a film option on the comic book story.

School of the Damned by John Farman, Jim Devlin and Dave Alexander is described as a horror and gothic romance.

The story begins on St Kilda and tells of a vampire infestation sparking the evacuation of Hirta, the main island in the archipelago.

In reality, 36 St Kildans abandoned Hirta in August 1930 following years of depopulation and also deaths that occurred during a hard winter in 1929.
ChopChopWatch: Philadephia gets a taste of comic book racism;
Ugly, almost inhuman, the rotund guy would make for a great villain.

Trouble is, he's supposed to be one of the good guys.

Blackhawk is one of the comic books featured in Marvels & Monsters: Unmasking Asian Images in U.S. Comics, 1942-1986, a new exhibition at the Asian Arts Initiative in Philadelphia's Chinatown, which takes a long, hard, critical look at the depiction of Asians and Asian Americans in superhero comics.
Twelve exceedingly rare DC ashcan comic books from the late 1930s and early 1940s, including Action Funnies Ashcan Edition (DC, 1937/38), estimated at $20,000+ – one of four early placeholders created to help protect what soon would become the most important comic book in history, Action Comics #1 – will be featured in

Heritage Auction

's Feb. 22 Vintage Comics & Comic Art Signature® Auction at the Fletcher-Sinclair Mansion (Ukrainian Institute of America), 2 E. 79th St. (at 5th Ave).

"The books were consigned by Gary Colabuono, the foremost expert on Golden Age ashcans," said Ed Jaster, Senior Vice President of Heritage Auctions. "He's spent nearly 30 years assembling his collection and thought the timing was right to sell a few of his treasures."

According to Colabuono, 10 of the books are either unique or the only other copies known to exist are in the DC vault.
CoOpWatch: DC Comics are offering 75% towards the cost if retailers advertise using Fairest imagery. I can't wait to see what the A Comic Shop people come up with for that…
This is Computo the Comic Link Conqueror speaking. I come for your women. But for now I merely collate comic-related bits and pieces online. One day I will rule. Until that day, read on.
They say I am a work in progress. The fools.
EXCLUSIVE: Marvel Publisher Dan Buckley On Sales, Pricing, DC & More – Comic Book Resources
First, we need to dispel the concept that the unit "win" was done with 52 titles vs Marvel's 3,489 title offering in January — yes, that is sarcasm. Their winning of January unit share by 2.35% was done with us soliciting 82 books vs. their 80 books — not 52.
DC Universe: The Source » Blog Archive » Announcing Smallville Season 11
Fans of the smash-hit TV series Smallville haven't had much to cheer about since the show ended its critically acclaimed 10-year run on The CW last May. That's all going to change with the upcoming new comic book series from DC Entertainment: SMALLVILLE SEASON 11.
Enjoyed this article? Share it!