All it took was a tweet enquiry to the writer of Absolute Carnage, Donny Cates.
Don't forget about our beloved avocado baby!@Doncates @RyanStegman#AbsoluteCarnage #sleeper #Venom pic.twitter.com/lGdEGmJvZG

— Daniel ERM🥑 (@derm_art89) August 19, 2019
And a response.
I haven't.

(Dozens of Tumblr users scream) https://t.co/MAEgpBcZmC

— DONNY CATES (@Doncates) August 19, 2019
And suddenly the first appearance of the Sleeper Symbiote in Venom: First Host #3 has become a massive comics speculator hotspot.
The second printing featuring his first full cover appearance has suddenly sold copies for up to $55. with the first printing selling for up to $20.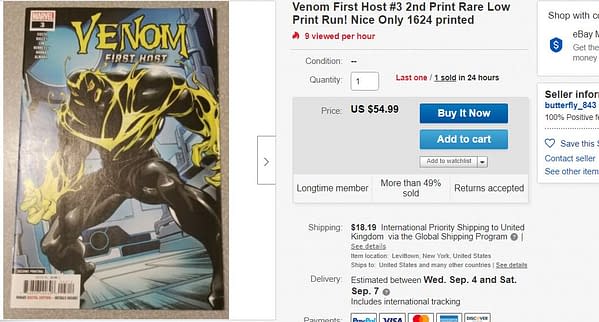 Sleeper is the seventh spawn of the Venom symbiote, Sleeper. Venom and Eddie Brock opted to leave it in the care of Alchemax; stipulating that it could only be studied in a non-invasive fashion. When the Venom symbiote refused to return to its original host, the Kree soldier Tel-Kar, he took the Sleeper symbiote hostage and threatened to bond with and corrupt it unless it complied/ In the ensuing confrontation, the Sleeper symbiote bonded to and lobotomized Tel-Kar, later setting out to explore the cosmos, using Tel-Kar's mindless body as a puppet host.
But if speculation that the Sleeper Symbiote is actual Dylan, the son of Eddie Brock, this could just be the beginning…
Enjoyed this article? Share it!