Vertigo's Art Ops Brings Art To Life – Catching Up With Mike & Laura Allred At RCCC
By Alyssa Pack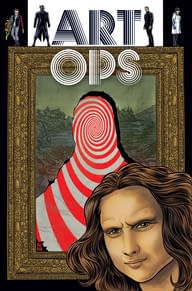 In speaking with Mike and Laura Allred at Rose City Comic Con 2015 this past weekend, they were very interested in talking about their new creator owned project through Vertigo. The Allreds have worked most recently on iZombie and Marvel's Silver Surfer which are both very different from their new series, Art Ops, being published by Vertigo. Art Ops was created by Shaun Simon and Michael Allred and will debut on October 28th, 2015 as part of Vertigo's new #1 initiative.
In this book, Reggie Riot and the Art Operatives work together to track down art that has come to life and having escaped their frames. The only problem is that Reggie Riot wants nothing to do with this agency that he inherited from his mother. One of the first art pieces to come to life and escape its frame is the Mona Lisa which launches the Art Ops team into their first story arc. The main focus of Reggie and the Art Operatives is to protect history and return the living pieces of art safely back to their frames. One of the most interesting things the Allreds revealed when I spoke to them at RCCC was how the book was going to be pieced together. Shaun Simon and Michael Allred worked side by side to carve out this project and layered the multi-level concepts of this book together. In order to allow Michael Allred to work on other projects while still being a major part of this book, Matt Brundage will pencil the book and then Michael Allred will ink it, working on the art together as a team.
It will be interesting to see how Mike Allred and Matt Brundage's art styles will come together and see what differences we find, compared to the work Mike has done on Marvel's Silver Surfer. Then the sensational Laura Allred will work her magic as the colorist for this book, bringing the series to life with her amazing eye for color combinations. With the Allred duo working together, it will definitely have much of their art style imprinted on the book, which may result in a familiar vibe. Overall, it will be interesting to see how this book comes together given all of the talent that is involved in this project blending art and adventure.