In an earlier Bleeding Cool article, I mocked Flashpoint: Lois Lane And The Resistance for portraying the United Kingdom without Scotland and Wales, just England.
Hilarious.
Um.
Then I read Flashpoint: Wonder Woman And The Furies #3 out today… and it's all in continuity. Here is the page in question.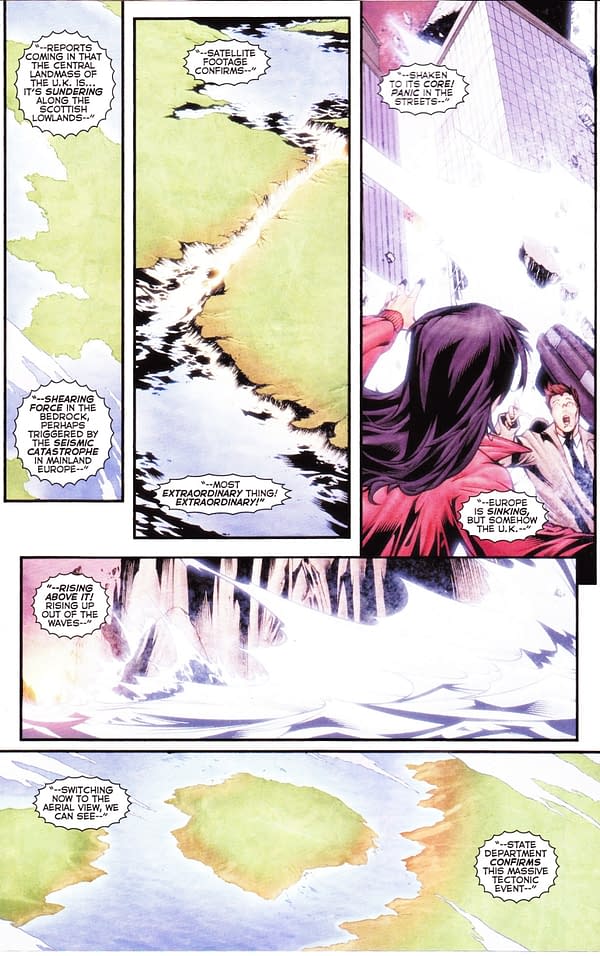 That's right folks, Scotland was intentionally chopped off. And so was Wales too it seems. I blame Torchwood for that last one obviously.
It turns out that it was all the fault of Terra, using her powers to defend England – and in so revealing herself to be a rather nasty little member of the English Alliance or whatever name thy are using. Defend England, let Scotland and Wales go drown… and then get everyone to refer to England as the United Kingdom.
Comics courtesy of Orbital Comics, London.
On Thursday, comedian Rob Deb will be previewing his Camden Fringe stand-up show at Orbital, starting at 8pm.
From Friday, Orbital will be playing host to an exhibition of original artwork from the comics section of the excellent free music mag Stool Pigeon. Orbital will be hosting a party this Friday from 7.30pm, with live music from Babak Ganjei (Wet Paint) and DJ sets from Stool Pigeon, No Pain In Pop and Krent Able.
On Friday Orbital also begins their Self Portraits gallery show with work from Adam Cadwell, Dan Berry, Dan White, David Hine,David O'Connel, Edward Ross, Ellen Lindner,Gareth Brookes, Garry Leach, Gary Erskine, Joe Decie, Josceline Fenton, Julia Homersham,Kristyna Baczynski, Luke Pearson, Mark Stafford,Paul Rainey, Philippa Rice, Richard Cowdry, Rufus Dayglo, Sammy Borras, Shaky Kane, Thorsten Sideboard, Timothy Winchester and Tom Humberstone.
And on Saturday, Dan Slott will be signing at Orbital from 5pm, including the Orbital shop variant of Amazing Spider-Man #666.
Enjoyed this article? Share it!